Combining electronic music with an ensemble of eight brass musicians is an unheard of combination in the world of DJs and producers, but Apashe defies convention. The Montreal-based producer is kicking off a brand new live show experience and tour in Denver at Mission Ballroom this Saturday, October 7. Joining Apashe at Mission this weekend is Whipped Cream, Eddie, Wasiu, and YMIR.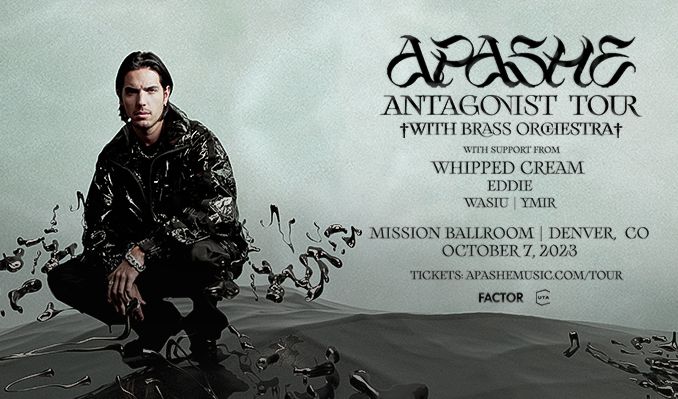 Merging a unique audiovisual experience with a brass ensemble will definitely be a first for many electronic fans, but will offer a peek into Apashe's new studio album, Antagonist, our later this year.
In an unparalleled blend of electronic, orchestral, hip-hop, and alternative elements, a rotating roster of vocalists breathe life into captivating narratives enriched with vivid dynamics and profound emotion, capable of shaking the main stage of a festival or a prestigious opera house.
Throughout 2023, Apashe meticulously crafted what would later become known as "Antagonist," pushing the boundaries of his artistry across music and visuals. In a groundbreaking move, he amalgamated diverse styles and cultural influences within the album. Notably, he ventured into symphonic composition for the first time, collaborating with esteemed orchestras such as the Prague Philharmonic and Brussels Symphony. Additionally, he joined forces with artists like the prominent underground Indian hip-hop talent Raga (who shares Indian heritage with Apashe) and Nigeria's Magugu.
Building yet more hype for his album release, the innovative artist shares an epic tale of love and war…in space. Apashe's latest single, "Human," sees a collaboration with Canadian rapper Waisu.
The music video for the single depicts the pair rising to megastardom and conquering planet Earth, before blasting off to space in a rocket ship – only to crash on a desolate planet. As Apashe and Wasiu separate the desert of this new terrain, they each join warring tribes, leading to an epic climactic battle between the two. Directed by Adrian Villagomez, the video was shot at Electric Forest and on location in Tokyo, Montreal and Mongolia.
Following the recent Magugu collaboration "Revenge of the Orchestra" and the stunning "Devil May Cry" ft Sofiane Pamart, "Human" offers another taste of Apashe's upcoming album Antagonist, which is set to feature crossover influences of classical music with recordings of the Prague Philharmonic and Bulgarian Symphony Orchestras, and collaborations with a number of high-profile artists. The single also follows the release of "Fracture," the acclaimed collaboration with Joey Valance & Brae and Flux Pavilion, and "Gasoline" featuring Delhi hiphop star RAGA, and precedes the producer's upcoming headlining tour with a Brass Orchestra.