THE DEEP stage is set for an electrifying lineup featuring the talents of Chet Porter, OTR, and CRL CRRLL at Denver X on September 9. Grab your tickets here.
---
Get ready for a sensational night of music, vibes, and unforgettable memories as THE DEEP and Denver X bring you another one-of-a-kind event. The stage is set for an electrifying lineup featuring the talents of Chet Porter, OTR, and CRL CRRLL on Saturday, September 9th, promising an evening that will leave you dancing, dreaming, and fully immersed in a good time.
Chet Porter crafts ethereal soundscapes that transport listeners to otherworldly realms through dreamy melodies and emotive storytelling. OTR, a master of evocative electronic music, will provide a captivating soundtrack to your night, blending delicate melodies and cinematic textures that resonate deeply. Closing the night, CRL CRRLL, a groove maestro, effortlessly fuses funk, soul, and electronic elements to create irresistible beats that will keep the dance floor alive with infectious rhythms and soulful vocals.
And where better to experience this musical magic than Denver X? With its breathtaking views, vibrant atmosphere, and state-of-the-art facilities, Denver X provides the ideal backdrop for a night of live music that's truly unparalleled. Located just moments away from the heart of the city, Denver X offers an immersive experience that combines music, art, and community in a way that only Denver can deliver.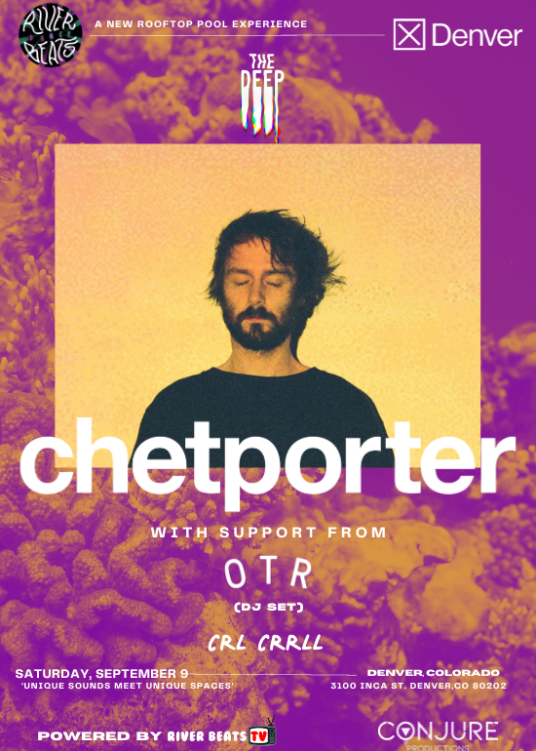 For those looking to take their experience to the next level, our VIP passes are the way to go. Elevate your day with access to our exclusive 11th-floor lounge, complete with a private bar, restrooms, air conditioning, and plush seating. It's the perfect way to enjoy the music and views in ultimate comfort.
So mark your calendars and prepare for a summer of unforgettable music, breathtaking views, and unparalleled vibes at The Deep's Denver X event series. Whether you're a devoted fan or a newcomer to the scene, this is your chance to immerse yourself in an experience that truly embodies the spirit of summer. Don't miss out – grab your tickets now and let's make this summer one to remember!
This event is POWERED by River Beats TV. River Beats Tv is the official streaming platform for music and culture. River Beats TV  provides streaming experiences with artists and creators from around the world. Available via IOS, Android, Roku, Apple Tv, Fire Tv, Android TV, & more. Thank you for being a part of THE DEEP & Our River Beats community.
---
Doors: 12:00 PM & SHOW AT 12:30 | X Denver | Saturday September 9, 2023