SHIFT is proud to welcome Stones Throw Records legends J Rocc & Peanut Butter Wolf to Cervantes' Ballroom on August 26! Join us for an all-night dance party in the Ballroom.
On the other side, Circus Records' Conrank & WAKAAN's Hydraulix are invading!
Join us for an incredible pairing of classic turntablism and a dubstep throwdown for this week's SHIFT Thursday.
Resident host Mikey Thunder and Brisco Jones will kick things off in the ballroom, with Pashmonix and Krushendo filling out The Other Side roster.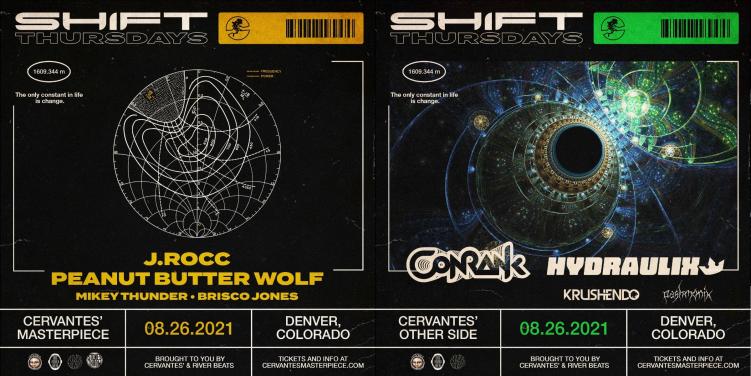 Old School and New School
This week in the Ballroom, legendary DJ and turntablist J.Rocc is joined by Peanut Butter Wolf, Brisco Jones, and resident host Mikey Thunder!
J.Rocc made a name for himself over the years being a force in the surge of instrumental hip-hop and performed on tour with Madlib since the early 2000s.
Along with his collaborative projects, he created an online DJ training school in 2017!
Stones Throw Records founder Peanut Butter Wolf is known for his ability to span across decades and genres with an insane vinyl collection. His 12 hour all-vinyl DJ set for Boiler Room is legendary.
Through Stones Throw, PBW was also instrumental in the careers of Madlib, J Dilla, Madvillain, and more pivotal hip-hop producers.
On the other side, Conrank brings the new age of dubstep as one of legendary Circus Records' latest additions. Living in LA by way of the UK, Conrank started with beatboxing before a transition to electronic production. After years in the studio, he finally made the move to live DJing and hasn't looked back.
Conrank + Hydraulix @ The Other Side
Wakaan's Hydraulix joins in direct support following an unbelievable performance at Bass Canyon at The Gorge.
Hydraulix' latest EP, Wrench, features an all-star cast including the dubstep don, Doctor P. Krushendo looks to make an impression after adding a number of esteemed festivals to his belt.
Get Involved!
We're thrilled to announce applications are now open for vendors, live painters, and silent disco performers. If you are interested, apply at the links below!
We will continue to announce more SHIFT Thursdays for Fall 2021 and beyond in the coming weeks!
Stay tuned for more information about our new loyalty program and collaborations with visual artists & live performers.
We are incredibly excited about this new chapter for Cervantes, River Beats, and the city of Denver, and we can't wait for you to see it all come together!
For media inquiries, please reach out to: ShiftCervantes@gmail.com
Featured image via Shared Views