SHIFT Thursdays cannot be stopped! Join us on December 9 for an intimate connection with Motifv and friends at Cervantes The Other Side. Limited tickets are still available!
Known as Joseph Kechter by loved ones, Motifv has set himself up for what is sure to be his biggest year yet in 2022. Utilizing soulful sampling and flowing rhythms, his music transports listeners through the past, present, and future.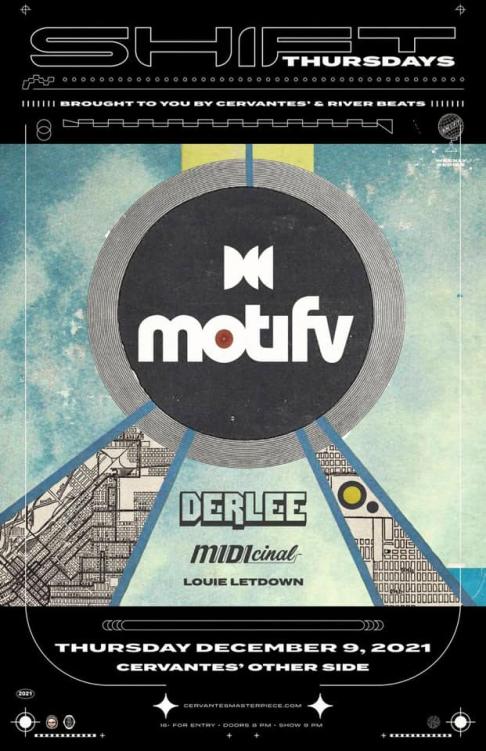 Dilated Mind
With the release of his sophomore album, Dilated Mind, Motifv set the tone with timeless sound listeners have gravitated to quickly. Recently, he's performed with friends Daily Bread and Maddy O'Neal, teasing that there is yet more to come!
We're thrilled to have Motifv join us for SHIFT Thursday and his headlining debut! His beautifully blunted beats will wash SHIFT fam's worries away along with an awesome cast to kick off the night!
As direct support, Derlee makes a long-awaited return to Cervantes. As part of the Philos Records team, Derlee specializes in transforming sounds into smooth melodies and calming beats. He's joined by MIDIcinal who we've heard will have a few special guests, as well as the homie and Denver local Louie Letdown to kick off the night.
Make sure to get there early to catch our incredibly talented openers and secure your spot for the night! We've also got something for the instrumentalists in the Masterpiece Ballroom with Moontricks and more! See you there.
CONNECT WITH MOTIFV: