Just over two years ago, we said 'See you later' to Artifakts. We knew it wouldn't be goodbye, and today, we're excited to welcome his return following a breathtaking audiovisual experience to a sold-out crowd in The Ballroom.
With some of the nicest weather we've had all year, devout fans lined up well before doors in order to secure their spots and a few limited merch items. From doors to close, we were treated with an incredible range of talent including Soul.Method, Brotha Nature, Slynk, and Parkbreezy.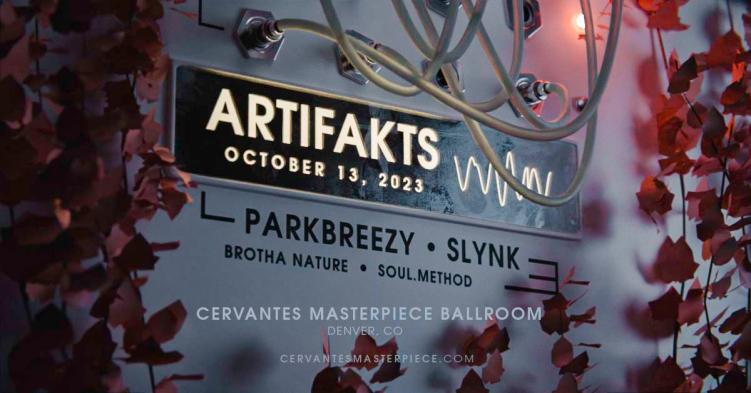 The Main Attraction
Following some of our Denver favorites and a new discovery in Slynk, it was time for the launch of Artifakts' latest endeavor, a fully curated audiovisual experience created by the man himself. What followed left a rather chatty crowd completely silent aside from cheers and applause.
Blending new creations, fan favorites, and deep catalog cuts, Artifakts came out like Michael Jordan in 1995 to 'Diamorpha' and without words stated "I'm back." We also felt a fresh new energy from the Milwaukee native, with an extra punch in his latest IDs and a 'Next Level Style' A/V combination we will not soon forget.
Watch 'Artifakts & Daily Bread – Next Level Style'
While delivering blows through the subs on the system, he was still able to find time for emotional pieces and my personal favorite track 'Xavier' which left the entire crowd in awe. Deep cuts and remixes like 'Rock My Soul' and 'Very Special' hit the heartstrings like never before.
Visual elements included nods to early video games, complete virtual 3D spaces, and many forms of Artifakts signature diamond logo, all time-coded and synced through Ableton. After seeing the first showing, we're looking forward to the development of this new path.
The Road Less Traveled
We couldn't talk about this experience without also discussing how we got here. Also known as Garret Meyer, Artifakts has been an integral piece of the Philos Records puzzle since its early stages. He's been performing and producing for a decade and in 2021, the weight of touring, creative challenges, and struggles with mental health began to take their toll.
Being a full-time artist is an incredible feat, and we've seen its impact on artists of all walks, with artists like GRiZ taking their own hiatus recently. Halogenix and others have spoken out about social media as well and its unspoken requirements to retain your following.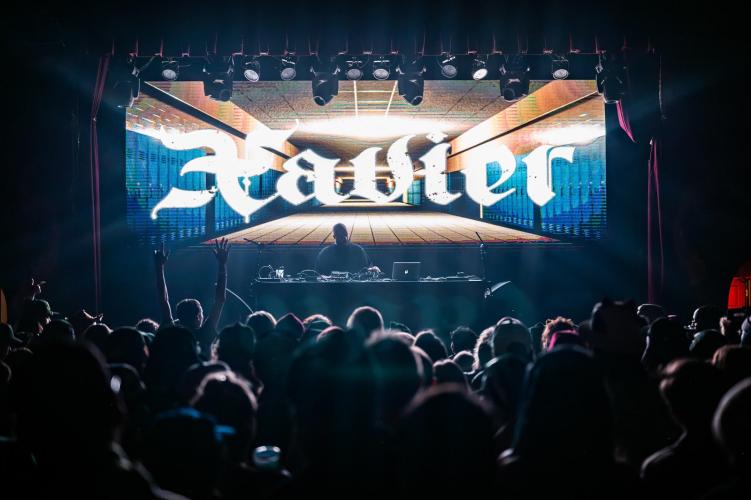 Between having to be a social media manager, content creator, and traveling performer, their time and availability to create freely is truncated by industry demands. We're left with little surprise that this negatively affects the artist's overall well-being as well as their ability to create.
For Artifakts, it finally became enough that he saw the need for drastic change, and pulled the plug without a backup plan in the early summer of '21 and only played a few remaining shows. Thankfully, his skillset over the last several years boded well for a new marketing position which allowed for both a break from the rat race and stability while also having space to be creative.
The Grass is Greener
Suddenly, we began seeing glimpses of new visual pieces – then, an audiovisual clip. Slowly but surely, new signs of life appeared in the Artifakts space in late 2022 and early this year, a return to the stage. Now it's full steam ahead, and he's looking better than ever.
With his return to the coveted Cervantes Masterpiece Ballroom, he's set the tone for the future and we'll be along for the ride. This week, we had the opportunity to catch up since our last conversation, reflect on the show, and how we got to this point. Read below!
RB: Last time we spoke, you were preparing for a new venture and a break from Artifakts. Besides building an insane audiovisual experience, what have you been up to during your time away?
Last we talked, I was at a very common crossroads of pursuing the project further and exploring new endeavors. I had sort of fallen out of love with everything that came with touring and admittedly took it for granted. Halfway through 2021, I decided that I needed a break for my own mental health with no real backup plan.
Not the greatest decision for a paycheck-to-paycheck career, but luckily I was able to pivot into a role with a marketing company, managing campaigns for live music events and artists. That time was extremely humbling and helped me sharpen some of my creative and non-creative skills alike. As I slowly found myself on the creative side of campaigns, I quickly fell back in love with audio production and creating visual art.
Loading… pic.twitter.com/tGa4B3rOYK

— 𝐀𝐫𝐭𝐢𝐟𝐚𝐤𝐭𝐬 (@artifaktsmusic) October 27, 2022
As a college dropout, it was really fulfilling to see that I could thrive in a corporate role from what I had picked up over the years with my Artifakts pursuits. The freedom and creative control over my project drew me back in and kind of brought back all the inspiration I had lost.
rB: We've seen others express how the wear and tear of touring has negatively impacted their mental health as well. Do you have any advice for artists who might be in a similar rut or aim to make it a career in the future?
I think a huge comfort is knowing that it's okay to walk away from something or follow your gut instinct. Sometimes it can be hard to read or hear that tough decisions like that are a calculated move. Just accepting the reality that some things can be turbulent, and not everyone will experience that with you, has been huge for my peace of mind.
I'd imagine it spans much further than pursuing a career in art. Finding yourself "stuck" in a grind can make a passion feel like a looming, negative burden. If you've found yourself in a place where everything was clicking in the past, you have to trust yourself in the same manner that led you there.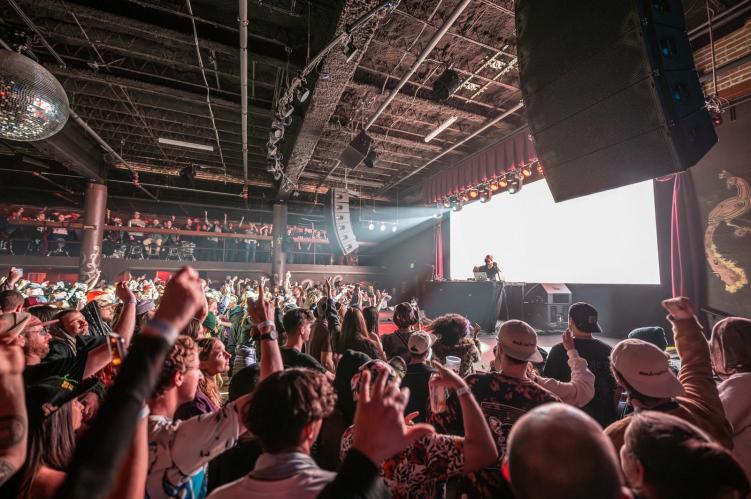 RB: I think many people can relate there, and it's incredible you were able to use those experiences to pivot careers. Now that you're on the other side, is there anything you learned in the office that you brought back into your artistic workflow?
Definitely discipline. It's easy to procrastinate when you're playing your own boss but setting boundaries and timelines on projects with yourself the same way you would a client does wonders.
rb: Could you expand on how creative freedom helped spur new inspiration in the studio?
As for having creative control, it's nice to not have any disconnect with intentions. Sometimes when you're making something in a group effort or a larger project, it's easy to overlook things that make something pop, focusing entirely on metrics and quantifying every little effort. It's not as easy to explain to a collaborator or team that you're putting in a ton of effort on something little in a song or video that may not spit back quantifiable results.
Being able to allocate your time to a seemingly small aspect of a project may seem like a time waste to someone, but that same thing could be the very thing that pushes your song, visual or moment over the edge. Having the control to decide those things has been everything lately.
RB: Based on the social media teasers and your performance on Friday, I'd say that creative control is doing wonders. How does it feel to step fully into the audiovisual space?
Awesome! I've been dabbling with graphic design and 3D design for a long time so being able to finally bridge that gap has been super fulfilling. I'm looking forward to diving in deeper and expanding on the A/V set stuff as well as working with others on bringing their concepts to life.
RB: The intro to Next Level Style had the entire crowd floored, how long does it typically take to create a visual element like that and could you give a brief explanation of how time-coding is used for pieces like that?
Luckily the whole process is much quicker than it was a few years ago. During Covid, I revisited animation and creating pieces of short-form content. During that time I did a deep dive into modeling, camera movements, and editing, all of which ended up translating to the current live show. Something like that would normally take me a solid few days of full-time creation in Blender and post-editing.
Now that I have a good workflow of 3D, video editing, then audio touch-ups, I can usually get through a song or two like that in a day. It's kind of like "the world is your oyster" when you sit down and realize you can present something that's been around for a while any way you want.
In the midst of creating visuals for a show, I had bought a Sega Dreamcast to refurbish and mod. My schedule would be, work on content, and work on the Dreamcast to break up the nights. Next Level Style seemed like the perfect song to blend my love of tech projects and the A/V efforts. The coolest part of those little theatrical moments is that it really makes the set feel like a journey, ups and downs without pulling people out of the moment.
A lot of times I'll be at a show, and a VJ will be ripping some awesome visuals, but it's kind of like a "once you're in it, you're in it" experience. Being able to make certain points of a show feel like you're getting the same feeling of a big intro is my favorite.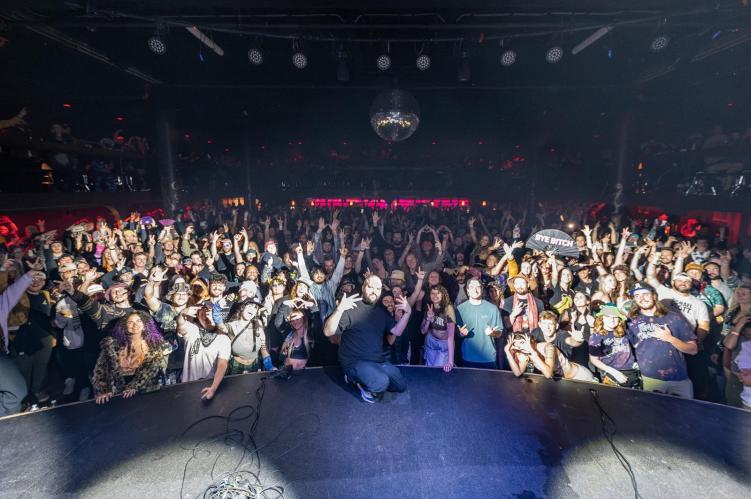 For the time coding, I linked up with two friends here in Atlanta, Kevin Rodriguez (Two Feet, Kevin Gates) and Andre Griffin (Two Feet, Aisle 5) to show me the ropes on how I could sync visuals in a live format. Luckily I was already using Ableton and was familiar with running sets that way. They were able to show me how we can communicate back and forth, with me launching audio clips/samples and video world automatically triggering the corresponding content.
It's not revolutionary or new stuff, but for me (without having to hire on third-party creators) it opened up an avenue to letting an audience see my creations on a scale where people don't commonly see that. My hope is that others take note that this type of show isn't reserved for big rooms or massive amphitheaters, and to put a little pressure and shake up any complacency.
RB: So that was actually a Dreamcast for that teaser you dropped in the Philos group? Incredible. I think it goes without saying that we're excited to see where this leads next, but is there anything on the horizon you're particularly excited about, on the road or in the creative space?
I have a couple of things I'm expanding on with the A/V set to add another dimension that I'm REALLY excited about. If all goes according to plan, we'll see some that rolled out next year. I don't want to spill the beans but I think it'll be just another step in making everything feel more immersive. I also have a couple of artists outside of our scene that I'm going to be working with on tour content. Beyond that, just make more music!
Connect with Artifakts
Website | Spotify | SoundCloud | Facebook | Twitter