Tune today from 3 pm MST – 11 pm MST to support the Black Box Denver! You can support by donating here: PAYPAL.ME/THEBLACKBOX5280
---
The economy is changing, and it has hit the music industry hard. Everybody is feeling the effects with not many solutions to this change. Frustrating is an adjective that comes to mind.
We've been diligently strategizing on what we can do to help. There are tons of fundraisers out there helping artists in the music industry, but many independent venues are falling to the wayside. These venues are a large part of our music culture, as well as, expensive pieces of real estate. Some will make it through these times but others will not; especially some of the independent ones.
In Denver, there is one specific venue that is home to our underground bass scene known as the Black Box. Most up and coming artists in the underground music scene, looking to make a name for themselves, know they should play a set here to level up their career.
Established artists from around the world love to play at the Black Box, because the venue is well known, and has one of the best in-house sound systems a venue can buy; a Tannoy, Funktion-One, and Othorn combination. There are many things that make this place magical, but none of it happens without Nicole Cacciavillona and her team Corey Pfaff and Corey Blecha. From throwing shows at Cervantes to owning and operating her own spot; Nicole is a Boss. She has earned her respect and was named one of the top 15 females in the EDM music industry by Complex magazine.
Whether you are wanting to produce music, be a DJ / VJ, or become an Audio Engineer, the Black Box is the place for aspiring artists. It is truly a beautiful thing and something the scene is not ready to lose. So, we decided to team up with some really amazing friends and put together a fundraiser live-stream. All of the money raised will be donated directly to The Black Box and help save this underground venue.
The lineup is stacked; kicking off with Bunkle (140 set) leading into Seppa, GrymeTyme, Digital Vagabond, DRRTYWULVZ, and into The Widdler for the perfect ending. Sets start at 3pm MST / 4pm CST / 10pm BST and go until 10pm MST / 11 CST / 4am BST.
A big shout-out goes to Sub.Mission for bringing artists to the lineup, Ethan Stewart aka TenStriip for bringing in the visuals, and all of the other people that made this fundraiser happen. This stream is going to be the first fundraiser that River Beats Colorado is sponsoring, but certainly not the last.
Tune today from 3 pm MST – 11 pm MST to support the Black Box Denver! You can support by donating here: PAYPAL.ME/THEBLACKBOX5280
See the full lineup below!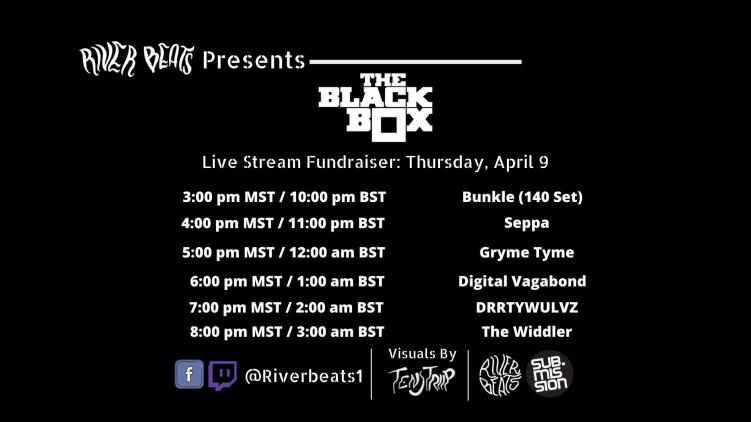 Bunkle
---
Seppa
---
DrrtyWulvz
---
Digital Vagabond
---
GrymeTyme
---
The Widdler
---