You already know that when Shared Views and Potent Productions collaborate on an event – it's going to be full of the best vibes, funky people, and top-notch production. For their debut post-COVID-19 event, they went all out with a disco-themed event at a ROLLER SKATING RINK! They pretty much provided the ultimate nostalgic experience – all of your 1970s dreams in the form of roller-skating with some of the raddest people in Denver. Does it get any better than that?!
As my friend put it whilst we were skating around on the dance floor – "THIS IS SUCH A VIBE". 
Costumes, Roller Skates, and a Proposal!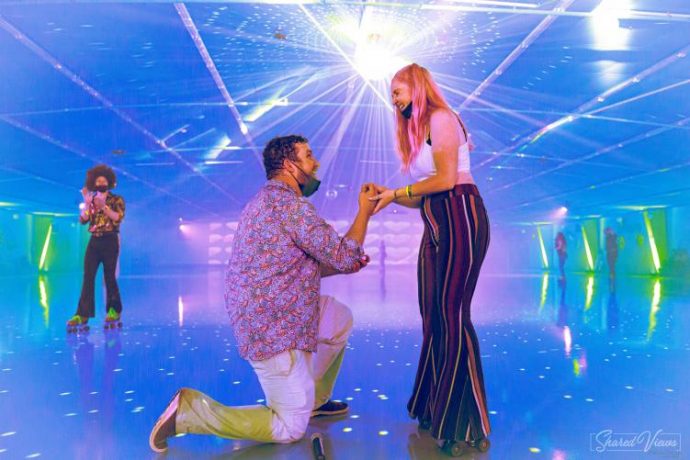 Costumes were highly encouraged for this roller boogie event and the people showed out! There were sequins, afros, and flared body suits galore! It was awesome to see some truly talented skaters all decked out in their dopest disco gear and rolling around the dance floor. One thing we learned for certain: Disco is not Dead!
For an extra special moment, one of the organizers Max Rozier proposed to his longtime girlfriend on the dance/skate floor. It's a treat to get to celebrate love and we offer our congrats to the happy couple!
Moonshine Tastings and Sound Sessions
We love all-immersive parties. In our opinion, the more extracurricular activities available for patrons to explore and interact with – the better. In the side game room, Denver Distillery set up a sweet little moonshine tasting table to promote some of their different spirits. My personal favorite was the Apple Pie Moonshine.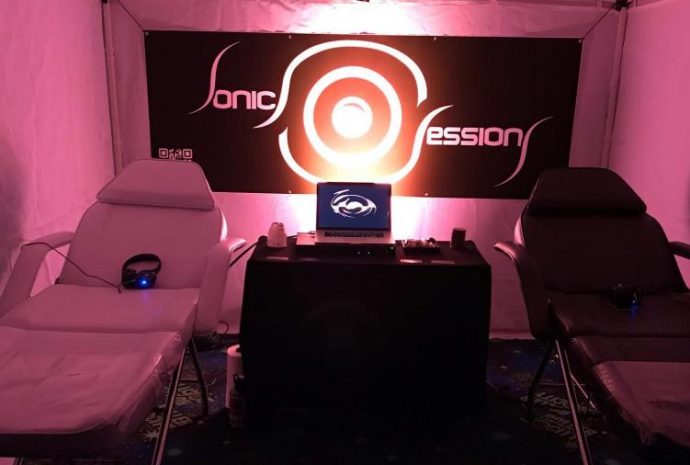 Have to say though, the real draw to the game room was the LowPro Sonic Sessions. This therapeutic musical experience brings bass therapy in the form of vibrational frequencies.
Essentially you lay down on the chairs which contain vibrational bass subs throughout. Then, you just breathe through the vibrational frequencies pulsating through your body. It's an amazing experience and we loved taking a few minutes to enjoy a new experience while at an event. We highly recommend booking a full Sonic Session, you'll be surprised at how much bass therapy can help with chronic pain and anxiety.
The Venue, Logistics, and "Stage" Design
We loved the fact that they held this show at an alternative venue, rather than just another night out at a club. Skating also gave it that extra excitement of enjoying a physical activity while listening to some incredible music.
We especially loved that they turned the roller rink floor into the stage area. The back visual wall with the multi-level lighting design created a very dope skating experience – they didn't have lights like that in Elementary School!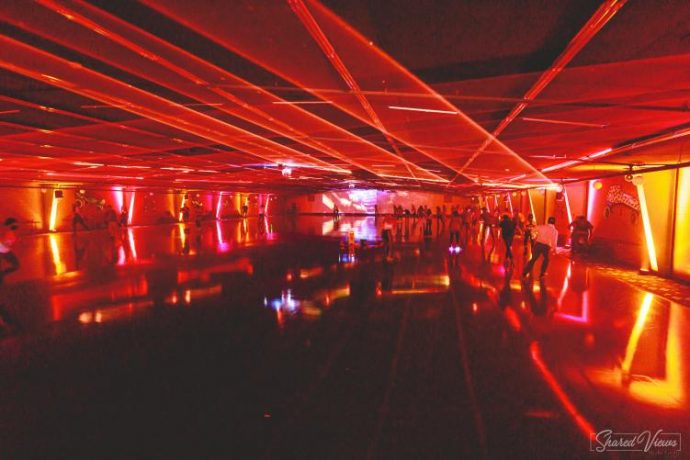 Huge shoutout to Midicinal, Pruitt, Licious, Joey Trouble. We can't forget the late-night set from Benjamin's Vibe! All of the artists kept the music funky and dope all night long. Midicinal's set featured guest guitarist Vinny Crippen from Melody Lines, for an additional live aspect for this event.
The venue staff was super friendly, which is always an added bonus. We will definitely be back to Roller City again to skate and look forward to the next Shared Views and Potent Productions event. Head's up – an announcement for the next show is coming very soon!