If you love 'Paris in the Springtime' mixed with modern contemporary art-splash vibes and cocktail bars as much as we do – you are in for a treat at Room for Milly. Nestled right in between the Lower Highlands neighborhood and Downtown Denver, this intimate location captures an eclectic mix of people stopping in on their way from work or heading out for a pre-dinner cocktail.
Room for Milly is located right next to Denver Beer Co. on Platte St next to the river. While from the outside, it may seem a little lackluster, they make up for it with their extraordinary interior design. Every detail is curated for the ultimate experience.
Owners Jeffrey Knott and Fiona Arnold invite guests to stop and stay awhile with every detail presented at Room for Milly. Fun fact: all of the art featured in Room for Milly was hand-curated by Kate Meyers for the perfect touch!
The Atmosphere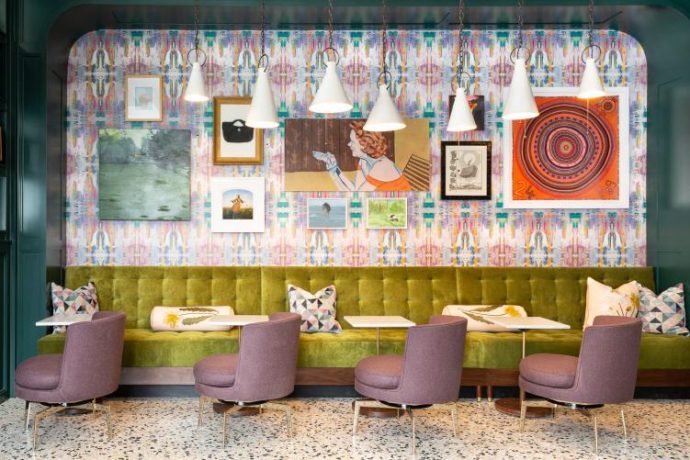 As soon as you take your first step into Room for Milly, you are transported into a modern, yet classic, contemporary atmosphere. For us, it is reminiscent of spring days traveling across Europe and stopping in for a quick cocktail at your favorite nook. With bright spring colors and contemporary shapes throughout, you'll feel as if you left Colorado altogether.
The seating area is not large, which is perfect for private conversations and romantic dates. You won't be dealing with a large boisterous crowd at Room for Milly.
Be sure to note the aesthetic throughout the building including the beautiful mural behind the bar and even their bathroom has a designer quality that is quite impressive. Every detail at Room for Milly is curated for the ultimate vibe.
The Cocktails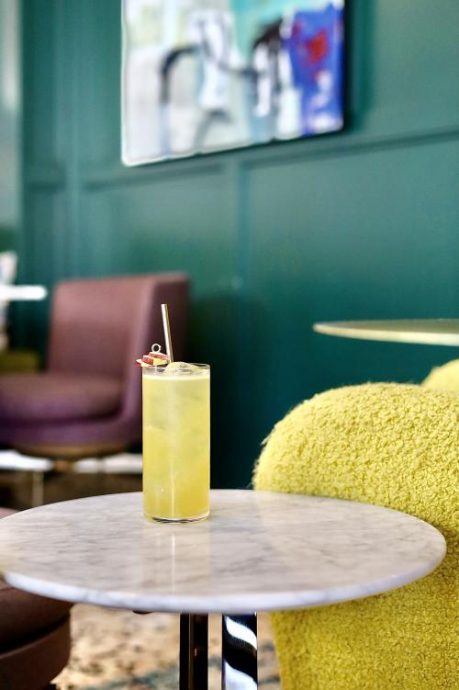 While you come for the ambiance, you stay for the cocktails. The creations that come out of this bar are creatively out of this world. Their happy hour runs from 3 pm – 6 pm on weekdays and includes 5 cocktails as well as a few wine/beer selections.
Their "Tiki Drink" (available on their happy hour menu) is a rotating menu of curated cocktails inspired by island selections. While we were there, their Tiki Drink of the week was a tequila-based cocktail that looked like a cotton candy dream.
Another notable cocktail is their Delta Royale which is essentially a strawberry margarita that is created with entirely clear spirits. It's a surprising intricacy of flavor combinations including Aloe Liqueur, Lavender Blanc Vermouth, and more.
The Food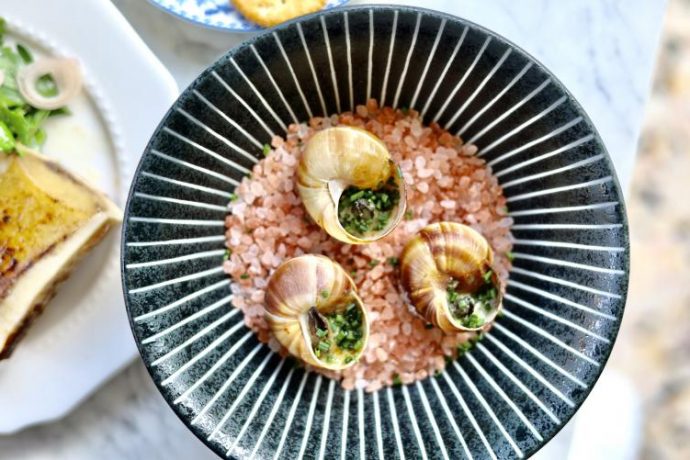 If you are looking for food choices that will shock your senses and awaken your taste buds, try a few small plates from their menu. While they are currently in the middle of transitioning their culinary team and brainstorming some new menu options, we have no doubt that Room for Milly will continue to up the standard for eccentric bites that awaken the senses.
The food here is definitely meant to be a snack on the way out for the evening or to munch on something while you're enjoying a cocktail. The intriguing dishes are meant to inspire your palate and pair with the cocktails, not necessarily to fill you up with a hearty meal. (But we encourage you to try!)
Our personal favorite is their chilled Melon Salad. With a variety of compressed cubed melons with mint, crispy garlic, and chili oil to spice things up a bit. Fair warning: several dishes on this menu have a spicy kick to them so feel free to ask your server which dishes are on the more mild side if you have an aversion. View the entire menu here. 
---
Be on the lookout for curated art and networking events soon at Room for Milly. In the meantime, stop in to enjoy this fantastically curated ambiance and warm hospitality from the staff.
Once you stop in at Room for Milly, you might not ever want to leave. Check out their website here.