Prepare for a special treat with this week's SHIFT Thursday Headliners, The Crystal Method, and Rome in Silver! Electronic pioneers The Crystal Method are welcomed to Cervantes Masterpiece Ballroom with guests Zebbler Encanti Experience and .ATM.
On The Other Side, Sumthin Sumthin and Player Dave join Rome in Silver, representing the latest generation of production and performance!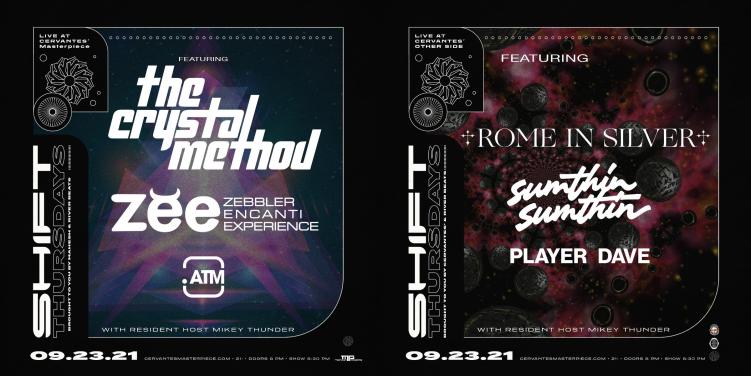 Method to the Madness
Firstly, we're honored to have The Crystal Method grace the stage at Cervantes Masterpiece for SHIFT Thursday. Scott Kirkland and Ken Jordan are trailblazers in American electronic music, staying on the pulse of dance music for over two decades.
The duo played a massive role in the growth of big beat and electronica, as well as bringing electronic music to new heights with albums such as Tweekend, Legion of Boom, and Divided by Night. Prepare for a journey through time and space!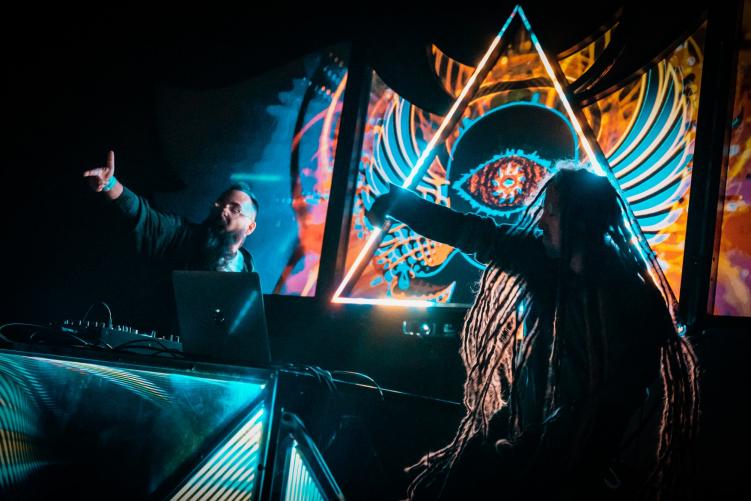 As support, Zebbler Encanti Experience makes their Denver return for their only live performance of 2021! ZEE's experimental style shines through with an audiovisual pairing SHIFT faithful won't soon forget. Mau5trap's .ATM rounds out the evening, with a versatile catalog and futuristic style that makes every set unique.
Forging Ahead
Featured on The Other Side, Rome in Silver makes his Denver debut! Known for his tactful, vibrant melodies, the California native shines with tracks like "Fool" and "Skin." Rome in Silver's latest release Makeshift Moon brings listeners in closer than ever before.
Sumthin Sumthin and Player Dave will keep the night going with a wide range of experimental bass music inspiration flowing through their respective sounds. As time passes, we expect to see both of these names on more lineups throughout the country.
Don't forget to catch a breath of fresh air on the patio, with vendors and a silent disco from 9-12!
Get Involved with SHIFT
Applications are open for vendors, live painters, and silent disco performers. Interested creators apply at the links below!
In due time, we will continue to announce more SHIFT Thursdays for Fall 2021 and beyond! Stay tuned for more information about our new loyalty program and collaborations with visual artists & live performers.
We are incredibly excited about this new chapter for Cervantes, River Beats, and the city of Denver, and we can't wait for you to see it all come together!
For media inquiries, please reach out to: ShiftCervantes@gmail.com