River Beats and Cervantes Masterpiece present one of the most anticipated SHIFT Thursdays yet, September 16! Join Supertask, Tiedye Ky, Sully, and more for a fully loaded dual-venue deep dive into some of bass music's latest and greatest.
The Ballroom will see a true sound system test through Supertask's low-frequency basslines, with Tiedye Ky and Xander. to carry SHIFT faithful late into the night.
In addition, Sully brings a stacked cast to The Other Side. PIERCE, MPort, and Denver local Hastur are taking the energy to an all-time high to keep the party going throughout.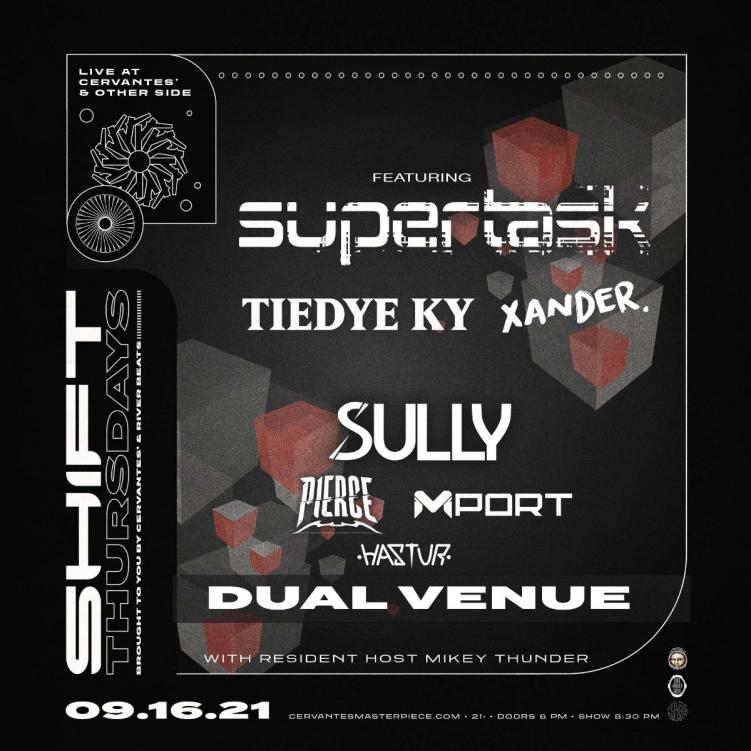 C://End_User
Currently making waves across the nation, Supertask makes his Denver return for SHIFT Thursday. With a focus on balancing heavy low-frequency bass and calming minimal sound design, Supertask changes the landscape of bass music bringing downtempo to the forefront.
Releasing powerful singles like "Healing" and "Melt" continue to fuel the flame building in the Supertask camp. His latest vinyl campaign for Connection far exceeded the necessary goal for production, and end-users have an itch for more. This will undoubtedly be one to remember.
As support, Philadelphia native Tiedye Ky brings a seamless combination of synthesized analog sound and melodic textures. Heavy-hitting basslines and meticulously placed vocals fill in to create a unique experience. Xander fills out the Ballroom roster maintaining the tempo set for the night.
Bring the Heat
On The Other Side, Sully joins the Cervantes Masterpiece alumni with his debut headlining show! While the Ballroom is treated to soundscapes and healing tones, Sully and the crew are ready to get down.
Following successful self-releases gathering the attention of WAKAAN, Sully has been on a tear in 2021. Label-mate PIERCE plans to bring the energy with his latest release Year of the Wobble and more.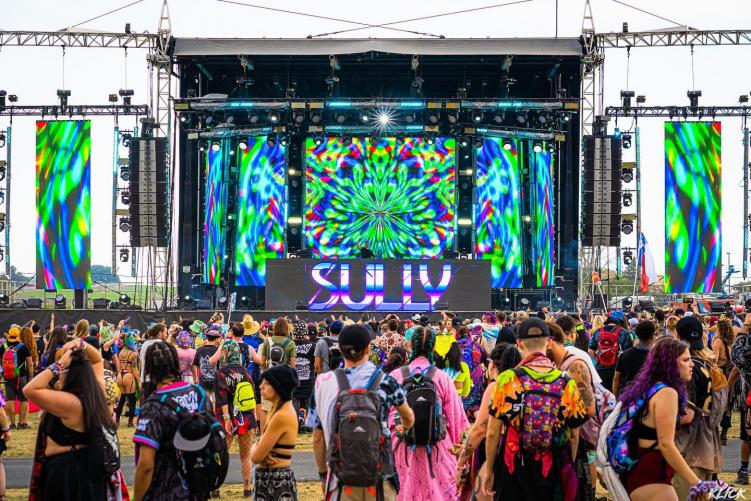 Opening things up is Denver local Hastur! Hastur has made a name for himself playing numerous sets in support at The Black Box. Drawing influence from artists such as G Jones, Chee, and Frequent, Hastur aims to create an atmospheric, otherworldly sound.
To round out the evening, Mport has prepared a performance for bass fans and metalheads alike. Drawing massive sounds together for an all gas-no brakes experience that will keep the subs slamming all night.
Don't forget to catch a breath of fresh air on the patio, with vendors and a silent disco from 9-12!
Get Involved with SHIFT
Applications are open for vendors, live painters, and silent disco performers. Interested creators apply at the links below!
In due time, we will continue to announce more SHIFT Thursdays for Fall 2021 and beyond! Stay tuned for more information about our new loyalty program and collaborations with visual artists & live performers.
We are incredibly excited about this new chapter for Cervantes, River Beats, and the city of Denver, and we can't wait for you to see it all come together!
For media inquiries, please reach out to: ShiftCervantes@gmail.com