THE DEEP is returning to the Rooftop of X Denver. With 8 new shows this summer. Season Passes and single-show tickets are now on sale! Find the right combination or pass for you here.
---
After an overwhelming response from its inaugural event series, THE DEEP is back in 2023 expanding upon its ethos: unique spaces, unique views, & unique sounds! For our Denver faithful, we are turning things up a notch DOUBLING the events on the calendar for this year.
Along with the additional slots on the calendar, we are offering a limited number of season passes powered by River Beats TV which include club membership to the incredible X Denver and all of its amenities!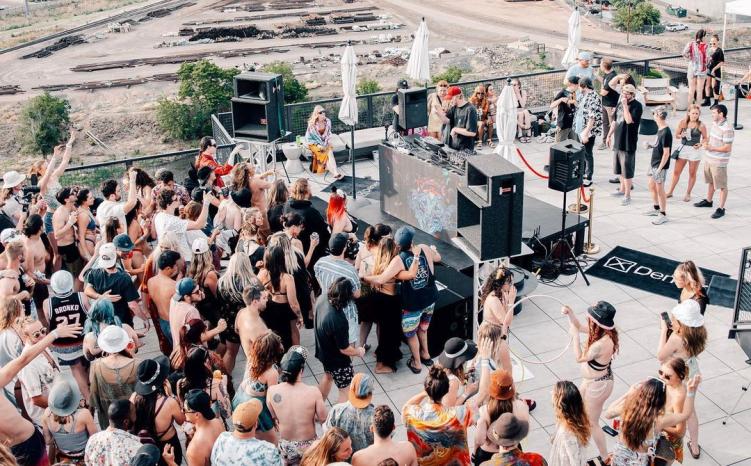 INTO THE DEEP
We are thrilled to return to X Denver just a bird's eye view from Coors Field! Featuring two pools, a hot tub, a full-service bar, a 360* view of the Denver skyline, and our hand-selected cast of artists, THE DEEP is the place to be this summer.
Making the most of our Colorado sunshine, show time starts at 12:30 PM and ends around 6:00 pm. Attendees may also want to arrive early to lock down a shaded seat to get away from the heat! Don't forget the sunscreen.
Bringing the sonic experience, we've got a broad variety of our favorite artists from house and modern dance to future funk and experimental bass music! Featuring the likes of GOLDFISH, VCTRE, Marvel Years, & Chet Porter, THE DEEP aims to provide for all shapes and sizes!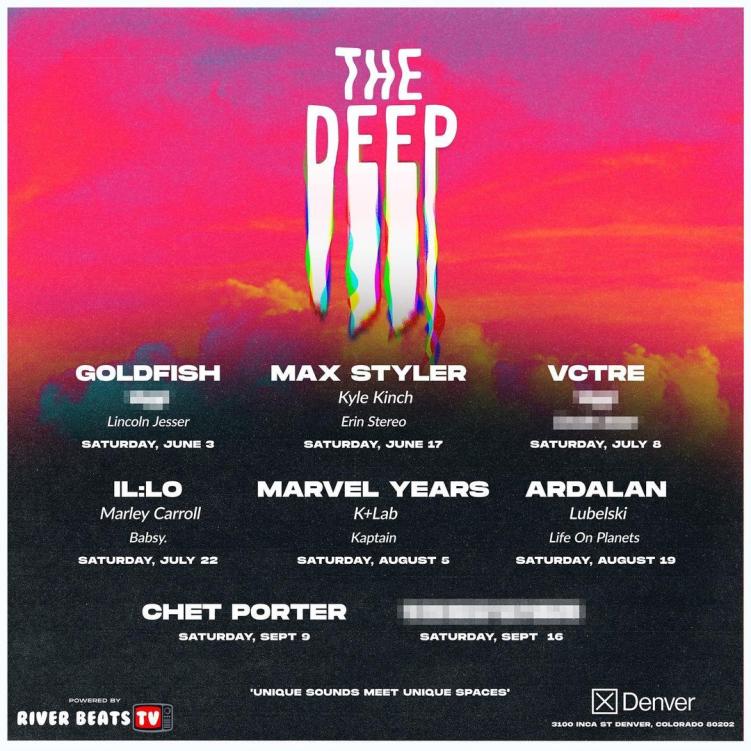 Introducing Season Passes + VIP Tickets
Having trouble picking? We've got just the solution! As a special offer in collaboration with X Denver, we are offering limited availability for season passes. Gain access to Side A, Side B, or all eight of our events AND a membership to X Denver including all that it has to offer during that time. VIP options are also available!
For those unfamiliar, X Denver is a unique approach to the shared community space with a focus on collaboration, creation, health, and wellness. Members are provided access to co-working spaces, a fitness studio & training, events & courses, and of course, the rooftop & bar providing views of the city.
Those looking for 𝙖 𝙡𝙞𝙩𝙩𝙡𝙚 𝙢𝙤𝙧𝙚 𝙘𝙤𝙢𝙛𝙤𝙧𝙩 this year can enjoy our 𝙑𝙄𝙋 𝙤𝙥𝙩𝙞𝙤𝙣. These new VIP passes are available at the Season Pass level, or for individual shows. VIP grants you special access to our 11th-floor lounge during all our shows this summer. The lounge will be equipped with a private bar, private bathrooms, air conditioning, and lounge-style seating.
THE DEEP is Powered by River Beats TV 
This event is POWERED by River Beats TV. River Beats Tv is the official streaming platform for music and culture. River Beats TV  provides streaming experiences with artists and creators from around the world. Available via IOS, Android, Roku, Apple Tv, Fire Tv, Android Tv, & More. Thank you for being a part of THE DEEP & Our River Beats community.
Tickets for all events as well as season passes are now on sale! Find the right combination or pass for you here. To keep track of upcoming announcements and lineup additions, follow us on below! Connect with THE DEEP on Instagram!