The weather is getting chilly, but Red Rocks still has a stacked lineup of shows coming up through the middle of this month. Hitting the venue this Sunday, November 5, is Anjunadeep Open Air featuring an all-star lineup including Eli & Fur, Marsh, Tinlicker, and more.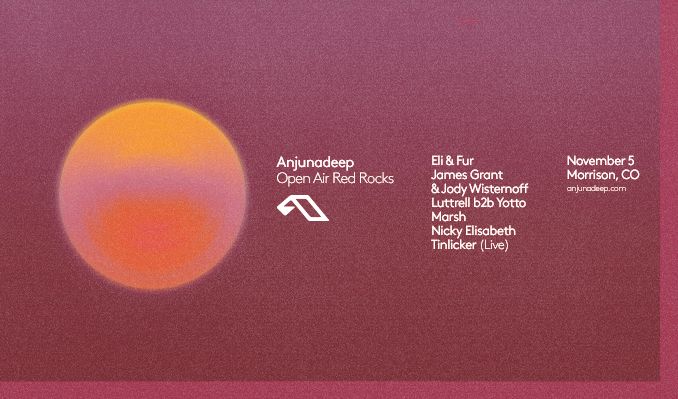 The duo has just unveiled "You're So High (A Decade Reimagined)," a fresh interpretation of their iconic track, offering listeners a rejuvenated perspective for 2023 while paying homage to their signature club-inspired sound. In the past decade, Eli & Fur's unrelenting dedication to music production, songwriting, and live performances has solidified their position as frontrunners in the global house and techno music scene.
A decade ago, the original rendition of "You're So High" graced the music scene, gradually captivating audiences worldwide through the authentic power of music blogs (back when people actually read electronic music blogs, like our publication over at River Beats Dance!).
In tandem with this reimagining, Eli & Fur proudly reinvigorated their record label, NYX Music. Initially established as a platform for showcasing their own creations, NYX Music has now evolved into a comprehensive exploration of the electronic music realm that has always inspired them. Beyond being a home for their music, NYX Music serves as a creative sanctuary, offering the duo the autonomy they've long yearned for, allowing them to steer the artistic direction, make decisions, and spotlight the talents they truly believe in and wish to champion.
Eli & Fur take over Red Rocks this Sunday, November 5. Doors at 2pm, and tickets are still available. Grab yours here for a show you don't want to miss. 
FOLLOW ELI & FUR
What is Anjunadeep?
Anjunadeep is an independent record label based in London. Founded in 2005 by Above & Beyond, Anjunadeep began life as an outlet for records from the deeper, more progressive end of Above & Beyond's club sets. Today, the label is one of dance music's most respected imprints.