Electro-Soul wizard Artifakts headlines Cervantes' The Other Side for #SHIFTThursday this Thursday, August 19! Support from Phyphr, Comisar, & some special secret guests will sure to have the dance floor moving all night!
This SHIFT Thursday, The Other Side hosts his final Denver performance under the Artifakts alias. Joining the bill are two names we expect to see a lot more of in the future. Phyphr and Comisar provide support with a showcase of unique approaches on production.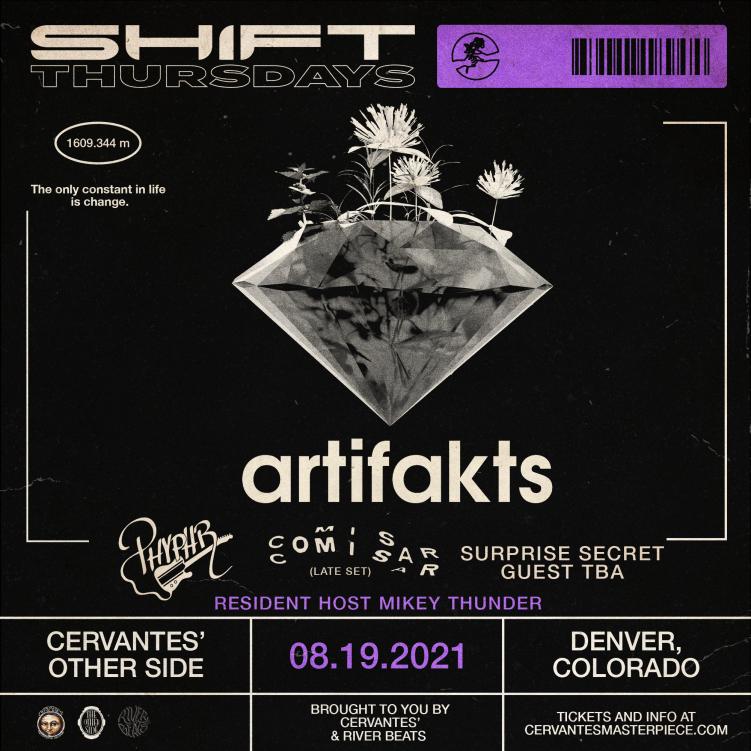 From MP3 to NFT
Philos Records' staple Artifakts comes to SHIFT Thursday this August 19 for what is said to be his final Denver performance under the alias. While this is somber news, we believe the multitalented producer has something else up his sleeve.
Latest release, "Diamorpha" is certainly an elevated sound and a departure from the traditional hip hop and soul sampling. His recent performance at What? Music and Arts Festival left attendees floored. Philos fans are popping up anywhere they can to catch one of the few remaining dates on the calendar.
Over the quarantine, Garret Meyer wore multiple hats in the digital space. While performing a number of thematic livestreams under Artifakts, he also piloted production for the famed Bread and Breakfast streams hosted by Daily Bread and River Beats on Twitch!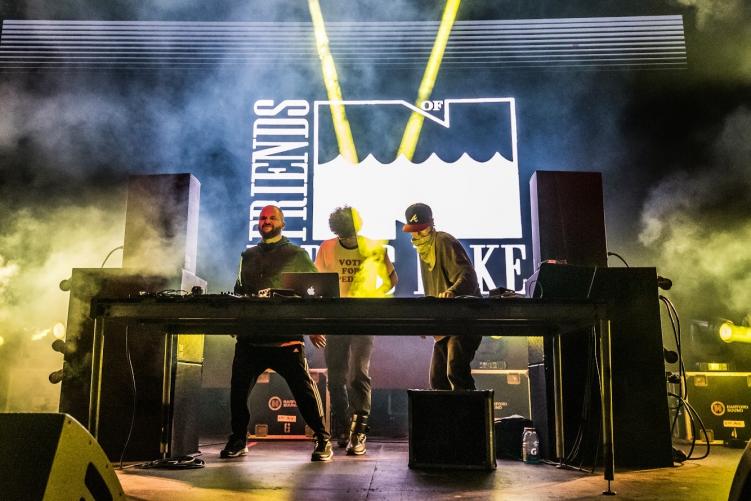 Taking things a step further, a series of unique NFTs (non-fungible tokens) were created as a way to tap into the digital art phenomenon. With all of this on the table, it's hard not to anticipate a return under a more encompassing name for what he's capable of. For now, we hope to make the most of the time we have left with the project and we have thoroughly enjoyed the Artifakts journey.
Carrying the Torch
As direct support, Phyphr joins us this SHIFT Thursday for a highly anticipated Cervantes debut! Known by many in the community as Nick Locke, Phyphr is taking off following a massive River Beats NYE livestream and performance at ReVibe.
That momentum has carried through as venues and festivals come back to life opening for Manic Focus and Maddy O'Neal and festival performances to come. Make sure to catch his set at Fire Lights Music & Arts Festival, and support for Daily Bread in Charlotte, NC on September 25.
Another name we expect to see more frequently, Comisar, comes hot off his latest EP, Becoming. Since performing his first official set at Rootwire Festival 2017, Comisar won CloZee's "Secret Place" remix contest which led to opening support for CloZee at Mishawaka Amphitheater and VOYAGE!
Comisar's focus on rich sound design creates a mesmerizing capsule that takes the listener on a cosmic journey. Make sure to stay late for what is sure to be a sonic experience!
Get Involved!
We're thrilled to announce applications are now open for vendors, live painters, and silent disco performers. If you are interested, apply at the links below!

We will continue to announce more SHIFT Thursdays for Fall 2021 and beyond in the upcoming weeks! Stay tuned for more information about our new loyalty program and collaborations with visual artists & live performers. We are incredibly excited about this new chapter for Cervantes', River Beats, and the city of Denver, and we can't wait for you to see it all come together!
For media inquiries, please reach out to: ShiftCervantes@gmail.com