INZO is taking over SHIFT at Cervantes' on August 12 with Dreamers Delight, Align, and more!! On The Other Side, Recess & Friends are joined by Guggenz, Pure Colors, and our resident host Mikey Thunder. Get in your feels & join us below! 
Hot off the stage of Sunset Music Festival, CloZee's VOYAGE, and a sold-out crowd at Republic NOLA, INZO takes the reigns at the Cervantes Masterpiece Ballroom with a diverse cast of support. Like many, INZO worked tirelessly through quarantine and honed in his expansive sound. We look forward to what he has in store!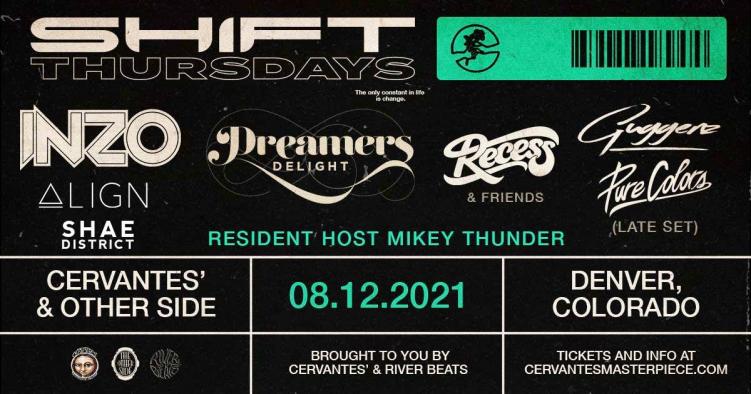 Supporting Cast
In addition, Dreamers Delight and Align join INZO in the ballroom! Dreamers Delight comes off his latest releases "Atlas", "The Journey", and a b2b with CloZee at VOYAGE. Late addition Align has also been hard at work with a number of releases this year. Shae District will round out the evening.
On The Other Side, Recess & Friends return to Denver for a get-down and long-awaited visit to Cervantes with a special live band performance. The funky grooves will roll throughout the night with Guggenz and Pure Colors closing out!
Get Involved!
We're thrilled to announce applications are now open for vendors, live painters, and silent disco performers. If you are interested, apply at the links below!
We will continue to announce more SHIFT Thursdays for Fall 2021 and beyond in the coming weeks! Stay tuned for more information about our new loyalty program and collaborations with visual artists & live performers. We are incredibly excited about this new chapter for Cervantes', River Beats, and the city of Denver, and we can't wait for you to see it all come together!
For media inquiries, please reach out to: ShiftCervantes@gmail.com