One of Colorado's biggest assets is its seemingly infinite number of natural attractions. There are the mountains, of course, but also numerous waterfalls, sand dunes, swimming holes, rivers… The list goes on and on!
Every now and then, though, you just want something a little different. A change of scenery, if you will. Whether you want to take your family out for a fun-filled day, spice up date night, or simply want to try something new, the many theme parks in Colorado are the perfect solution.
5 Theme Parks in Colorado to Visit
Want to get your blood pumping without leaving the city? Or maybe head out of town to the mountains? Either way, there are Colorado theme parks to suit your mood.
Cave of the Winds, Manitou Springs
Cave of the Winds is best known for its, well, underground caves, so many people don't associate it with theme parks in Colorado. However, visitors can also enjoy above-ground activities and adrenaline-pumping thrill rides.
Try the three-story Wind Walker obstacle course, ride the Bat-a-Pult 1,200 feet above Williams Canyon, pan for gold, (literally) try your hand at axe-throwing, or brave the cliffside Terror-dactyl. Cave of the Winds is open year-round.
View this post on Instagram
Elitch Gardens, Denver
The undisputed king of theme parks in Colorado, Denver's Elitch Gardens is also one of the largest in the country. It has separate water and theme parks, with a whopping 54 rides. Many, like the XLR8R, the highest free-fall swing in the world, are designed for bigger kids and kids at heart.
There are also 14 rides catering specifically to the little ones, as well as the water park with several slides and pools. Don't miss the summer concert series and annual Fright Fest, the event that closes out Elitch Gardens' season every year.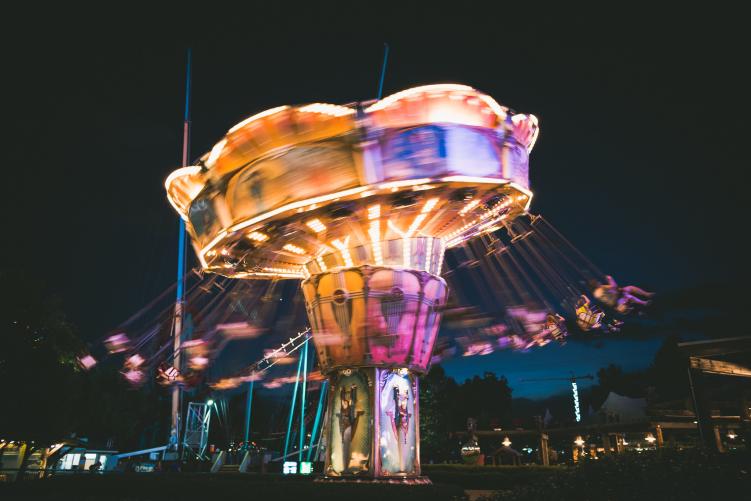 Glenwood Caverns Adventure Park, Glenwood Springs
As this Colorado theme park's name may suggest, the major attraction here is underground caverns. They're far from the only things to experience at Glenwood Caverns, though. Billing itself as "America's only mountaintop theme park," the views alone are worth the trek.
There are also zip lines high above the valley, an alpine coaster, maze, bungee trampoline, and the Haunted Mine Drop with a 110-foot freefall. Glenwood Caverns is open year-round but the schedule for rides and attractions changes from season to season.
View this post on Instagram
Lakeside Amusement Park, Denver
Opened in 1908 by a local beer baron (how very Denver-esque!), Lakeside Amusement Park is the oldest of all theme parks in Colorado. In fact, it's one of the oldest in the country! The retro-themed park is well-loved by locals, featuring classics such as a merry-go-round, Ferris wheel, mini train, and classic Cyclone roller coaster.
The park also debuted a few new rides for the 2021 season. Lakeside is also family-owned, which is unique among Colorado theme parks — and you know we love supporting local small businesses.
View this post on Instagram
The North Pole – Santa's Workshop, Colorado Springs
Live out all your Christmas in July dreams for real at The North Pole, unquestionably the most unique of theme parks in Colorado. Nestled at the base of Pikes Peak near Colorado Springs, visitors can get their Santa fix from May through December.
There's the centerpiece Candy Cane Coaster and several other family-friendly rides, plus (of course) Christmas gift shops, live glass blowing, llama and goat feeding, and visits with Santa himself.
View this post on Instagram
Which of these Colorado theme parks is your favorite?
Connect with us on social media and let us know! And don't forget, while they're not technically theme parks, many of Colorado's ski resorts become family-friendly playgrounds in the summer months!
Featured photo by: www.bhattacherjee.com via flickr