Cervantes Masterpiece Ballroom and River Beats are kicking off the first-ever SHIFT Thursday with Tripp St! Join us on August 5th at Cervantes Masterpiece Ballroom for a duo debut as Tripp St and SHIFT Thursdays kick off our new weekly series.
While remaining anonymous, this soaring producer has made a name for themself with notable Livestream performances including the Tripp St. Block Party.
As the first Odyzey Music release, Welcome to Tripp St, sold out on vinyl in no time leaving many fans still on the hunt. After two stellar debut live performances at VOYAGE, we look forward to what comes next!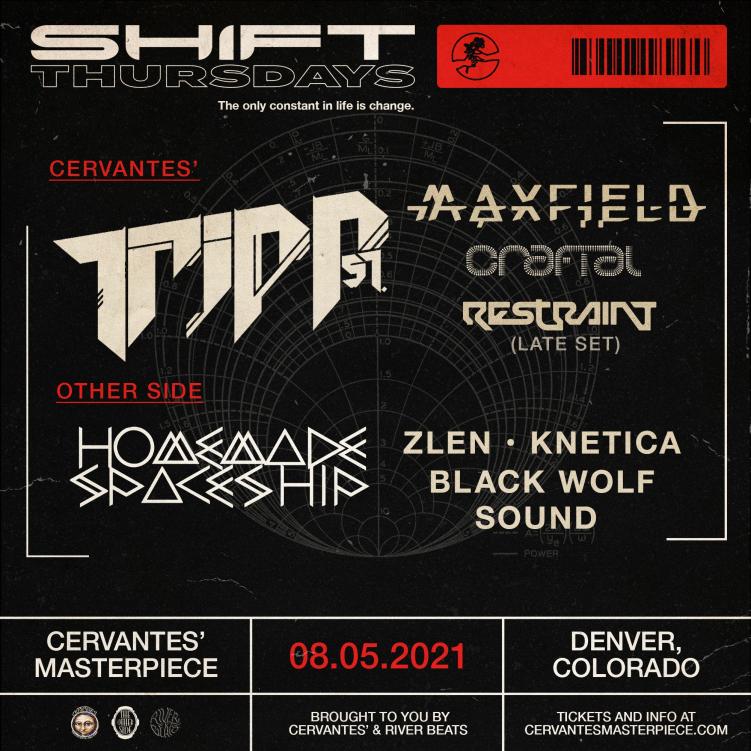 SHIFT into High Gear
Beginning this August, SHIFT Thursdays will feature electronic-focused programming aiming to provide a home for our beloved music community in Denver.
The eclectic lineup each month will consist of bass, house, trance, jamtronica, electro soul, and every sub-genre in-between. Artists of every caliber have graced the stages of Cervantes and we look forward to the future.
For media or vendor inquiries, please reach out to: ShiftCervantes@gmail.com
For the first-ever SHIFT Thursday, Maxfield, Restraint, and Craftal join Tripp St with resident host Mikey Thunder! The first 100 tickets sold will only be $10! Follow the link below and grab tickets early for Thursday, August 5th.
Purchase Tickets Here!
Check out our curated playlist for this event: