The only constant in life is change. As the world begins to emerge from an extended period of darkness, this old adage has never rung more true to our hearts. As the music world begins to navigate its way back to center-stage, new events, shows, and artists will emerge from the rubble left behind from COVID.
Music lovers are making a strong comeback, and so are the brands that supported them. That's why it's with great pleasure today that we announce a brand new partnership with Denver's very own Cervantes' Masterpiece Ballroom & The Other Side.
Welcome To SHIFT Thursdays
SHIFT Thursdays, a weekly event series kicking off this August, will feature electronic-focused programming aiming to provide a home for our beloved music community in Denver. While this series is focused on electronic music, the eclectic lineup each month will consist of bass, house, trance, jamtronica, electro soul, and every subgenre in-between. Artists of every caliber have graced the stages of Cervantes and we look forward to the future.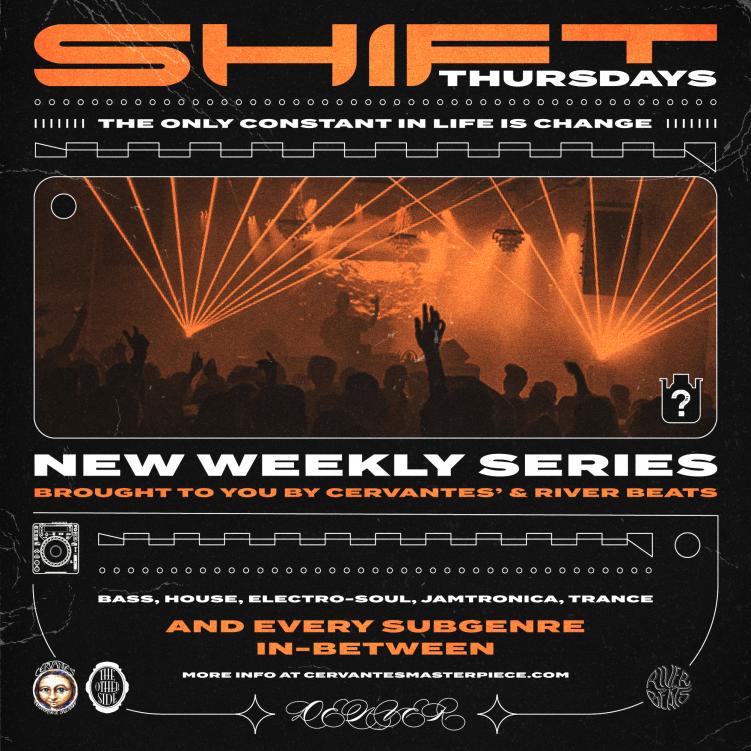 The partnership between Cervantes' and River Beats Dance & River Beats Colorado is a perfect mix of media, marketing, and community outreach.
"Over the years, and throughout the pandemic especially, we have seen the River Beats team go above and beyond to bring music lovers together in many different ways." – Evan Marks, Cervantes'
River Beats hosted a Livestream event in May 2020 in direct support of Cervantes', including artists Michal Menert, Maddy O'Neal, and Adam Deitch of Break Science, and Lettuce!
With the world on the mend and a future ahead of us that could not be brighter, we're elated to begin this new phase of life with the community that we treasure so dearly. Stay tuned in the coming weeks for our Fall 2021 lineup announcement!
---
For media or vendor inquiries, please reach out to: ShiftCervantes@gmail.com