If you haven't gotten a chance to check out a live set by Autonomix, we highly recommend putting them on your bucket list this summer and beyond. Truly a gem in the Denver music community, this 4 piece multi-instrumentalist band will have you blown away by their musicality, improvisation, and all-around great vibes.
If you're a fan of psychedelic rock, jam-vibes, and electronica (*cough cough STS9*) you're going to love Autonomix!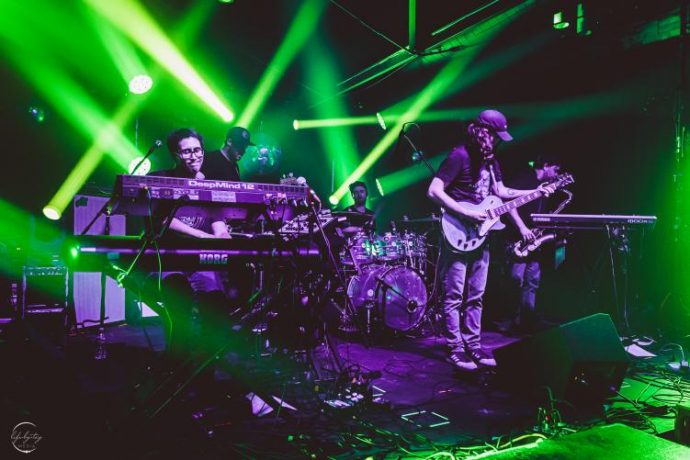 Autonomix is made up of four members: Josh Nermon (Keyboardist), Danny Littler (Bass), Carl Cox (Saxophone/Synth), and AJ Gillman (Drums).
They've made it to our summertime must-see list not only because they put on a rockin' show, but because they have so much drive, passion, and purpose in performing during these post-COVID times. It shows tremendously through their live performances every time they play.
Speaking of live performances, check out their recent throwdown at Knew Conscious in Denver with special guest Kevin Donohue sitting in on guitar.
To check out the first set from this event, click here.
Although the band has only been in existence for two years, they are some serious players in the music industry. If the recent sit-ins from Dynohunter's Clark Smith and SunSquabi's Kevin Donohue at their Knew Conscious performance give you any clue to their commitment and trajectory in the scene, this band will be well-known before long.
In honor of their late guitar player and founding member of Autonomix, the band plays in remembrance of and gratitude for their time with Zack Smith. The vibe that Zack solidified in the creation of the band is still reminiscent in their songwriting and musicality. This purpose and drive to perform in honor of Zack are what truly sets them apart and shows every single time they perform.
Check out the Autonomix calendar for upcoming shows and you definitely heard it here first – they will be treating Denver to a very special STS9 Red Rocks after-party set this coming July! Also, look out for their new single available on Spotify (follow the band for updates here!) in July as well. We can't drop too many more teasers but keep an eye out for Autonomix on festival lineups near you!
CONNECT WITH AUTONOMIX
Spotify | Soundcloud | Facebook | Instagram | Bandcamp
Special thank you to Taylor Joerger / Life by Tay