Taking over two nights at Red Rocks on September 29 and September 30, Rowdytown featuring Big Gigantic returns for the 11th iteration of their flagship event. The Colorado duo have been a staple in the industry, playing some of our favorite venues throughout the state. River Beats joined in on the Rowdytown excitement earlier this summer for a very special rooftop pool party set at X Denver.
For 2023, Big G is bringing two jam-packed nights of talent including Wreckno, Memba, Bijou, Wavedash, and more, with the duo at the helm both evenings to the iconic Red Rocks Ampitheatre. On Friday, September 29, doors open at 5:30pm and include openers Wreckno, Bijou, and Jason Leech. Tickets available here. On Saturday, September 30, doors open at 5:30pm and include Memba, Wavdash, and Align. Tickets for Saturday night here.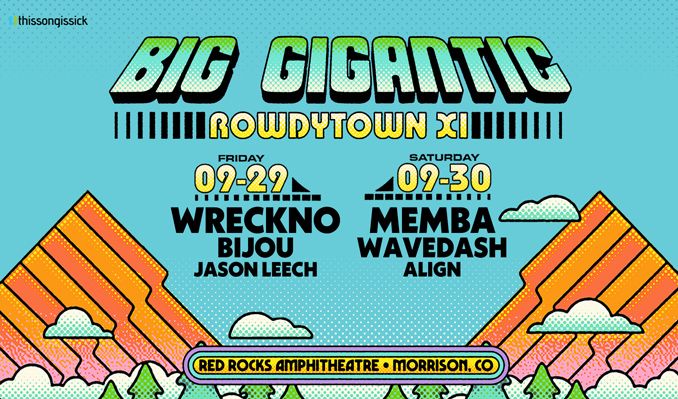 Kicking off the road to Rowdytown is three separate days of events for you to get excited for the shows on Red Rocks.
Get the details:
Wednesday, September 27: spend the day 3-5pm as a community volunteer helping pack and sort food with Conscious Alliance. Space is limited, so apply here!
Thursday, September 28: Putt Putt Merch Pop Up with Live Painting, an exclusive RTXI merchandise, music, $50 flash tattoos, drinks, and more from 3-9pm at the Rino Country Club. This event is FREE with RSVP; text POPUP to 720-730-9799.
Friday, September 29: Rise + Shine Rooftop yoga + meditation with Transform Colorado, coffee cart, pastries, gift bags & more from 9:30-11am. Tickets are required for this event, and space is limited. Get your ticket here and select the "September 29" date.
View this post on Instagram