Huzzah! Live music is back – albeit a tad different this time around. Lionshare Presents and Feyline bring you a four-part drive-in series Dirty Drive-In featuring huge names like Peekaboo, Dirt Monkey, EPROM, and Goldfish, and Break Science. Starting next Friday and continuing each Friday in July, patrons can purchase a car pass which is good for up to 8 people (as many as you can comfortably fit in your car).
There will be on-site temperature checks and everyone is required to wear a mask for the duration of the show. There will also be social distancing guidelines and each car will be parked with 10-12 feet between each vehicle. The great news is, you will be allowed to get out of your car and dance!! They will have full visual and sound production for your viewing and listening pleasure.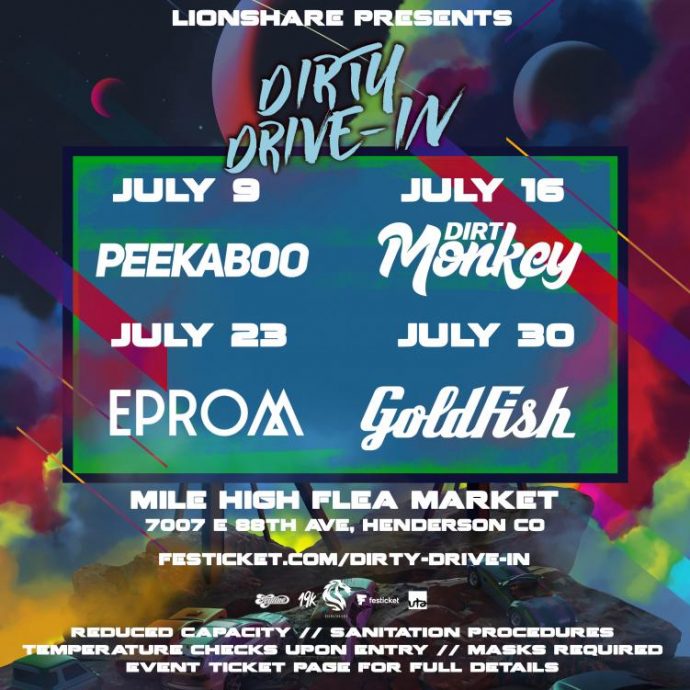 These tickets are set to sell out quickly so make sure you secure your spot, as there is limited capacity.
River Beats and Lionshare are teaming up to bring you the Dirty Drive-In Giveaway including a free car pass for the July 23 date featuring EPROM. You and your friends can enjoy the first-ever Dirty Drive-In for free!! This is the first series of its kind and the newest way to experience live music in Denver.
Entry details can be found on the River Beats Instagram page below! Secure your spot for your favorite date and get your tickets here.
---
Peekaboo Photo: Tyler Monastero
Eprom Photo: Tyler Hill