SHIFT Faithful, get ready to kick off a month filled with bass and electronic music's most exciting artists on the circuit! We're kicking off October with a dual-venue party featuring ill.GATES, An-ten-nae, The Sponges, and more!
Joining the headlining cast, Ahee, Messea, Nala, and Houswife round out the evening with our beloved resident host, Mikey Thunder, kicking things off right. As the night goes on, make sure to take a step out on the patio for fresh air and fresh beats from rising stars in Denver on the Silent Disco.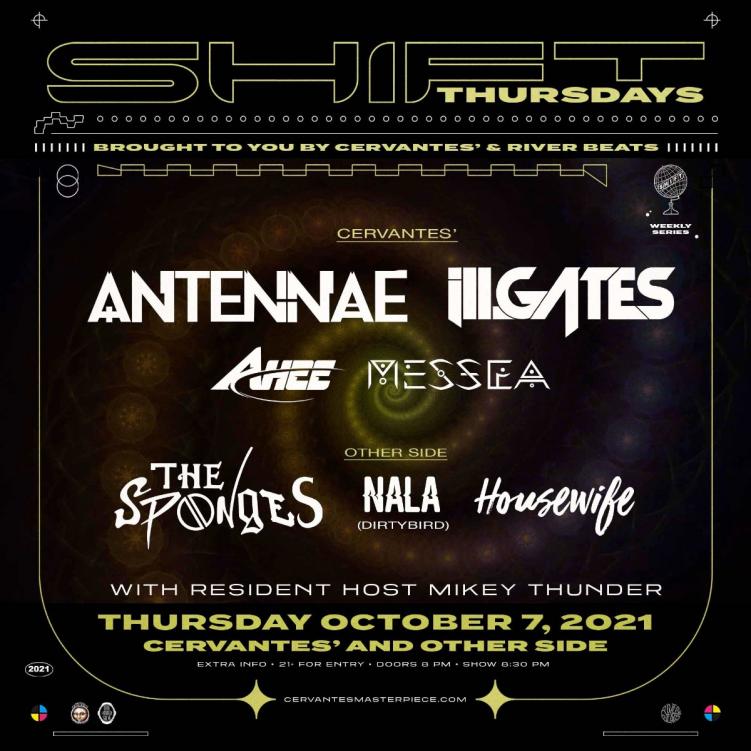 SHIFT into Fall
With the temperature dropping as the aspens change, it's time to heat things up for SHIFT Thursday at Cervantes! First, Denver local Messea is making their Cervantes debut. Fresh off their performance at Fire Lights Festival, Messea is ready to make an impression.
Ahee joins the SHIFT family with a focus on the highest forms of energy in bass music. Spanning across subgenres and tempos, Chris Adams aka Ahee keeps listeners moving and guessing.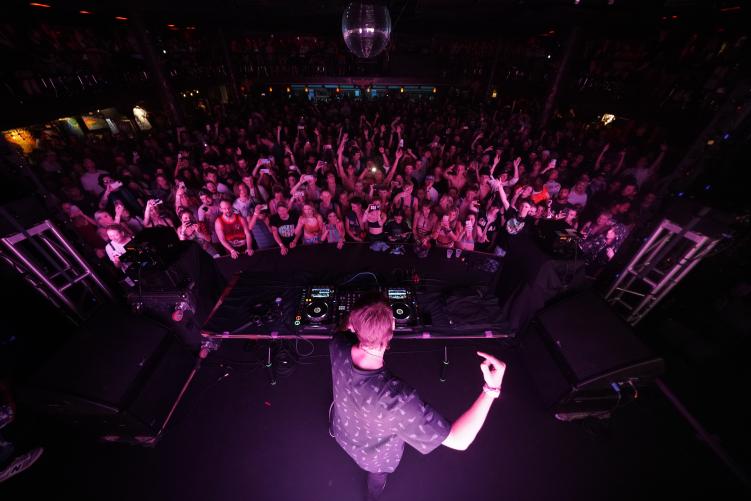 To end out the evening, Dual headliners An-Ten-Nae and ill.GATES come to Cervantes Masterpiece as two of our most anticipated guests yet! With two very unique styles, SHIFT faithful will be getting a bass music showcase.
Coast to Coast
As a pioneer in west coast bass music, An-Ten-Nae plans to leave a mark with their broad discography and other-worldly sound. Finally, ill.GATES joins us with a fiery passion for all that goes into creating the sounds and sights that go into a performance.
Being a mentor of next-generation producers, he goes the extra mile splitting his own studio time to educate and bring up others looking to step into the space. With four studio albums and far more unreleased works, every set is unpredictable.
On The Other Side, the dancefloor will be on fire with house music's rising stars Nala and Housewife kicking things off! To close out the night, without a doubt one of house music's most exciting acts in The Sponges takes over for an incredible disco-funk-house crossover that has listeners raving.
We're just getting started for the month of October! Don't forget to catch a breath of fresh air on the patio, with vendors and a silent disco from 9-12.
Get Involved with SHIFT
Applications are open for vendors, live painters, and silent disco performers. Interested creators apply at the links below!
In due time, we will continue to announce more SHIFT Thursdays for Fall 2021 and beyond! Stay tuned for more information about our new loyalty program and collaborations with visual artists & live performers.
We are incredibly excited about this new chapter for Cervantes, River Beats, and the city of Denver, and we can't wait for you to see it all come together!
For media inquiries, please reach out to: ShiftCervantes@gmail.com