After months of diligent preparation, Cervantes' and River Beats are proud to reveal the majority of our Fall 2021 lineup for SHIFT Thursdays, a new electronic weekly event series happening every Thursday night at Cervantes'!
The first SHIFT Thursday kicks off on August 5, with Tripp St, Maxfield, and Craftal. This will be Tripp St Denver's debut, and we can't wait to make it a memorable one. Joining Tripp St will be a plethora of artists, such as Russ Liquid, Artifakts, Supertask, The Crystal Method, Kill Paris, Mystic Grizzly, Rome In Silver, Sumthin Sumthin, and dozens more. Check out our full calendar of events below for the Fall.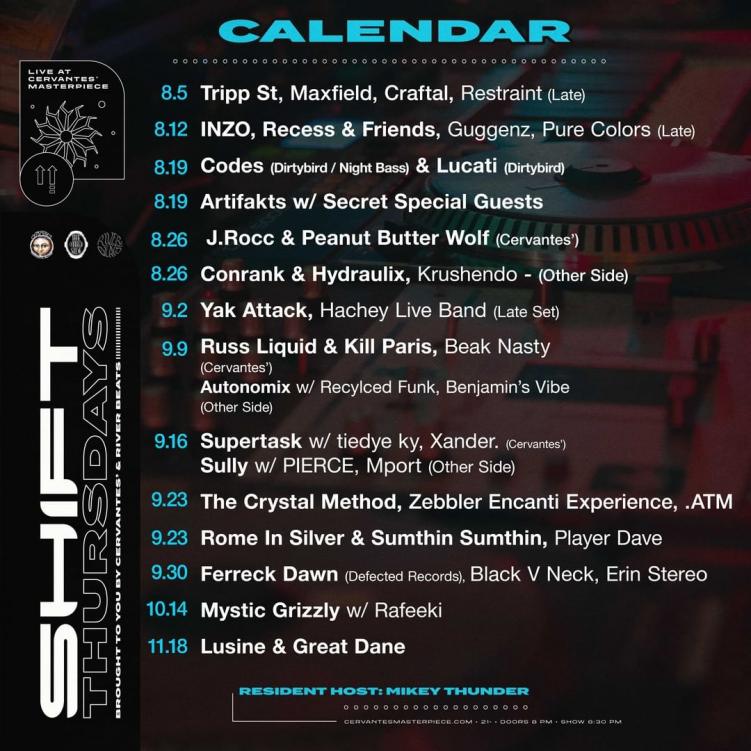 This eclectic mix of headliners and support artists is meant to reflect Denver's diverse love of music genres. With everything from Bass to House, to Techno, Jamtronica, and much more, SHIFT Thursdays has something for every type of music enthusiast! All of the shows listed go on sale Wednesday, June 30th at 10 am MT. A limited amount of early bird tickets will be available for each show so act quickly!
The SHIFT Loyalty Program
We will continue to announce more SHIFT Thursdays for Fall 2021 and beyond in the coming weeks! Stay tuned for more information about our new loyalty program and collaborations with visual artists & live performers. We are incredibly excited about this new chapter for Cervantes', River Beats, and the city of Denver, and we can't wait for you to see it all come together!
Stay tuned to our social channels tomorrow as tickets will go live at 10 am MT. Supporters of SHIFT can head to the Cervantes' website HERE to get their tickets purchased.