There's really nothing quite like decking yourself out in red, white, and blue and celebrating America's independence on the 4th of July. Whether you drive around to find the best fireworks displays, go big with a good old-fashioned neighborhood cookout, or attend a concert, there are many ways to do 4th of July in Denver.
As you finalize your 4th of July plans, please keep in mind that Colorado is still recovering from the COVID-19 pandemic and things aren't fully "back to normal" yet everywhere.
Some venues are still operating on a limited capacity, many places are understaffed, and some businesses or areas require masks, while others do not. Be patient and respectful, and of course, safe!
Where to celebrate Denver 4th of July:
Do you solely want to watch fireworks, or are you hoping for a bigger, more traditional Independence Day celebration? Either way, these 4th of July events in Denver are the places to be this year!
1. Colorado Rockies Fireworks Games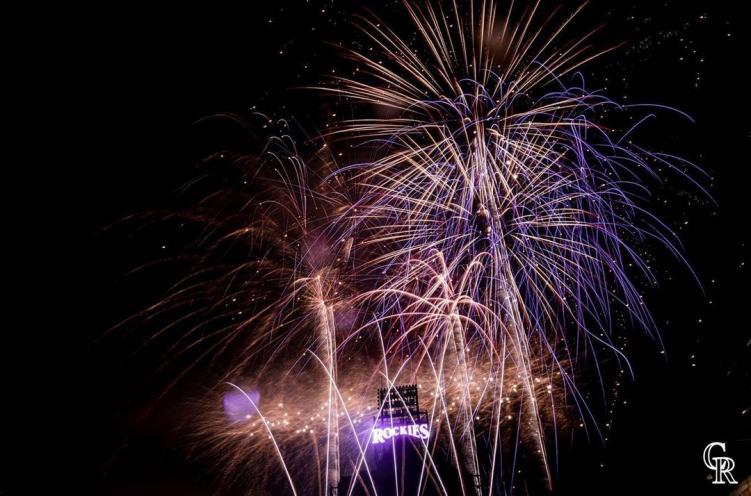 One fantastic way to spend your Denver 4th of July is at Coors Field. The July 2nd and July 3rd night games against the St. Louis Cardinals feature post-game fireworks.
On the 2nd, you'll also get a complimentary handheld American flag. Is there anything more all-American than fireworks at a baseball game?!

2. Blues Traveler Concert at Red Rocks
It simply wouldn't be a Denver 4th of July without Blues Traveler's annual performance at Red Rocks.
With the exception of only two years — 1999 and, of course, 2020 — the band has played at Red Rocks every 4th of July since 1994. While Red Rocks recently resumed normal, full-capacity operations, tickets may still sell out. Get yours here before they're gone!
3. Elitch Gardens
View this post on Instagram
Looking for ways to celebrate Denver 4th of July with the entire family? Head to Elitch Gardens, a local favorite theme and water park.
Spend all day playing in the water and indulging your inner thrillseeker on rides, then stay for the fireworks display after the park closes.
Insider tip: The best views are from inside Elitch Gardens, but the fireworks light up downtown Denver's entire skyline. Even if you can't make it to the theme park, you can enjoy the display from many spots throughout the city.
4. Park Hill Parade
There's a ton of history in Denver, and Park Hill is arguably one of the city's most historic neighborhoods. It's the perfect setting for the largest Denver 4th of July parade! Now in its 11th year, the Park Hill Parade takes place on Sunday, July 4th, at 1:30 pm.
The parade route runs along 23rd Avenue between Dexter Street to Krameria Street and includes 50 individual groups including marching bands, classic cars, traditional parade floats, and more.
5. Four Mile Historic Park Independence Celebration
Honoring the iconic American West spirit, this family-friendly Denver 4th of July celebration features a little something for everyone.
Enjoy live music, local food trucks, prairie games, kids' crafts and activities, and of course, fireworks at dark.
The celebration will be on Friday, July 2nd, and you can buy tickets in advance or at the gate.
6. Big Boom Bash, Lakewood
If you're in it strictly for the fireworks, neighboring Lakewood's Big Boom Bash on July 3rd is a great option for celebrating Independence Day in Denver. Please note this is strictly a fireworks display, meaning there won't be any sort of event associated with it.
Don't let that discourage you, though — in the last few years, this has been one of the city's best fireworks displays!
---
Where are you celebrating the 4th of July in Denver this year? Connect with us on social media and tag us in your patriotic adventures @riverbeatscolorado. Stay safe out there and have fun!