There's no denying that the coronavirus pandemic has changed the landscape of, well, everything. Even things as basic as going out for a burrito are vastly different than they were at the beginning of the year. However, music is synonymous with Colorado — the Mile High City in particular. If you're wondering where you can catch live music in Denver this weekend, we have you covered.
Whether you prefer a low-key coffee shop vibe with folk music playing softly in the background or jamming out to rock so loud you can't hear the person next to you, there are several options on the Denver live music calendar.
Disclaimer: In light of how quickly local COVID-19 guidelines and restrictions can change, we highly recommend calling ahead to confirm that specific venues are open and still have live music. 
Where to catch live music in Denver this weekend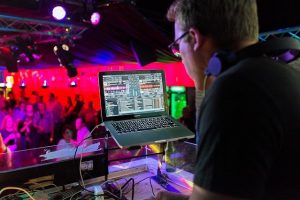 If you're looking for live music in downtown Denver, "The Pec" is a must. Musicians typically perform every Friday, Saturday, and Sunday nights. Don't miss the Chapultepec Shot, a literal dehydrated grasshopper served with tequila and creme de menthe. Hey, when in Denver…
No list of Denver bars with live music is complete without Herman's Hideaway, which has been around for nearly 60 years. Herman's has shown several nights a week, typically Wednesday through Sunday. Purchasing tickets in advance is recommended as capacity is limited to 50 people as of early November 2020.
Situated in Denver's hip RiNo neighborhood, Larimer Lounge is affectionately known as a dive bar that excels at bringing in bands before they make it big. Arcade Fire and Billy Strings are two prime examples. Larimer Lounge also has incredible happy hour specials. Currently, there's live music every Wednesday, Friday, and Saturday, plus some Sundays. Shows do sell out, so we recommend buying tickets ahead of time online.
If you're already checking out Larimer Lounge's live music in Denver this weekend, Nocturne is literally just a few hundred yards away. It's highly regarded as one of the best jazz clubs in the city, as well as an ultra-romantic date night spot. Its music calendar is filled with shows Wednesday through Sunday, but note that reservations are required.
Every Friday at 7:00 pm, FlyteCo features a rotating lineup of local bands. They don't serve food, but you can order interesting dishes like pulled boar nachos and elk burgers from next-door neighbor Barbed Wire Reef.
The Meadowlark is a standout for live music in downtown Denver. In addition, to live jazz every Monday, there are also weekly vinyl sessions, open mic nights, and Saturday dance parties. It's an intimate basement off Larimer, but don't be fooled — there's a dance floor, too.
It doesn't get much better than barbecue, music, and dancing, and that's exactly what you'll get at Globe Hall. Along with tasty eats and cheap beer, there are live bands every Friday and Saturday, and usually early and late shows.
The Black Box is definitely worthy of a stop as you watch live music in Denver this weekend, especially if you're into underground. The music calendar is jam-packed, with shows on Tuesdays as well as Thursday through Saturday. Shows are mostly on the patio, and there are usually local food trucks available.
Looking for a spot with an absolutely packed Denver live music calendar? That's Dazzle. The former Baur's restaurant has transformed into a super sleek show-and-supper club with live music almost every night. On the nights when no one's on stage, there's typically a live stream event to watch. Many of the live-streamed shows are even free.
This isn't so much a music venue as a hybrid pop-up concert/festival/art walk. Whatever it technically is, it's dope. In an alley near Milk Bar and Bar Standard, the Acoma Street Project sets up elaborate art installations, socially-distanced seating areas, walkways, also food vendors. There are either local DJs or live-streamed performances are projected onto the buildings, so it looks like you're at a real concert. We told you — it's dope.
Have you been to any of these venues recently? We want to hear all about it, plus info on any other Denver bars with live music. Check out some of our other articles on Colorado's music scene and connect with us on social media!
---
From the River Beats Colorado team: 2020 has been a very challenging time for travel, adventure, and events around our state. While we're aware these uncertain times may limit many aspects of life, we hope our editorials provide helpful tips while ensuring safe social and physical distancing