Denver has a vibrant nightlife scene, with hundreds (if not thousands) of bars to choose from all over the city. Whether you're looking for live music or a mom-and-pop establishment, sometimes you just want something a bit different. Enter speakeasies in Denver.
After Prohibition took effect in 1920, illegal bars popped up everywhere. These "speakeasies" ranged from tiny, bare-bones rooms to elaborate nightclubs with dancefloors, but they were all wildly popular. Today, many speakeasies in Denver are still alive and well, although some are incredibly secretive. Here are our favorites.
Best speakeasies in Denver
From an "art gallery" to a mysterious golden doorbell in an alley, the speakeasies in Denver all have distinct vibes.
Green Russell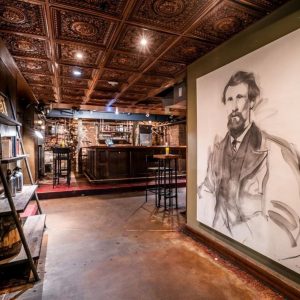 Green Russell sits in the center of bustling Larimer Square, but it's so well-hidden you'd never know it. Walk downstairs to Wednesday's Pie (which serves up some of the best pies in Denver), then go through the stainless-steel door.
While Green Russell has an extensive list of unique specialty cocktails, we highly recommend the "bartenders' choice." Simply tell the bartender what types of drinks you like — or don't — and receive an off-the-menu concoction. Fair warning: There's almost always a wait on weekend nights, as this Denver speakeasy doesn't accept reservations.
Retrograde
This North Capitol Hill speakeasy hides inside the ice cream shop, Frozen Matter. The setting isn't at all what you picture when you think of craft cocktails and a little-known '60s-themed bar, which only enhances the experience.
In Frozen Matter, look for the totally nondescript deep freezer door and flip the switch. After a few minutes, someone will let you into a tiny little waiting room. A few minutes more, and you'll be inside the aptly-named Retrograde. This is one of the smallest speakeasies in Denver, but it has an "out-of-this-world" vibe, with Astro-themed decor and notoriously strong drinks.
Williams & Graham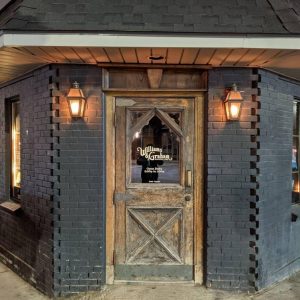 One of the most well-known speakeasies in Denver is set behind the most unlikely facade — a bookstore. Williams & Graham "Booksellers" is about as authentic as it gets when it comes to Prohibition-era speakeasies, with moving bookshelves and secret hallways.
The entire bar has just seven tables but still attracts national attention. Williams & Graham won a coveted spot on Thrillist's list of Top 23 Secret Bars in the World and regularly wins local "readers' choice" awards. Reservations are highly recommended.
Millers & Rossi
Much like Retrograde, Millers & Rossi sits behind an ice cream shop "front." But this particular lounge is unlike any other speakeasies in Denver.
Millers & Rossi is part ice cream parlor, part working gallery, part speakeasy — a unique, yet seriously hip combination to be sure. It sits, appropriately, in the heart of the artsy RiNo district and displays a wide range of local artwork, ranging from photography to oil paintings. The drinks are top-notch, but so is the food. Go for Tequila Tuesday and enjoy taco pairings.
B&GC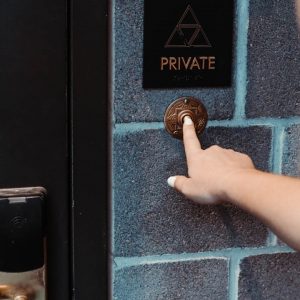 Located in Cherry Creek, the ultra-sleek B&GC is easily the most secretive of all the speakeasies in Denver. It's in the basement of the Halcyon Hotel, but you have to enter through the alley between 2nd and 3rd Avenues. Look for the door labeled "Stair 3," ring the golden doorbell, and speak with the doorman.
Sounds easy enough, right? Think again. While our instructions lead you directly to B&GC, whether or not you actually get in is a different story entirely. Some believe you automatically get in if you're a guest at the Halcyon. Some have success texting the reservations number listed on the website, and others say the bar is strictly members-only.
Have you been to any of these speakeasies in Denver? The next time you visit one, make a night out of it with dinner at one of the Mile High City's most romantic restaurants. Enjoy, and good luck getting in!
From the River Beats Colorado team: 2020 has been a very challenging time for travel, adventure, and events around our state. We're aware these uncertain times may limit many aspects of life. However, we hope our editorials provide helpful tips while ensuring safe social and physical distancing.