It's that time of year when more and more snow accumulates around the state. That means it's also time to think about where to find the best sledding in Colorado.
There's nothing quite like the thrill of flying down a snowy hillside. That's especially true when the only thing between your booty and the snow is a thin sled. It's fun for all ages and as a bonus, sledding is typically free or very low-cost.
You can certainly drive to one of the ski resorts in search of the best sledding in Colorado. But you don't necessarily have to. Fortunately, there are excellent sledding spots all over the state — and some sit right in the middle of residential neighborhoods.
Where to find the best sledding in Colorado
Perhaps you prefer a low-key area in the neighborhood, or maybe you want something a bit more adrenaline-pumping. Either way, there are awesome sledding hills all over Colorado.
1. Firecracker Hill, Telluride
The winter wonderland town of Telluride is world-renowned for skiing, but that's not all the resort town offers. On the south side of Town Park is Firecracker Hill, an always-free sledding and tubing hill. The Nordic Center rents sleds if you don't have your own.
2. Hidden Valley Snow Play Area, Rocky Mountain National Park
Fun fact: Hidden Valley was a ski area inside RMNP from 1955-1992. That's exceedingly rare, as there are just three lift-serviced ski areas in national parks: Badger Pass in Yosemite, Hurricane Ridge in Olympic NP, and Cuyahoga Valley's Boston Mills.
Today, what was once Hidden Valley's bunny hill has some of the best sledding in Colorado. You have to pay to enter RMNP ($25 for the day, $35 for a week, or $80 for the national parks annual pass — which we highly recommend), but the admission fee gets you clean, heated bathrooms and warming huts.
3. Canyon Creek, Glenwood Springs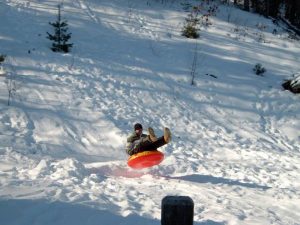 Unlike many other sledding areas, Canyon Creek isn't part of a ski resort. In fact, it's well off the beaten path, near an old landfill. Don't let that deter you though; Terrain in Glenwood Springs is spectacularly rugged, so even this undeveloped area provides hours of fun in the snow.
Want to make it a full day or even weekend trip? Check out the many natural hot springs in the Glenwood Springs area to warm up when you're done sledding.
4. Scott Carpenter Park, Boulder
If you're in the Boulder area, there's no need to head out of town for the best sledding in Colorado. Scott Carpenter Park is home to one of Boulder's largest and most family-friendly sledding hills — and it happens to be in the center of town.
5. Woodmoor Commons Toboggan Hill, Monument
Monument's Woodmoor neighborhood is home to a fantastic 11-acre sledding area. Toboggan Hill is especially unique in that it features several sledding hills, each a different size and difficulty level. Since this is a private neighborhood, take care not to park on someone's property.
6. Dutch Henry Hill, Leadville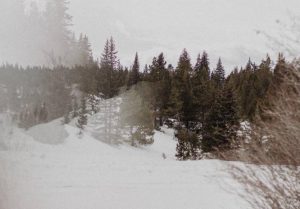 "Go Dutch" at Leadville's totally free sledding and tubing area, Dutch Henry Hill. It's open daily from dawn to dusk during the season, typically from December through March. There are sled and tube rentals on-site, as well as restrooms.
If skiing also interests you, visit Ski Cooper while you're in Leadville. It's not nearly as large or well-known as Colorado's Epic and Ikon pass resorts, which means no crowds and plenty of fresh pow.
7. Sledding Hill Park, Littleton
You'll find some of the best sledding in Colorado at Littleton's Sledding Hill Park, just 20 minutes from downtown Denver. The "park" is an undeveloped open space with a long, north-facing slope well-suited to sledding and tubing. Parking is limited, so park in nearby Sanctuary Park or Eagle Meadows Park.
8. Adventure Park, Frisco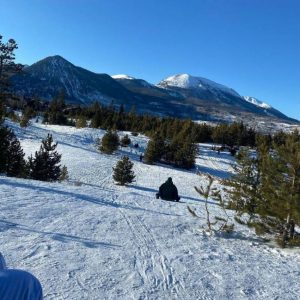 Just 1.5 hours west of Denver, Frisco's Adventure Park is best known as an epic multi-lane tubing hill that even has lift service.
However, there's a more traditional sledding hill right next to the tubing area. It's totally free, but you need your own sled, as there are no rentals available onsite. The Day Lodge sells sleds and also has a cafe and plenty of comfortable (and warm!) seating.
If you need more activities to keep you busy, you can take beginners' skiing and snowboarding lessons, snowshoe, cross-country ski, or even take a guided horse-drawn sleigh ride.
So which of these areas do you think has the best sledding in Colorado? Connect with us on Instagram @riverbeatscolorado or Facebook and let us know!
From the River Beats Colorado team: 2020 has been a very challenging time for travel, adventure, and events around our state. While we're aware these uncertain times may limit many aspects of life, we hope our editorials provide helpful tips while ensuring safe social and physical distancing.