Ahh… natural mineral hot springs in Colorado. One of Colorado's most amazing natural wonders and there is so much variety to choose from.
Are you looking for a secluded spot that requires a good hike beforehand? A place you can stay overnight and enjoy the late-night romantic hot springs vibes? Or are you looking for an easy daytime pool with an on-site cafe and gorgeous resort surrounding you?
No matter your vibe – there is a natural mineral hot spring in Colorado for you! Check out our top 5 spots to check out natural mineral hot springs in Colorado.
---
Iron Mountain Hot Springs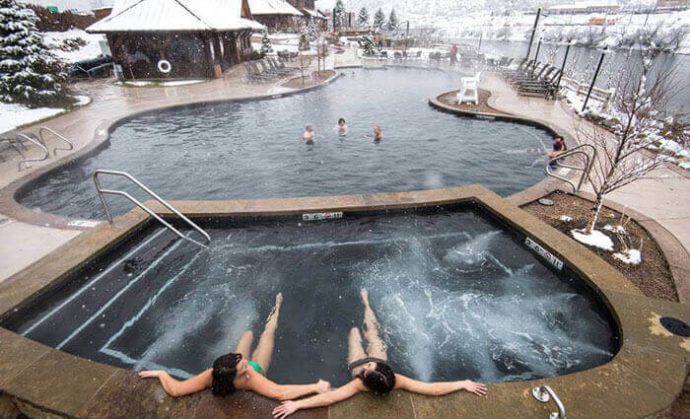 Location: Glenwood Springs, Colorado (Centrally located)
Admission: Peak pricing (May-Sept) $25 adult/child // Non Peak ($25-28 depending on time)
Iron Mountain Hot Springs is a multi-springs ticketed destination located right off of the Colorado River. There are 16 different mineral hot springs and a large family pool available for public use. They also have a cafe on site.
During COVID-19, advance reservations and masks are required. You can reserve your 2.5-hour time slot on their website here. 
Strawberry Park Hot Springs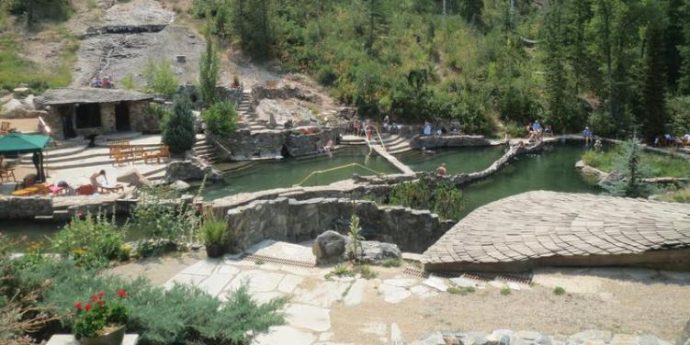 Location: Steamboat Springs, Colorado
Admission: $20 per person for daytime use (Overnight use included with lodging)
Strawberry Park Hot Springs is certainly the destination to stay overnight. They offer a variety of accommodations including adorable covered wagon (tiny cabins), tent sites, and larger rustic cabins just a few steps away from the large mineral hot springs. They offer overnight visitors hot springs pool access from 8 pm – 10 am (overnight) which makes this an excellent romantic destination. You can also make reservations for daytime pool use (10 AM – 8 PM) for $20 per person for a 2-hour visit. For more information and booking click here.
Conundrum Hot Springs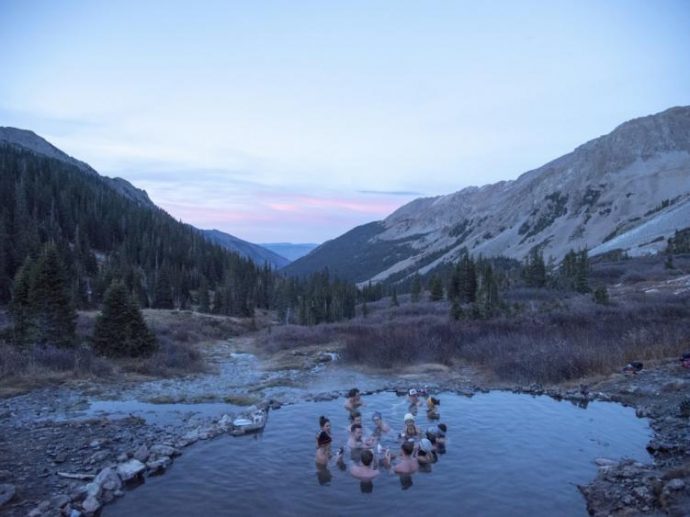 Located: Near Aspen, Colorado (off of Conundrum Creek)
Admission: Permit required ($6 per permit) – must reserve a campsite in advance
Conundrum Hot Springs is one of the most secluded hot springs featured on this list but it also requires quite an extensive hike to get there. The Conundrum Creek Trail to the Conundrum Hot Springs is very popular for backpacking as it is a 9 mi (one way) hike to the hot springs with roughly a 1400 ft climb to get there. Campsites do require advance reservations as they book up early.
Note: all hikers/backpackers will be required to keep their food/any scented products in a Bear Proof canister kept 200 ft away from the campsite, there are no fires allowed, and you must completely remove all waste (including human) from your site when leaving.
For more information on booking your campsite and availability, check here.
Penny Hot Springs

Location: Carbondale, Colorado
Admission: Free
Penny Hot Springs is a 6-pool primitive and free to the public hot springs. It's easy to get to, just park along the side and don't forget your bathing suit. Drawbacks are it tends to get pretty crowded during the weekends and later afternoons.
Note: due to COVID-19 shutdowns – this property may still be under partial closures and social distancing guidelines. Read more about the closure here. 
Glenwood Hot Springs Resort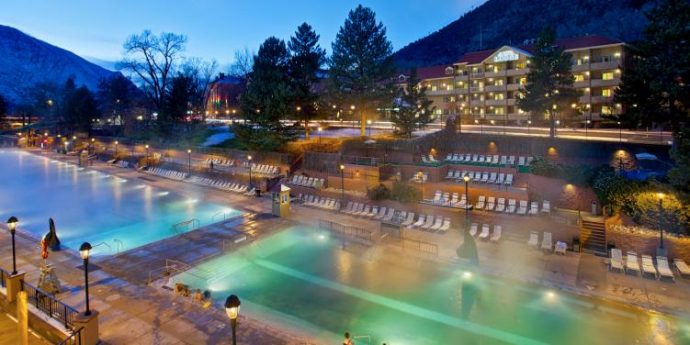 Location: Glenwood Springs, Colorado
Admission: Varies depending on date/time
This is certainly the most commercial hot springs experience, but it also hosts the largest mineral hot springs in the world. At Glenwood Hot Springs advanced reservations are not permitted during COVID-19, daytime use of the pool will be offered on a first come first serve basis with no-reentry.
We recommend getting there early – the good news is there are no restrictions on the amount of time you can stay. You can also rent a cabana to enjoy the shade and complimentary beverages. Check prices for peak and value dates here. 
---
We hope you enjoy your Hot Springs adventures while in Colorado – share with us your stories and photos on @riverbeatscolorado Instagram!