Tiny Ouray, Colorado, isn't quite as well-known as some of the state's world-famous ski towns like Aspen and Breckenridge. However, Ouray – which is pronounced you-ray; think "hurray for Ouray" – is impressive in its own right. 
Tucked deep into a valley in the San Juan Mountains at nearly 7,800-foot elevation, it isn't difficult to see why Ouray, Colorado is known as "Switzerland of America." Rocky Mountain peaks soaring well over 13,000 feet surround Ouray, helping to make this quaint former mining town a hub of outdoor recreation. Multiple waterfalls, natural hot springs, and a picture-perfect historic downtown add to the charming vibe. 
Whether you're a local or just want to visit Colorado, Ouray should be at the top of your shortlist for a weekend trip. 
Take a Hike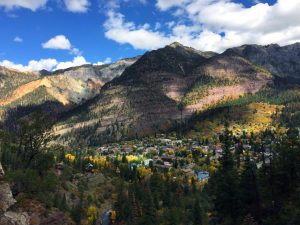 Ouray has several hiking trails suitable for all skill and experience levels. Whether you're looking for a short, leisurely stroll, or a strenuous workout, you'll find it in Ouray. 
The Ouray Perimeter Trail is wildly popular with locals and visitors alike. This trail originates at the visitor center and takes you up to the cliffs overlooking the town, past a whopping four waterfalls and five bridges. While it's six miles total, multiple access points allow you to shorten it. The initial climb to get to the trailhead is steep, but the trail itself is relatively flat and easy.
Soak in natural hot springs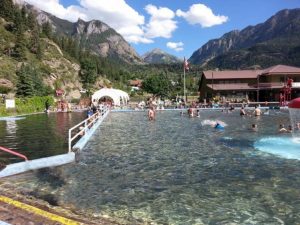 Like many other Colorado mountain towns, Ouray has several natural hot springs. Here, they're the result of thousands of years of heat and pressure underground along the Uncompahgre River. Soaking in one – or several – is an excellent way to end a busy day of adventuring when you visit Colorado.
The Ouray Hot Springs Pool is open year-round and is the largest in town. Several other hotels and resorts have direct access to natural Ouray hot springs on-site, including Box Canyon Lodge and Twin Peaks Lodge.
Take a Jeep tour in Ouray, Colorado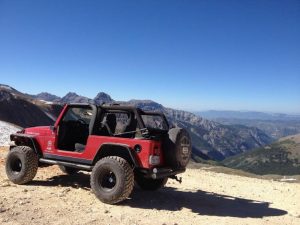 "Jeeping," or exploring in a Jeep or similar four-wheel-drive vehicle, is a wonderful way to experience Ouray, Colorado. Ouray is surrounded by hundreds of miles of spectacular backcountry roads that are best (and most safely!) explored in an off-road-capable Jeep. Several companies in town offer guided tours or rentals so you can explore with as much – or as little – guidance as you prefer. 
Ouray Ice Park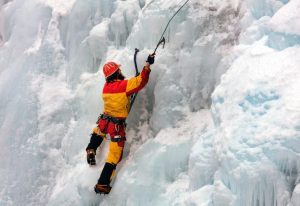 The number of natural waterfalls in and around Ouray, Colorado, attracts ice climbers from all over the world during the winter. As the sport grew in popularity in the late 1990s, the manmade Ouray Ice Park was established. It offers more than 100 climbing routes in 11 distinct areas with something for every experience level. 
The Ouray Ice Park is always free and open to the public. Each January, the park hosts the Ouray Ice Festival, a 3-day event that attracts some of the world's top ice climbers and has become the largest event of its kind in North America.
Experience Colorado's craft beer scene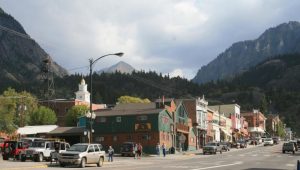 It's no secret that Colorado takes craft beer seriously. It's an art form here, a way of life. You simply can't visit Colorado without indulging in at least one locally-made craft beer. 
Although Ouray is tiny, it has no shortage of breweries. There are four within Ouray, all of them fantastic. Check out the scratch kitchen at Red Mountain Brewing or Ouray Brewery's rooftop bar.
Have you ever been to Ouray, Colorado? We want to hear all about it! Connect with us on social and tag us in your trip photos @riverbeatscolorado!