From super-casual food trucks to tiny bakeries whipping up the best pies in Denver — and everything in between — the Mile High City's foodie scene is booming. There is truly no better city for a romantic night out.
Perhaps you want to impress someone on a first date or celebrate an anniversary. Maybe you're simply keeping the sparks alive. Whatever the occasion, the most romantic restaurants in Denver have you covered. Here are our top picks, covering a wide range of food types, ambiance, and budget.
Please note: Reservations are a must, as Colorado restaurants continue gradually re-opening and operating at a limited capacity. Thank you for supporting our local economy while also being flexible and patient. 
Beatrice & Woodsley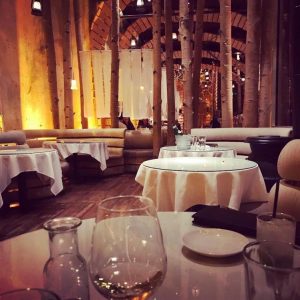 Even the inspiration for building Beatrice & Woodsley makes it one of the most romantic restaurants in Denver. This dreamy restaurant honors two unlikely lovebirds, a lumberjack's son and a winemaker's daughter. It's based on "a passion to bring the wilderness of the forest into the solitude of the city."
Clusters of real aspen trees, tree stump tables, and flickering camp lanterns all make you feel as if you're in the forest. In addition, OpenTable calls it "some of the best food in the country." The extensive wine list and menu encourage cozying up and sharing (think cheese boards and small plates).
Nocturne Jazz & Supper Club
Few things are more romantic than the combination of live jazz and good food. That's precisely why Nocturne is widely considered one of the most romantic restaurants in Denver, but the incredible service and ultra-cool, speakeasy-esque vibe help too.
Nocturne has live music nightly Wednesday through Sundays, a combination of local and national jazz artists. All reservations include "dinner and a show," a three-course dinner and live music performances. Don't leave without ordering beignets for dessert and an amaro flight.
The Plimoth
Tiny, unassuming, and a bit rustic, The Plimoth almost openly invites couples to stay awhile and canoodle.  The low lighting and exposed brick are warm and friendly, but the ever-evolving menu is upscale and screams date night in Denver.
Literally everything on the modern French and Italian-inspired menu is delicious. While it's fairly limited and changes frequently, there's a good reason for that: The Plimoth works with local growers and artisans to curate only the freshest, most in-season dishes. A few menu staples that locals love include the crispy brussels sprouts and the crispy-skin duck magret.
Izakaya Den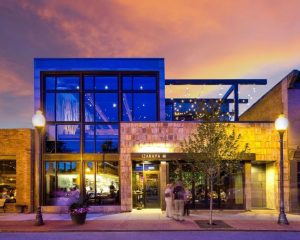 Everything about Izakaya Den screams "date night in Denver." The stunning two-story sushi restaurant has easily one of the best rooftop patios in the entire city — which is saying a lot because there are some pretty incredible views from restaurants downtown.
Izakaya Den is what we call swanky, but not at all over the top, which is what makes it one of the most romantic restaurants in Denver. The sushi is also phenomenal (if you need more convincing, know this: the Kizaki brothers, the geniuses behind Sushi Den, own it), and it comes tapas-style, perfect for sharing with your date. Not a sushi fan? There are plenty of other options on the menu, like gyoza and noodle dishes.
El Five
The view from El Five alone makes it one of the most romantic restaurants in Denver, but the food, service, and ambiance don't hurt one bit. The Mediterranean restaurant sits on the fifth floor of the building at 2930 Umatilla and has completely unobstructed downtown views. Tables inside have an excellent view, but we highly recommend sitting on the open-air patio.
El Five serves everything tapas-style (and it's all really, really good), so order several things to share with your date. We're partial to the harissa eggplant fries and goat cheese croquettes. The restaurant also does brunch on Sundays.
Corridor 44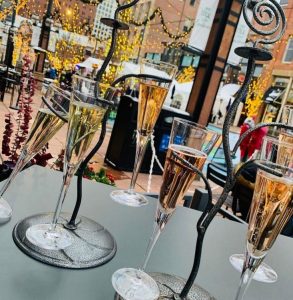 What could be more romantic than a champagne bar? Not only does Corridor 44 have over 115 champagne bottles on its menu, but it also offers champagne martinis, champagne specialty cocktails, and — well, you get the idea.
Corridor 44 is set up exactly as you might expect for one of the most romantic restaurants in Denver. Curtains separate tufted leather booths and twinkling chandeliers illuminate the space. Order a champagne flight and a few small plates (we highly recommend any one of the tartines).
Do you have Valentine's Day plans yet? We'd love to hear about them! Connect with us on Instagram @riverbeatscolorado and show us which of the most romantic restaurants in Denver you choose. And for more date-night ideas, be sure to check out some of our other articles.
From the River Beats Colorado team: 2020 has been a very challenging time for travel, adventure, and events around our state. While we're aware these uncertain times may limit many aspects of life, we hope our editorials provide helpful tips while ensuring safe social and physical distancing.