Calling all history buffs! Colorful Colorado has a rich and storied history, defined by being the former home of dinosaurs, its importance in the Gold Rush, and exploration as a gateway to the Wild West. So it should come as no surprise that today, there are several Colorado historical places to visit.
From ancient ruins and abandoned ghost towns to stunning natural landscapes, there are interesting attractions all over the state. Which one will you visit first?
7 Colorado Historical Places to Visit
Coloradoans are fortunate to have easy access to so many interesting, beautiful, and in some cases, sacred, historic sites.
Sand Creek Massacre National Historic Site
This is the most tragic of all Colorado historical places to visit, but certainly also one of the most important. The Sand Creek Massacre site commemorates November 29, 1864, the day U.S. soldiers attacked and slaughtered several hundred unsuspecting Arapaho and Cheyenne people — for seemingly no reason whatsoever.
Hike the half-mile trail from the visitor center up to the monument. It overlooks Sand Creek, the sacred grounds where the massacre occurred. Fair warning, visiting will leave you feeling somber, but the site marks a significant event in U.S. history.
Dinosaur National Monument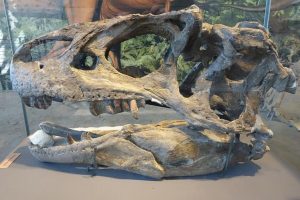 Did you know that dinosaurs — lots of them — once roamed all over the Centennial State?
The Dinosaur National Monument near the Utah/Colorado border is proof. If you're even remotely into paleontology, this is one of the coolest Colorado historic places to visit.
Visitors can check out dinosaur fossils, of course (an entire wall of more than 1,500, in fact), but there's much, much more to see and do. Take a scenic drive, hike, go rafting on the Green or Yampa Rivers, or try your hand at excavating dino bones along the Fossil Discovery Trail.
Colorado National Monument
Colorado is (rightfully) famous for its soaring mountain ranges, alpine lakes, and winter sports culture. The Colorado National Monument near Grand Junction, however, shows off the state's Southwestern roots.
Marvel at the soaring red sandstone formations, vast canyons, and desert landscape. Take a literal walk down history lane and hike Serpents Trail, the original route built in the early 1800s to access the area.
You can see the entire monument in a relatively short timeframe, even if you hike. Make a day of it and drive the famous Million Dollar Highway, less than two hours away.
Mesa Verde National Park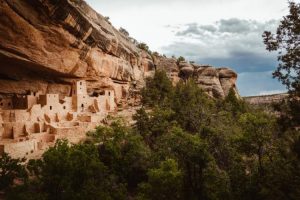 The Ancestral Puebloans were the earliest residents of Colorado. They lived in what is now Mesa Verde National Park for over 700 years, from 600 to 1300 CE.
Park visitors can tour cliff dwellings and other archeological sites that give some insight into how the Puebloans once lived. Mesa Verde encompasses nearly 5,000 sites including over 600 cliff dwellings. They're some of the most well-preserved in the entire country and some say the world. Must-sees include Balcony House and the Petroglyph Point trail.
The park is just 40 minutes from Durango and 1.5 hours from the Four Corners, so consider making it into a weekend trip and exploring even more.
Florissant Fossil Beds National Monument
According to the National Park Service, Florissant Fossil Beds National Monument protects "one of the richest and most diverse fossil deposits in the world." We already know dinosaurs once lived in Colorado, but the fossils here are a different type: plants and insects.
They're far more interesting than "just" plants and insects, however. The ones at Florissant Fossil Beds are around 34 million years old and are incredibly diverse. Here, you'll find petrified redwood trees — yes, the same redwoods that are the largest, tallest trees on earth and typically only grow in the Pacific Northwest.
Hike the Petrified Forest Loop and enjoy sweeping views of Pike's Peak, then head to nearby Colorado Springs for a day of sightseeing.
Bent's Old Fort National Historic Site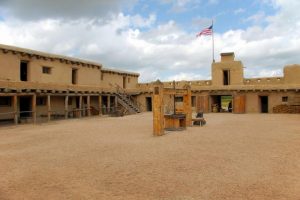 In the 1830s, fur traders constructed a large trading post on the Santa Fe Trail. Located near present-day La Junta, it was the only major trading post between the state of Missouri and the Mexico border.
The original adobe fort was reconstructed as Bent's Old Fort in 1976, the year of Colorado's centennial. It's historically accurate, allowing visitors to get a true sense of what life was like back in the 1800s. Fun fact: Bent's Old Fort was the first place in Colorado designated as a National Historic Landmark. That makes it one of the best Colorado historical places to visit in and of itself!
Watch "living history" re-enactments, hike the 1.5-mile trail alongside the Arkansas River, or stop by the bookstore for hard-to-find and rare period items.
Bachelor Syracuse Mine
Located near the spectacularly beautiful mountain town of Ouray, the Bachelor Syracuse Mine produced an abundance of silver and gold for more than a century.
The mine is one of the most interesting Colorado historic places to visit. You get to experience mining the way it truly was, going 1,500 feet into Gold Mountain. Pan for gold in the stream and even operate original blacksmithing equipment!
There's also an excellent cafe on site that serves breakfast on summer weekends, plus a gift shop. Ouray has plenty to do as well including hiking and natural hot spring, so plan to make at least a day of it.
We hope you're as excited as we are to check some of these places out! When deciding which Colorado historical places to visit, please remember to be respectful and leave no trace.
From the River Beats Colorado team: 2020 has been a very challenging time for travel, adventure, and events around our state. While we're aware these uncertain times may limit many aspects of life, we hope our editorials provide helpful tips while ensuring safe social and physical distancing.
---