Hundreds of Colorado ghost towns are scattered throughout the state, all that remains of once-bustling mining camps. Colorado was at the center of the Gold Rush in the 1800s, long before it was a state. People flocked here from all over the world and hopeful prospectors even had a saying, "Pike's Peak or bust!" 
Winters in the Rockies were challenging, especially in high-elevation towns like those in the Red Mountain Mining District. Along with the collapse of the Gold Rush, those challenges saw the demise of even the most successful mining operations. Today, what's left are abandoned Colorado ghost towns with roads leading to nowhere, crumbling buildings, and noticeably eerie vibes.
Independence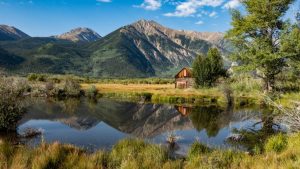 The drive itself to Independence, Colorado, is mildly terrifying. This Colorado ghost town sits at 11,000 feet elevation and is inaccessible in the winter, perched atop nail-bitingly steep Independence Pass near Aspen. 
Independence was settled in 1879 and quickly became a thriving mining town when prospectors struck gold that year. At its peak, the town was home to 1,500 people and over 40 businesses.  
With its ruthless winters, Independence Pass proved too difficult for stagecoaches. The Great Blizzard of 1899 scared off the last residents and the Colorado ghost town was abandoned by the start of the 20th century. 
Several log structures remain in this Colorado ghost town, along with natural hot springs, and the Aspen Historical Society offers guided tours.
Animas Forks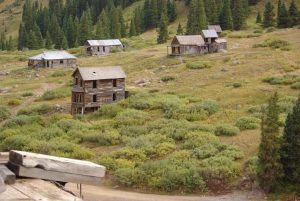 The silver rush drew prospectors to Animas Forks in the San Juans in 1873. Although smaller than other Colorado ghost towns, it had a thriving population of 450 by 1883. 
It isn't known exactly why this Colorado ghost town was abandoned, but it's safe to assume it was largely because of frequent blizzards and avalanches. Residents reportedly moved south to Silverton every winter, unable to handle the 11,200-foot elevation. 
If you're visiting, stop by the Duncan House, also called the Bay Window House. It was once owned by mining heiress Evalyn Walsh McLean, one of the last private owners of the world-famous 45-carat Hope Diamond.
Saint Elmo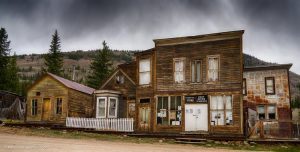 The Collegiate Peaks near Buena Vista are home to several Colorado ghost towns. Perhaps the best-preserved is Saint Elmo, with its distinctive main street and 40 buildings still standing, including the courthouse and jail.
St. Elmo was founded in 1880 and once had a population of about 2,000. The railroad drove St. Elmo's boom, but when train service stopped in 1926, mine production halted and the town was slowly abandoned.
From May to September, visitors can shop at the St. Elmo General Store and even rent a cabin onsite. Make a weekend out of it and explore nearby Tincup, a famously rowdy town where sheriffs were repeatedly either run out of shot. 
Gothic
The name Gothic alone screams Colorado ghost town. Gothic is close to Crested Butte, known as the "last great Colorado ski town." It's accessible all year, which likely contributed to its rapid growth in the late 1800s.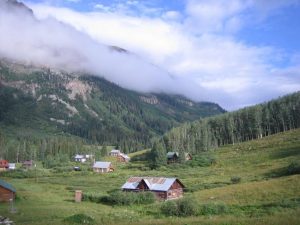 In its heyday, Gothic had a population of over 1,000 and even hosted a visit from then-President Ulysses S. Grant. The prospectors left after silver crashed in 1884 and by 1914, Gothic was deserted.
That wasn't the end of Gothic's story, however. In 1928, the town was purchased for the site of the Rocky Mountain Biological Lab. Students and researchers spend summers studying the area's ecology and climate change. 
Teller City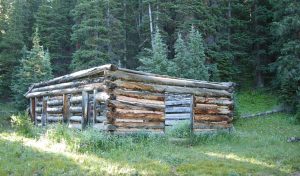 After silver was discovered in this remote region in 1879, Teller City was formed as a mining camp-turned-town. It was once the largest town in the entire area, with 1,500 residents, hundreds of cabins, and a whopping 30 saloons.
The 1884 silver bust led to Teller City's demise, and by 1902 it was another Colorado ghost town. It's well worth a visit, as the surrounding forest offers gorgeous scenery and there are several lakes and creeks nearby. A well-maintained ¾-mile loop trail allows visitors to explore Teller City itself.
Don't want to take our word on it? Check out these haunted places yourself and let us know how it goes!
---
Looking for other fun activities? Check out our travel guides for finding hot springs and things to do in Colorado Springs! Or visit our Instagram below to stay up to date on all things Colorado!
---