Creativity has been the jet fuel for Homemade Spaceship in 2020. Denver's own Homemade Spaceship is the combination of a sound understanding of music theory and love for filthy bass music.
The Mile High Sound Movement artist is the brainchild of multi-instrumentalist Rob Revere. Homemade Spaceship mashes elements of dubstep, experimental bass, and hip-hop with tasteful sampling and flavorful melodies that glue the pieces together. The sound design is truly the cherry on top; Revere's ability to mixdown complex tracks is one of his specialties and recognized by renowned producers across the US.
Homemade Spaceship has toured nationally with acts such as Griz, The Floozies, Mr. Bill, FKJ, Mr. Carmack, Minnesota, SoDown, and has guest-hosted an episode of Pretty Lights "Hot Sh*t" on Sirius/XM. His energy can take you from blowing up planets to stargazing the skies in seconds.
Fresh off a drive-in gig and a slew of live streams, Denver producer/instrumentalist Homemade Spaceship spoke with River Beats to talk about his recent show, new music on the horizon, and gaming choices over the last few months.
Q: Hey Rob, thanks for taking the time to talk with us today. To get started, tell me a little about the Beanstalk: At The Drive-In Part Deux.
A: It was special in an interesting way. Everyone kinda had their campsites, and it was cool getting to see all the different setups. It's funny, usually, when you're at a show you can't hear what the person right next to you says, you had to yell in people's face for them to hear you. It was nice to be able to have a conversation during the show.
But yeah, I had an awesome time, I played a bunch of downtempo music. Ironically, Scott Hachey from the Magic Beans was a student of the Ableton class I teach at KMG. I remember asking the class if anyone was in a band, and Scott answered "Yeah, I'm in the Magic Beans." I was like "dope, well you're the teacher of the music business section now."
The Beans played a movie soundtrack portion that I thought was mega interesting. And SunSquabi crushed as always, it was cool to see them switch it up with the electronic drums.
Did you approach the drive-in differently than any of your other shows?
It was different to hear my music through headphones playing live. It was like somewhere between a stream and a regular show.
What have you been doing with all the extra time on your hands given everything that's going on?
I was a mega creative at the beginning of quarantine, I was writing a bunch of different types of tunes. I've probably written 20 or 30 but I think leaving with five or six keepers in the course of a couple of months is pretty good.
I wrote a pop-punk song with this drum plugin I recently got. It's been a trip to try and write stuff with just two guitar, bass, drums, and vocals. It's a new perspective to have to work with what you have, rather than having everything at your fingertips like when I write Homemade Spaceship tunes.
So how do you feel about live streams?
I think they're dope! There are pros and cons to all things, but I think it's been good for the community. I got to help raise some money for my friends at Boredom Fighters who help teach music to underprivileged kids in different communities, so I'm always down for stuff like that.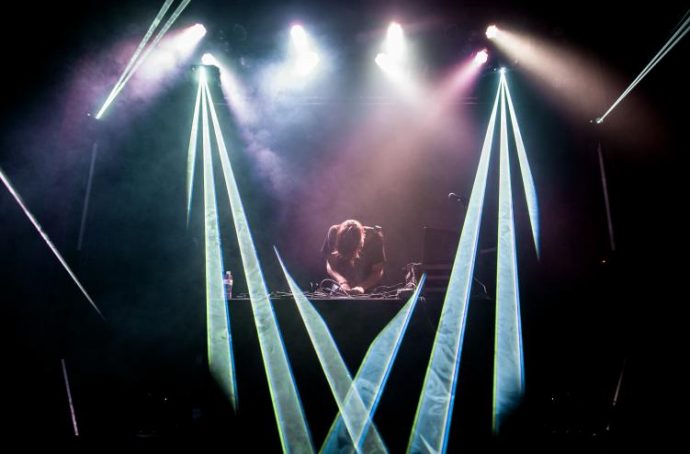 I know you've been doing some teaching yourself, tell me a little about that.
Yeah, I had been teaching lessons to friends for a while, but I was recently hit up by a school called KMG up in Boulder. We have an awesome squad of teachers – VibeSquad and Banko from KyralxBanko teach there, too. I've always had a passion for teaching. It's the little things, like when I teach someone something in Ableton and they can use frequencies to manipulate people's emotions and communicate something in a way that they've never been able to…it makes me feel like Dumbledore.
What have you been gaming on lately?
Been playing a lot of Destiny, Donkey Kong Country…I'm a pretty serious Super Smash player, so if anyone is reading this and wants to play, hit me up on Instagram for my friend code (@homemadespaceship).
Tell me about what you've been cooking up in the studio lately.
Yeah man, when quarantine started I made a couple really emotionally driven songs…there was this black hole of emotions in mine and everyone's life. It was almost felt like the Yin to the Yang came out.
I have two tracks out on the new Mile High Meltdown – Rare Trash and a collab with Midicinal and Funkstatik called Purple Pines which was a blast to make.
I also started getting into John Cage, and I really dig all the weird stuff he did. I've been doing things like using the sound from opening the flute valves and sampling that as a percussive element, and tapping the guitar cable against the guitar input instead of putting it in all the way so it just makes that buzzing noise manipulating that.
I tell my students to go to the thrift store with $20 and a stick and just hit stuff, and then buy whatever sounds cool when you hit it. I'm trying to take that to the next level.
Also, I have a collab with Vibesquad called Pockets made up of samples of things I had in my pocket at the time. Tapping my keys, hitting a cup with a lighter, it's an interesting one.
Anything else you want to add?
Just wanted to say I'm super grateful for the opportunities I've had recently. The Magic Beans and SunSquabi could have picked from a plethora of dope producers and I appreciate them putting me on the bill. 
---