2021 was an incredible year for bass music after one of the most difficult times we can remember. It was no different for the promising Canadian producer MYTHM, who has taken streaming platforms and stages in the United States by storm.
Also known as Mikey Miele, MYTHM is undeniably one of bass music's most promising artists. Wrapping up his debut US tour with stops in Denver and Seattle, it's clear he's made a statement.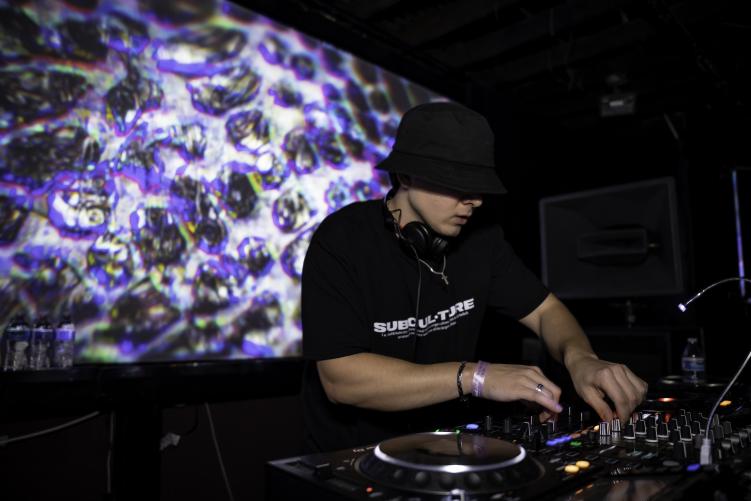 Diving into the Underground
We got the opportunity to catch up with MYTHM before his debut headliner at the legendary Black Box. For many, this is not just a venue but a destination to perform. Run by Nicole Cacciavillano and the Sub. mission team, The Black Box is a cornerstone in the dubstep community.
On December 17, MYTHM's opportunity finally arose. With direct support from collaborator and good friend leet, attendees were treated with a combination of unreleased IDs, crowd favorites, and more. We can't wait for his return in 2022 and are thrilled to see what's next!
For those that aren't familiar, could you give a brief history of how the Mythm project came to be?
MYTHM: So MYTHM began January 1 2019 and it used to be a duo. Not many people know this, but right off the bat, we had 5 tracks all ready to go. We released a track the first week of January and got mad support from Chee and Subtronics.
I remember Peekaboo actually messaged me on Facebook because someone tagged me, Mikey Miele, and he reached out to me. "This track is nuts man, please keep sending me tunes I'm putting a few mixes together." And that's how it came to be.
The backstory is, I used to be an artist named Numatic, and Numatic was just when I was DJing in Vancouver at 18. I started with house music and bass house, everything I could as a hungry kid wanting to play shows. I grew up listening to Deadmau5, Skrillex, those artists, I didn't really know about underground bass music.
My brother Nick was going to Shambhala and Burning Man in 2006 when I was still in elementary school. I'm only 25, born in 1996. I remember seeing photos of him at Burning Man and thinking, yo are you on Mars?
For a while, he was on the music grind, making halftime, juke, and footwork which was big at the time because of the Bass Coast and Shambhala presence. Fast forward, my brother showed me all of this bass music as I began to learn how I wanted to DJ.
I started to look further into the underground where I discovered Excision and Downlink who happen to be from Kelowna, Canada. It's crazy because they were the biggest artists in dubstep that came with a new vibe that wasn't like what was being made in the UK.
I went to Bass Coast in 2017 and Shambhala just a month after. Bass Coast was crazy, I must have been the youngest person there. I was maybe 20, 21 and it was an older crowd with intimate vibes and more underground music. There's where I met my homie Pat, who was a solo artist himself named strange thing and he made really dope half-time.
We got together on Sound Museum, Saturate Records side label that I was signed to as Numatic. Not many people know this but I have an EP on Sound Museum as my old alias. It's like an easter egg no one knows about.
I went to his place, we made a ton of music, and decided to start MYTHM. I came up with the name, and within a couple of months we had a game plan and everything rolled out. We dropped the project in January 2019 and off it went.
However, he started a family, got married, and at 28 now 30, he was a bit older. He was straight up though and said, "I'm going to step back and let you do your thing."
I thought "am I going to be able to keep this momentum and this project going?" because we had a lot of hype.
Everything that's happened in that time is so crazy because at the beginning I was in a duo making half-time, and now I'm pushing 140 and sound system culture. That's where things kind of started taking off.
What are some of the challenges you faced in choosing and building your audience as a new alias?
Honestly, it was pretty easy because we just had a game plan – I went to school for marketing and understand social media pretty well. We decided to change all of our socials on our solo aliases, archiving our previous posts, and posting a single date, January 1, 2019. Everyone was like "what's happening? What is this?
So the plan was already in motion. We had the tracks, now we need a logo, now we need to nail down our aesthetic. We had a plan for releasing our 5 tracks, and it was a Soundcloud come up a lot like Saka and Superave, around that same time. Every month consistently we released and we knew what we wanted to do. Everything just kind of fell into place.
I came up with the name MYTHM, I thought it was always strange coming up with names but it came to me so easily thinking about dark, mythical, mysterious, in-the-smoke vibes. It can be whatever you want it to be.
For me it's funny because people are always like "Mikey, you're such a bubbly person with so much energy." Then I go on stage and become MYTHM, it's not like two different entities, but I get in the zone and people see me play for the first time they're like okay this kid means business.
That's what's been so crazy about this tour, is I've been this mystery to so many people – no one knew who I was or who MYTHM was. It's been everybody's first time seeing me in the states.
That's awesome to hear you're utilizing the skills available to you. You mentioned bass coast was the event that took you to the next level, is there someone in particular that inspired your deep dive into the culture?
I mentioned Excision when I was way younger, but when I went to Bass Coast I was so new to bass music and I saw Thelem, Shades, an Alix Perez solo set, I saw Craze, Shield & Jon1st.
There was so much half-time, no one was really pushing 120 yet, and that's what made me fall in love with the style, Bass Coast 2017. I went home dove into the swanky drums, off-kilter percussion, all of that. That's when I decided to start writing half-time and bass music.
Now that you're stateside, you've also got the chance to work with and perform with the likes of Dalek One, Ternion Sound, and Khiva. What are some artists that inspired this journey?
Ternion Sound, those guys are my biggest inspiration pushing the 140 culture. Aric is one of my really good friends. I've still yet to meet Andrew but writing music with him on Zoom you can just tell how dope he is. Jack is just the evil scientist.
The trifecta of Ternion Sound is on top of the game. Truth, The Widdler, all of those guys are doing it but Ternion is going to be the next big thing, they're going to have their own Red Rocks, their own events, it's going to be crazy.
Working with them, being inspired by them, pushing that experimental space with sound system culture but putting your own spin on it, I'm just trying to use all of that along with my other inspirations to push the 140 sound.
All of the DDD roster that I've worked with, Notlo, Dalek One, Colt Cuts, Hypho, they're all pushing that vibe, and dubstep is just an amazing thing. It has all these different avenues and I'm just trying to push the one that inspires me the most. I wouldn't say that I make deep dubstep, I'd say I hit more of the mid-range.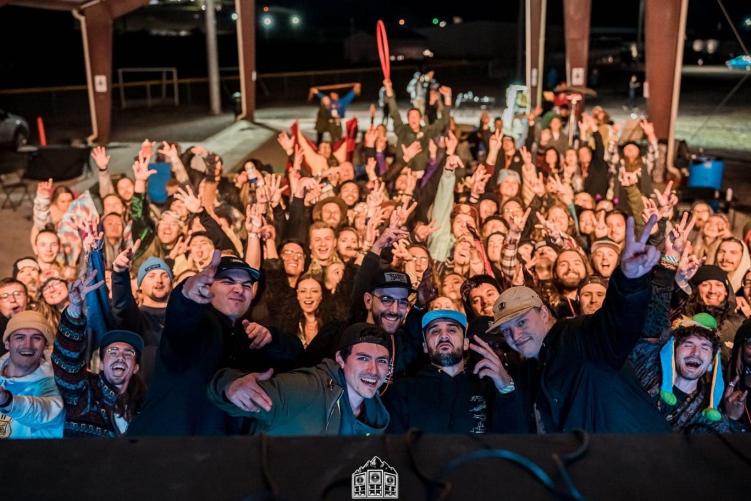 My biggest inspiration next to Ternion Sound is Thelem, every tune you can tell is so unique. His flow is unmatchable. I met him in Victoria a while back and he's the nicest dude ever. I'm happy he found his love for tattooing but damn I'd be lying if I said that seeing him hang up the music thing wasn't tough. He had such a special thing going.
He's honestly the most talented dude, and I'm happy for him and I play so much of his music. My goal was always to work with him, and maybe one day we can still get in the studio and make something. Every Thelem tune I play goes off. Him, Tsuruda, Mesck, Dalek One, Chee, when they make 140 they push the envelope.
Dubstep sometimes can be very minimal which is an amazing thing, but I'm trying to push it as they do. Kursa is a name I can't forget to mention, all of Slug Wife are incredible. The way I think about dubstep is the way people utilize space outside of the bassline.
One thing that's prominent in my tracks is vocals. The way Kursa uses all of his vocal samples in his tracks is so sick. Often times those are the most memorable parts of the track because a lot of dubstep is no vocals at all or shouts with reverb. I'm trying to do crazy vocal chops and Kursa is my favorite to do that.
Thelem utilizes a lot of flowing, whippy, laser sounds and it's so sick because 140 can get repetitive and that's not a bad thing but you step outside the box people stand up, and that's what I'm trying to do with my music. I think people are catching on to that with MYTHM. It's pushing the envelope while still maintaining and staying true to the culture.
You've also had the chance to work with Dalek One while in town, how did that go?
Dalek One and I just wrote two tracks in two days, he's a psycho in the studio. I like to work fast as well, and it's cool because we've both got a formula so it's sick. I'll be debuting some collabs with him.
What do you have on the near horizon that you'd like listeners to know about?
I've released so much music in the last two years and I really think that's helped put me on the map. I've written so much, I have all of these dubs and collabs ready to go. I'd like to keep that going for 2022, but be a little more selective. A lot of collabs will be coming.
The first release is going to be January, my first with DUPLOC, a compilation called Blxck Txpes. It features Mesck, Ternion, and some other heavier dubstep. DUPLOC can be very deep, so I was really excited when Peter reached out. That's going to be huge.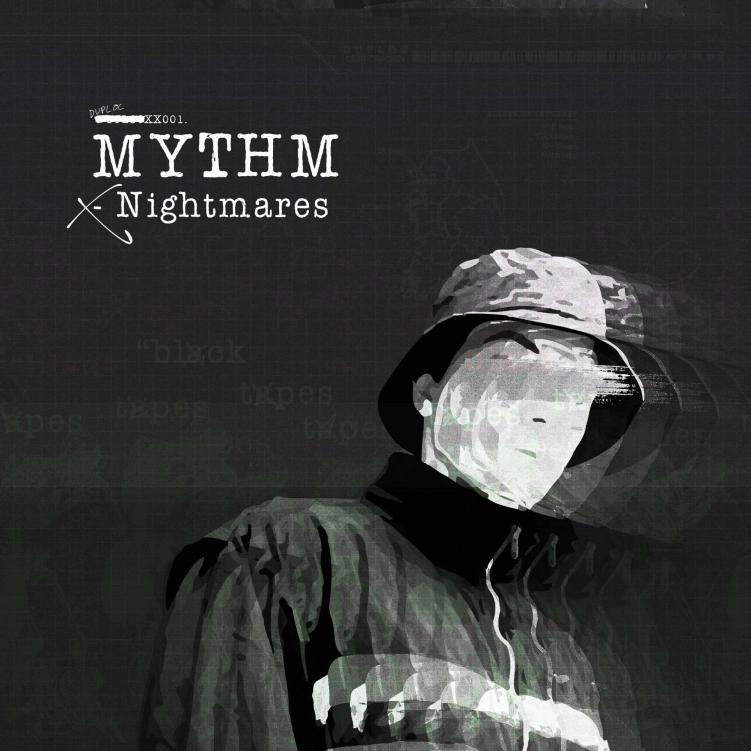 How does it feel finally getting to perform at The Black Box?
I went for the first time for Hatcha's 4 hour set. He's an insane DJ, an original don of dubstep. He actually came over to Harrison's (leet) while he was in Denver. Last week I had a gig in Massachusetts and as I was leaving for the airport he was coming in and told him we should link up.
Thursday he hit me up and we were able to work on music for a few hours before the show. We went to the show after, and he played some of my tunes. Big up Hatcha! I knew I wanted to experience the Black Box rather than just playing it, but even at my shows, I like to vibe in the crowd.
I'll be honest, not a lot of people know what I look like so I'll be chillin' in the crowd and people are like "wait, are you MYTHM?" I just love hanging in the crowd and showing support for the openers.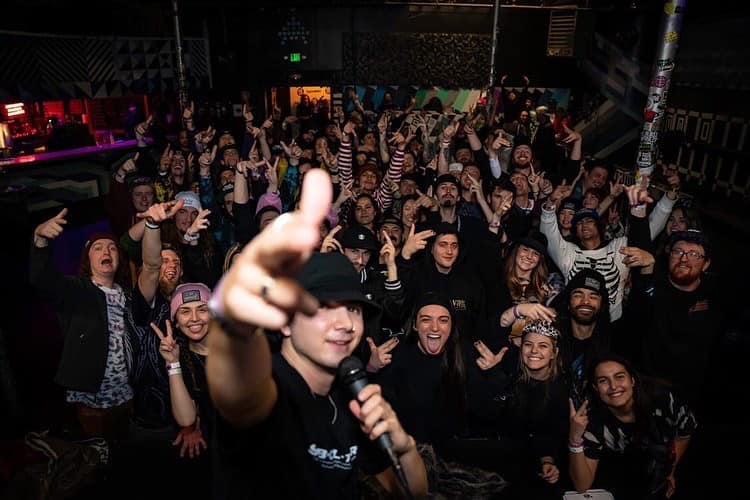 Black box tonight is going to be crazy, I've got so much brand new music to play, I've heard such good things. I feel like headlining The Black Box is something you put in your bio. That's a big thing."
We're looking forward to an incredible 2022 for MYTHM! To keep track of his latest releases and where he's stopping next, follow him on socials below!
Connect with MYTHM