SHift Thursday starts off with a bang this week featuring Photon and Friends, Yak Attack, and Hachey Live Band! Join us Thursday, September 2 for a jam session you won't soon forget.
Photon and Friends come to SHIFT Thursday as an incredible cast of musicians from Dopapod, Cycles, and Odesza! Electronica trio Yak Attack is ready to bring an undeniably unique improv performance recorded live on set. Scott Hachey of Magic Beans is joined by good friends Eric Luba and Will Trask to form Hachey Live band!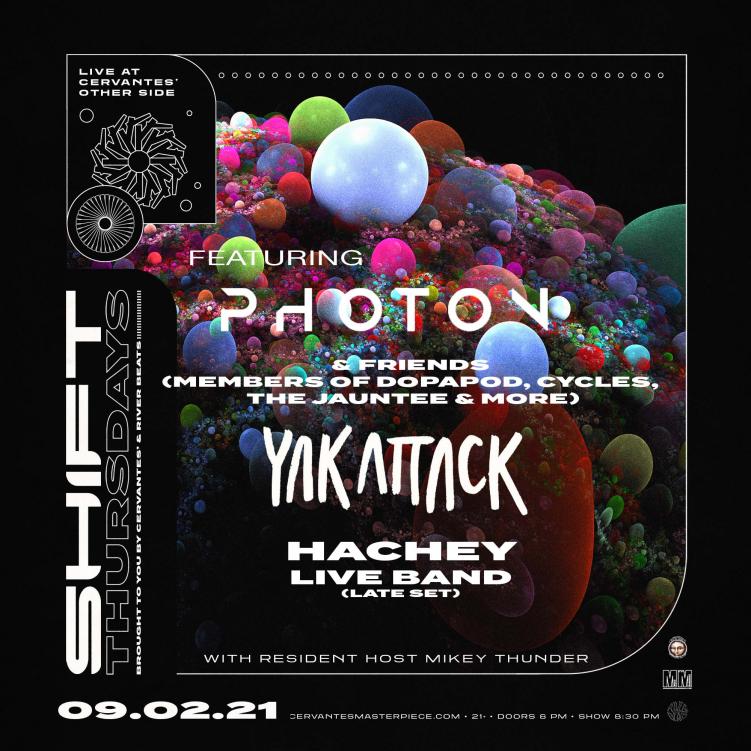 Return of the Jam
Cervantes veterans are no stranger to the storied past of the venue. Artists of all walks have taken the stage, but the jam and electronic communities treat it like home. In other words, jam fans won't want to miss out!
Photon and Friends is the brainchild of James Dunstan (keys), Neal Evans (drums), and Dan Africano (bass.) Joining the trio is an eclectic mix of artists including Scott Flyn (Odesza), Parris Fleming (Formerly of The Motet), Nick Gerlach, and Caton Sollenberger.
Organic electronica trio Yak Attack is a name to watch, with a unique spin of free-flowing improv recorded live on stage. Each performance has a fresh, new feel to it keeping listeners on the hook throughout. Using tight chops and live loops build into high-energy, uplifting dance music.
To close out the evening, Cervantes alumni Scott Hachey, of Magic Beans, and Will Trask teamed up early this year to combine creative minds. After writing a number of songs, the duo originally made plans for a debut of their hard work at Beanstalk, but alas have found a home for their debut! Joining on for SHIFT Thursday is Eric Luba of ManyColors, to bring Hachey Live Band to life for the first time.
We can't wait to see what everyone has in store for what is sure to be an incredible display of artistry and collaborative efforts!
Get Involved with SHIFT
Applications are open for vendors, live painters, and silent disco performers. Interested creators apply at the links below!

In due time, we will continue to announce more SHIFT Thursdays for Fall 2021 and beyond! Stay tuned for more information about our new loyalty program and collaborations with visual artists & live performers. We are incredibly excited about this new chapter for Cervantes, River Beats, and the city of Denver, and we can't wait for you to see it all come together!
For media inquiries, please reach out to: ShiftCervantes@gmail.com
Featured image via: LifeTap Media