Bass artists BUKU & Minnesota take over Denver on August 3. Grab your tickets to 5280 Drive-in here!
---
Q-VENTS ANNOUNCES 5280 DRIVE-IN EVENT IN DENVER FEATURING MINNESOTA & BUKU. This event, 5280 Drive-In will be happening at the Denver Mart on August 3, 2020. This will technically make it the first Drive-In event in Denver county.
Thrown by Q-Vents, 5280 Drive-In boasts an array of audio and visual talent and has partnered with Potent Productions to create a full-scale festival style production.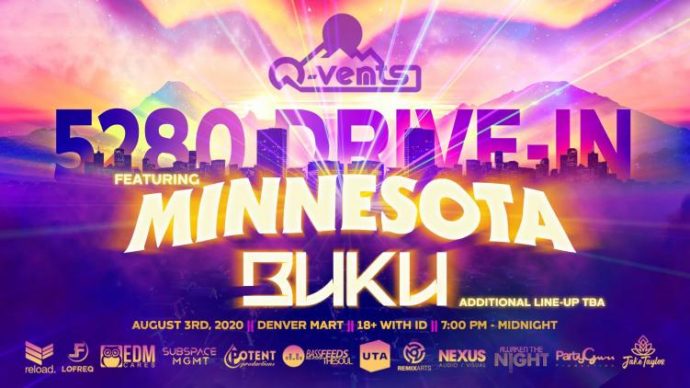 Topped with an impressive amount of safety features due to statewide COVID-19 restrictions and guidelines. This includes temperature checks, extra hand sanitizer booths, and a strict mask policy.
BUKU
Minnesota
---
It's no surprise that the presale for this show sold out immediately, but don't fret. There is still a limited amount of tickets online now. Prices go for $200 dollars per car split amongst up to five people. That's a steal considering the level of talent coming to the 5280 Drive-In. You can SNAG THOSE TICKETS HERE.
Just like a ton of other amazing artists, BUKU & Minnesota both had to cancel headlining tours. This is the first time that either of them played live for fans since the start of quarantine, so this is guaranteed to be a show to remember.