For our final October installment, River Beats and Cervantes Masterpiece Ballroom are pulling out all the stops with a WAKAAN + SSKWAN Takeover! Featuring some of bass music's brightest stars, SHAPESHIFT has spawned as a powerhouse collaboration we hope to see expanded upon in the future.
Purchase tickets here!
For the first-ever SHAPESHIFT, Wakaan is bringing an absolutely stacked cast! On The Other Side, Entangled Mind, Jizzy Fra, Dillard, and a special B2B featuring JORDNMOODY and Ujuu will keep the party going all night!
While the bass is jumping on The Other Side, we've curated an unbelievably talented lineup including Common Creation, Green Matter, Sharlitz Web, Redrum, and MIZE!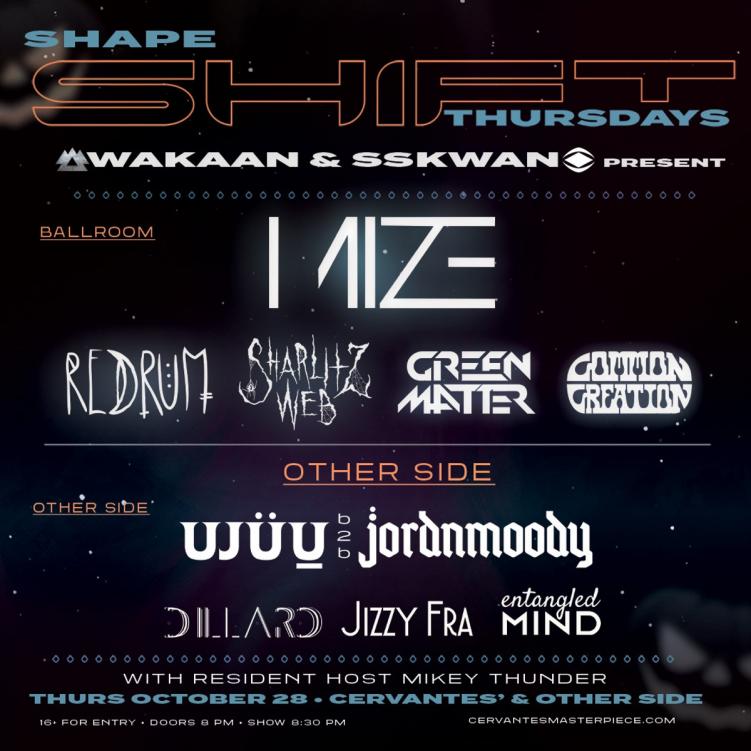 SHAPESHIFT
For this Halloween weekend, WAKAAN & SSKWAN are taking over for SHAPESHIFT! This dual-venue showcase features some of the latest and greatest in bass music. SHIFT attendees will be able to choose their vibe all night and there are no wrong decisions!
First, Entangled Mind makes their Denver debut for a performance listeners will not soon forget.  Jizzy Fra and Dillard will continue the exploration in sound design with undeniably unique perspectives on production.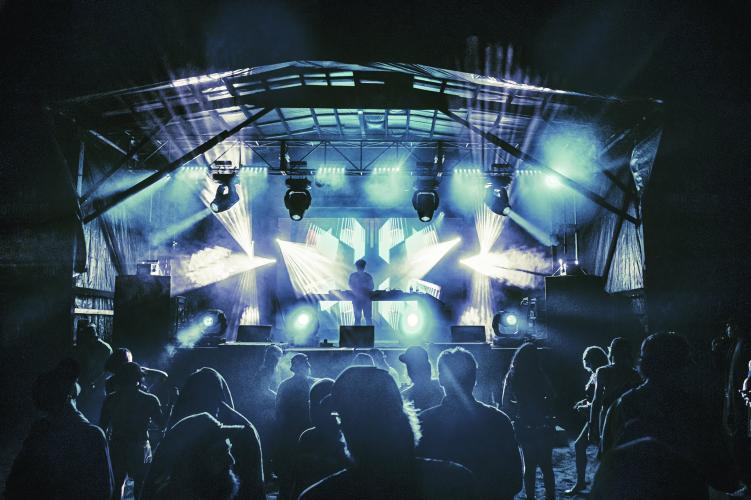 To close out The Other Side, we're getting treated this week with a full-throttle B2B featuring Ujuu and JORDNMOODY! With a catalog featuring several heavy-hitting collaborations between the two, we expect to see that energy come to life on stage. The duo also worked with other aspiring artists including Wreckno and Wiley!
Balancing Act
In the Masterpiece Ballroom, SHIFT is in for a treat with a broad scope of producers making a name for themselves today. Kicking it off, Common Creation comes to us from Atlanta with perhaps one of the best blends of bass and retro influence we've heard in some time.
While representing Denver, Green Matter brings a sound fresh from another planet. Creating infectious energy that sets crowds off their feet will be sure to get the crowd ready to go all night. In the spirit of Halloween, Sharlitz Web fills the void for those looking for that spooky sound.
Before the finale, Redrum will bring SHAPESHIFT back to planet Earth just in time for an ethereal experience allowing attendees a fresh breath of air.
Rounding out the evening, highly anticipated MIZE makes his way to Cervantes after a jam-packed 2021 schedule. Break-out performances at Lost Lands, Sound Haven, and Resonance Music Festival had social media buzzing fueling the fire for the climbing artist. His love for the classics shines through in his performances with memorable acapellas and signature selections.
While the temperatures are dropping, we're just getting heated up! Don't forget to catch a breath of fresh air on the patio, with vendors and a silent disco from 9-12. Announcements for 2022 are soon to come!
Get Involved with SHIFT
Applications are open for vendors, live painters, and silent disco performers. Interested creators apply at the links below!
In due time, we will continue to announce more SHIFT Thursdays for Winter 2021 and beyond! Stay tuned for more information about our collaborations with visual artists & live performers.
We are incredibly excited about this new chapter for Cervantes, River Beats, and the city of Denver, and we can't wait for you to see it all come together!
For media inquiries, please reach out to: ShiftCervantes@gmail.com