Make sure to stretch before this week's booty-shaking showdown, as Wreckno makes his Denver return with a GRL GANG takeover on The Other Side! Join us October 21 for a dual-venue party at Cervantes Masterpiece Ballroom!
This week's roster includes Huxley Anne and Bankaji kicking things off in The Ballroom. Just through the doorway, Jeanie will close out the evening on The Other Side with Lemondoza, Tek Savvy, and Plus3!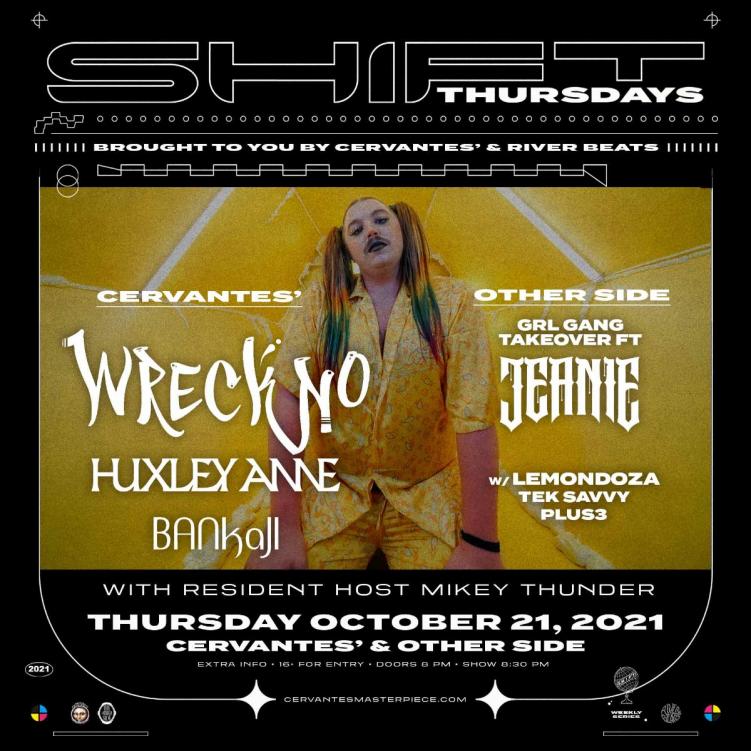 Who Gon Cheq Me?
Known for his bodacious vocals and hard-hitting production, Wreckno is a multitalented queer artist creating a safe space for fellow LGBTQ+ people in the community. With several unforgettable tracks in rotation, live performances at festivals and stages across the country have left crowds asking for more!
Wreckno was recently called one of "electronic music's brightest rising stars" and we are certainly thrilled to have him back at Cervantes for SHIFT Thursday! First, local BANKaJI joins for a fresh take on sound design with influences reaching far into outer space.
Afterwards, Huxley Anne takes the stage for an undoubtedly incredible performance with influences from the LA beat scene. The budding artist is learning and taking notes while on the road, garnering support from fans and peers alike!
GRL GANG
Meanwhile on The Other Side, we're honored to present the GRL GANG Takeover hosted by originator and DJ/producer Jeanie! Launched in 2019, GRL GANG is a dedicated community focusing on expanding the presence of women in dance music. As one of 2020's top artists to watch, Jeanie shows no signs of slowing down.
Kicking off the night, PLUS3, Tek Savvy, and Lemondoza are bringing a wide range of bass, trap, and dubstep! Show up early for a display of what some of our brightest upcoming artists have to offer.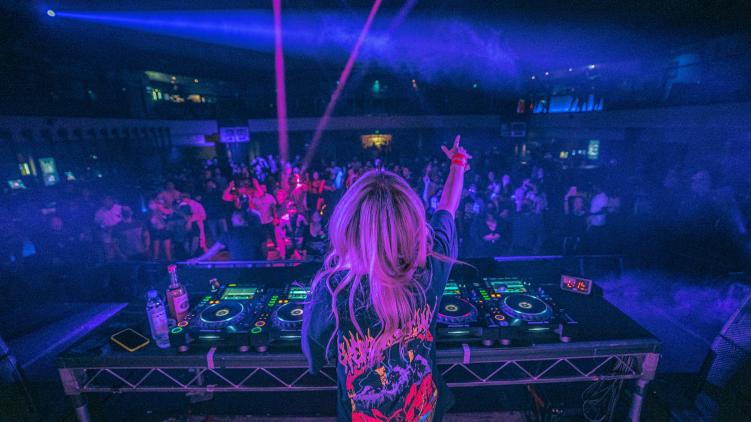 Keep an eye out for what's in store for the month of November! Don't forget to catch a breath of fresh air on the patio, with vendors and a silent disco from 9-12.
Get Involved with SHIFT
Applications are open for vendors, live painters, and silent disco performers. Interested creators apply at the links below!
In due time, we will continue to announce more SHIFT Thursdays for Fall 2021 and beyond! Stay tuned for more information about our new loyalty program and collaborations with visual artists & live performers.
We are incredibly excited about this new chapter for Cervantes, River Beats, and the city of Denver, and we can't wait for you to see it all come together!
For media inquiries, please reach out to: ShiftCervantes@gmail.com