SHIFT November kicks off with a bang this week carrying the energy from our massive October closer, SHAPESHIFT! Join us Thursday, November 4 at Cervantes for another diverse SHIFT Thursday dual-venue featuring, sfam, Um.., Kaya Project, Plantrae, and more!
With stacked casts in the Cervantes Masterpiece Ballroom and The Other Side, make sure to arrive early! Joining sfam and Um.. are Contra Scandal, Big City, and a spicy special guest. On The Other Side, ETHNO, Messenger of Secrets, and Sakiya join the SHIFT alumni!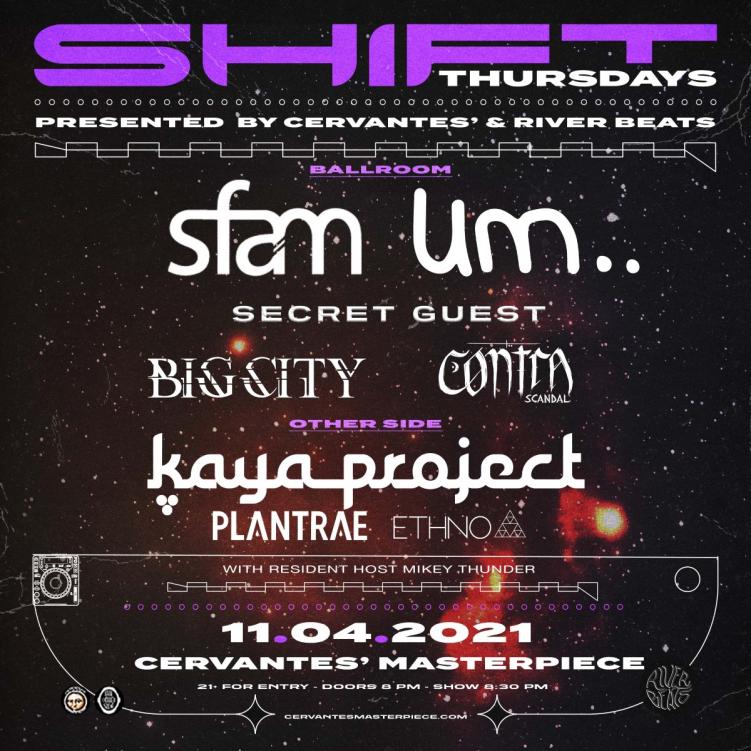 Finding Balance
First, The Other Side starts the evening with Sakiya and Colorado's Messenger of Secrets. ETHNO, aka Jeffrey Franka of Thievery Corporation, follows with his latest project in sonic exploration.
As direct support, Plantrae brings the perfect vibe for our late-night adventure. Performances worldwide spill through in the multitalented instrumentalist's releases. Blending strings and electronic production, listeners get lost in the forest of soundscapes created.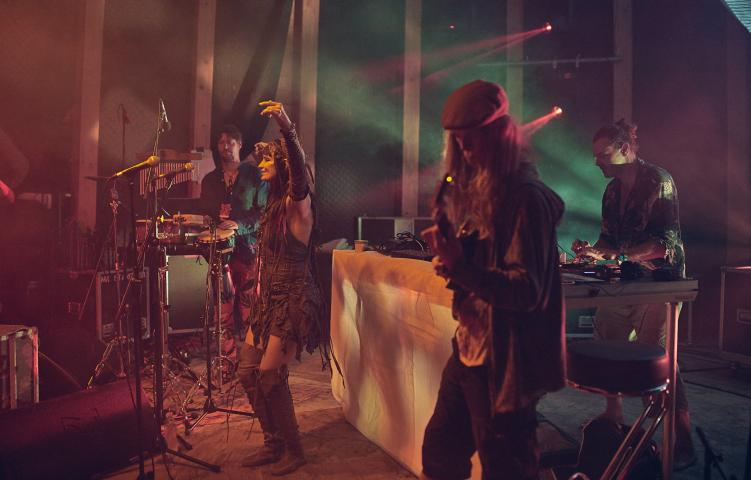 Finally, Kaya Project makes their way to SHIFT Thursday from the UK while bringing influence from across the globe. His otherworldly sound is sure to take SHIFT on a journey!
On the Block with sfam
Meanwhile, The Masterpiece Ballroom is in for a spicy treat this Thursday. Contra Scandal begins the night with ambition and passion for electronic culture. To follow, brothers Michael and Zachary Moreno combine their talents as Big City!
Wrapping up the evening, Um.. and sfam make their way to Cervantes for a co-headline party! Blending hard-hitting trap and bass influences with incredible sound design is their forte. Innovation in production and high-energy performances have garnered the respect of legends UZ, Craze, and more!
While the temperatures are dropping, we're just getting heated up! Don't forget to catch a breath of fresh air on the patio, with vendors and a silent disco from 9-12. Announcements for 2022 are soon to come!
Get Involved with SHIFT
Applications are open for vendors, live painters, and silent disco performers. Interested creators apply at the links below!
In due time, we will continue to announce more SHIFT Thursdays for Winter 2021 and beyond! Stay tuned for more information about our collaborations with visual artists & live performers.
We are incredibly excited about this new chapter for Cervantes, River Beats, and the city of Denver, and we can't wait for you to see it all come together!
For media inquiries, please reach out to: ShiftCervantes@gmail.com