June marks the start of SUMMER and we're turning up the heat! Join us at Cervantes Masterpiece Ballroom for SHIFT Thursday for an eclectic mix of your favorite artists.
We're keeping the dancefloor moving in June with a stacked cast. Featuring a Wormhole Music Group Takeover, Jarreau Vandal, SHIFT Alumni Ferreck Dawn, and Phyphr + Vincent Antone!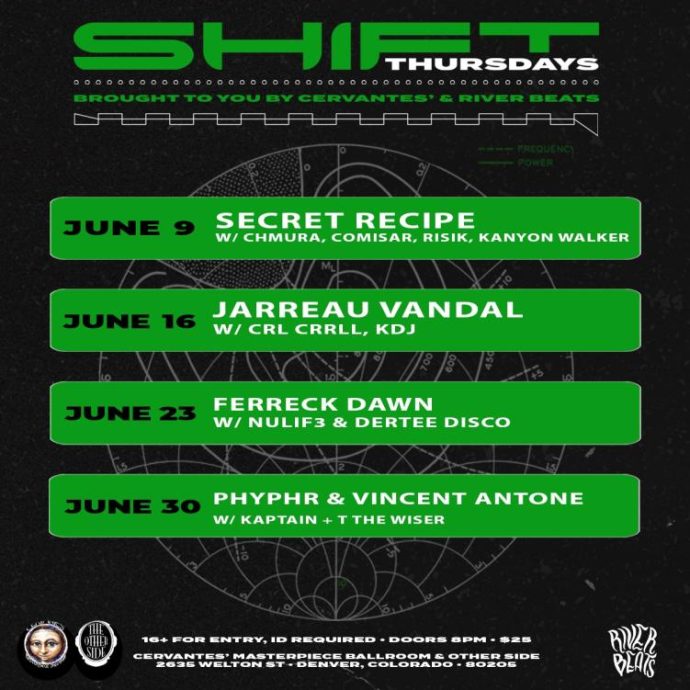 Night SHIFT
We can't thank our SHIFT family enough for the continued support! Just one year ago, SHIFT Thursday was announced for the first time. Since then, we've blossomed into a thriving weekly series all thanks to you.
Kicking things off in June, we are thrilled to welcome the Wormhole Music Group for a takeover of The Other Side! Join us on June 9, just in time for the release of Time's Arrow, the latest release of label boss Secret Recipe! For support, the team selected Denver favorite Chmura, Comisar, Risik, and sound wizard Kanyon.
Ready for a change of pace? We've got the undeniably talented Jarreau Vandal gracing the stage June 16 with their breathtaking vocals and smooth grooves. To kick the night off, KDJ and CRL CRLL plan to get the disco ball going with your favorite dance beats.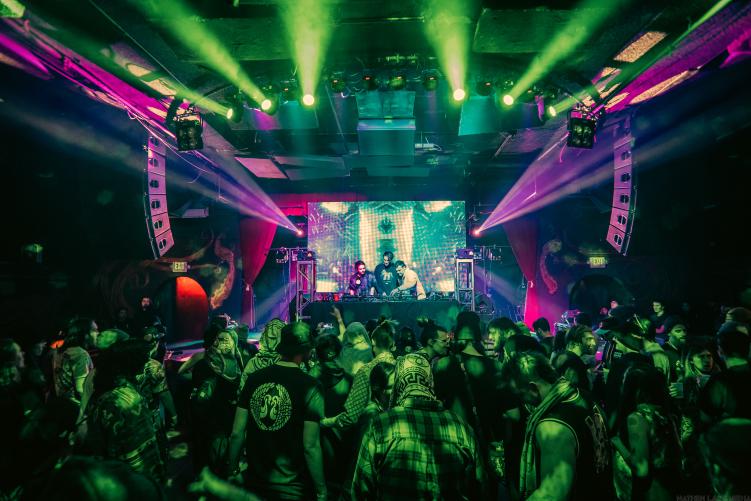 For our June 23 edition, a return guest Ferreck Dawn makes his way back to Cervantes for a nonstop night of house! Make sure to arrive early for the incredibly talented Dertee Disco of My Homies Spin Records, as well as Nulif3.
Wrapping up the first month of summer is one of the hottest names rising in the festival circuit, Phyphr. Joined by good friend Vincent Antone and special guest Kaptain, and T the Wiser starting us off, expect a glimpse into the next torch carriers of future funk and electro-soul! Keep your eyes peeled for a special giveaway coming soon.
We can't wait to see you again this month. For those who can't get enough, we've got an incredible July lineup on the way. Keep your eyes peeled for future announcements!
Get Involved with SHIFT
Applications are open for vendors, live painters, and silent disco performers. Interested creators apply at the links below!
In due time, we will continue to announce more SHIFT Thursdays for Summer 2022 and beyond! Stay tuned for more information about our collaborations with visual artists & live performers.
We are incredibly excited about this new chapter for Cervantes, River Beats, and the city of Denver, and we can't wait for you to see it all come together!
For media inquiries, please reach out to: ShiftCervantes@gmail.com