After what feels like an eternity, Sonic Bloom makes its fateful return to Hummingbird Ranch June 16-19! Join us in beautiful Southern Colorado this summer for one of the most stacked Bloom lineups ever.
To help you navigate the massive list of performing artists, we've picked out eight of our favorites that simply can't be missed if you're attending. With headliners like Tipper, Lab Group, and Lettuce, the team at Sonic Bloom aims to cover all the bases.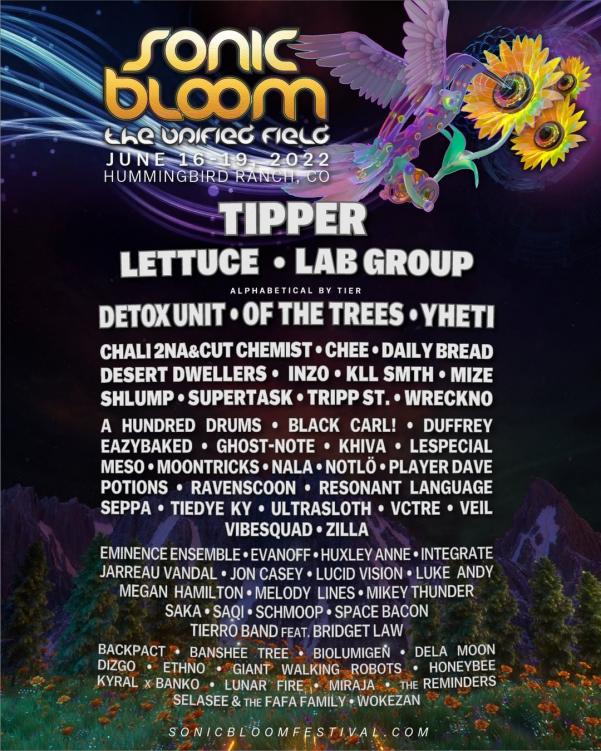 Freshly Picked
After locking in one of the festival circuit's favorite lineups in 2020, Sonic Bloom was forced to postpone shortly after due to the pandemic. When the time came for decisions in 2021, the call was again made to push the event until the Bloom attendees could return safely.
Thankfully, as the festival season came closer the buzz about its return echoed throughout the community. Alas, we've received our full Sonic Bloom 2022 lineup and can't wait to dive in! With an eclectic mix of jam, bass, and everything in between, attendees are sure to be kept busy all weekend long.
With many holding their tickets purchased originally in 2020, the release of tickets following the lineup sent social media into a frenzy prices quickly jumped to Tier 4. There can't be many left, so make sure to grab your tickets ASAP.
Let's dive in!
---
Khiva
Perhaps one of our favorite quarantine discoveries, Khiva continues to make waves across the country bringing roots-driven dubstep to the masses. Coming fresh off of two knockout performances at Okeechobee and Atlanta's DEF, we have no doubt she will come out swinging for Sonic Bloom.
With encapsulating mixing skills and track selection to match, Khiva weaves listeners through the depths of 140 while still capturing a vibe perfect for the dancefloor.
---
A Hundred Drums
One of the most recent additions to our SHIFT Thursday roster, A Hundred Drums is well on her way to the top. With global influence throughout her production and catalog, she takes listeners on a journey using familiar patterns and structures to connect with the roots of the culture.
Defined in minimalism and simplicity, her tearout style of DJing pays homage to dubstep's early beginnings. Often accompanied by Actualize Visuals, attendees are easily captured by the audiovisual combo.
As a person of color, she's used her space to bring light to issues she and others face in the industry as well as in everyday life. A Hundred Drums is fighting for equality. "Be the change you wish to be."
---
Black Carl!
While Black Carl! has been performing since 2018, he's come into his own over the last year. From his release of Mixed Signals to several breakout performances across the map, Carl Bell has everyone hooked.
Early on, he desired to play in a band, learning the basics on Rock Band and eventually purchasing a drum set. After losing his drums in a tragic fire, he soon found a passion for producing and creating electronic music through his first experience at TomorrowWorld.
As of late, he's producing some of the most unique sounds in bass music. From his latest unreleased mix to the collaborative efforts of Integrate with VCTRE, Black Carl! is ready to bring the heat to Hummingbird Ranch.
---
Player Dave
Another artist who made waves at Okeechobee, Player Dave is bringing a much-needed focus to downtempo, liquid drum and bass, and more. While we love the high-energy headliner experience, there is something to be said about capturing the audience with subtle, lush beats.
His unique position allows him to draw influence from the likes of Flume, while fans of CharlestheFirst will also feel right at home. His latest edit of 'Dumb' encapsulates yet another audience, yearning for liquid DNB which has yet to make its mark in the US.
---
Resonant Language
For the glitch-hop fans, look no further. Resonant Language is a name we expect to see on a lot more lineups in the future. He's come to be known for intricate sound design techniques found in the Tipper camp, with his flash of energy. Layering, textures, and synths take over the airwaves with a bombastic bass note to match.
With breakout performances at Red Rocks, Sound Haven, and Kings Theater, his unique perspective still captures an audience alongside the best. Playing just before Tipper on Saturday, get locked in early, and don't miss a second of this thrill ride.
---
Huxley Anne
Yet another artist who won over our hearts recently, Huxley Anne is without a doubt one to watch for 2022. With a focus on music, movement, and visual art, she aims to create a space beyond genres and labels to get lost in the music. While presenting a minimal aesthetic and a shy persona, her work speaks volumes.
Her emotionally driven beats and synths perfectly capture her influences in LA and on the road. Recently debuting her collaboration with the late CharlestheFirst at Mission Ballroom, she is doing her part to carry the torch lit by the loving community he created. We love and miss you, Charles.
---
Saka
Garnering support from big names across the industry, Saka is having an explosive 2022. His releases on Cyclops, Inspected, and Odyzey are an indication of his range and capabilities, as his catalog grows rapidly. Get a peek at what he has to offer at Sonic Bloom as support for VCTRE and Eazybaked!
Saka recently won over thousands, kicking off the beloved Aquachobee stage at Okeechobee with one of the largest opening crowds we've seen on the grounds. With an eclectic taste for the intricate and the chaotic, he's able to capture fans ranging from RL Grime to Noisia.
---
Schmoop
While only having a few releases, Schmoop is a name we've been waiting to see more of in a live setting. With nearly a decade of experience specializing in Ableton, their limited releases stand out in the crowd. Focal Point is a short read of the immense capabilities shown in a live performance.
Schmoop is also known for teaming up with Jade Cicada for their Wonky Llama project, which has a mind of its own, breaking boundaries of modern bass music. Weaving between downtempo and glitch-hop will give listeners no choice but let loose. Prepare for an adventure to kick off the Saturday main stage takeover.
---
We can't wait to return to the Ranch this June! With only 3 months left on the calendar, there's still time to plan and grab your tickets. For more info, check out the Sonic Bloom website below.
Connect with Sonic Bloom Festival
Featured image: Eric Allen