For those interested in space travel, Tiger Planet is making its way to The Black Box on March 18! Presented by The Rust Music, Tygris and Pluto Era touch down in Denver this Friday for one of many takeovers to come.
Joined by Entangled Mind, Rhoptra, and Lxsh, attendees will be treated from open to close with a diverse blend of sounds and styles. Fans who enjoyed Malakai, Foxtail, and Thought Process will feel right at home.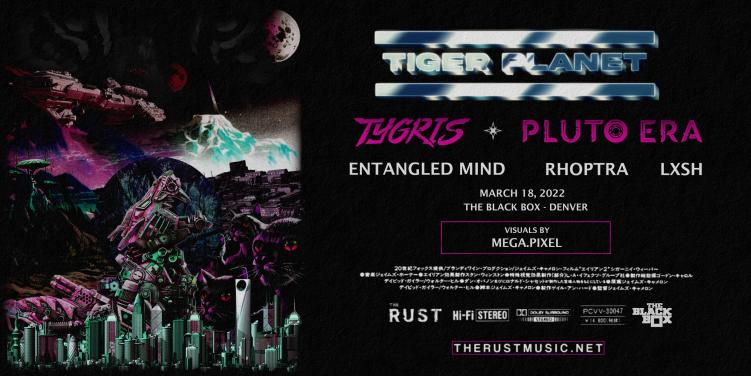 The Rust Music
While The Black Box is world-famous for its reputation as a beacon for dubstep, they continue to make space for the underground in many forms. A wave of producers focusing on modern sound design and hip-hop influence is making a statement across the United States.
While still relatively new to the masses, these styles have lived and grown in the community for many years. Artists have spent countless hours perfecting their craft and their hard work is beginning to pay off.
The Rust Music leads the charge with one of our favorite rosters at the moment. Starting in 2014 as a music blog, The Rust eventually built into an all-in-one label, production, and management company. Years later, they've utilized their resources and are positioned very well for 2022.
The team first hit our radar in early 2020, as quarantine quickly swept the community out from under its feet. Artists began doing live streams on YouTube, Twitch, and Facebook to stay connected with fans in a dire time.
Featherbed Sessions was born, and with each event, our interest grew stronger. We hopped in for Featherbed Vol 3 and were floored both by the performers and the visual artists to match. Seppa and B1nary Visuals closed out the stream, and we didn't miss a single session that followed.
Tiger Planet
Fast forward to today, The Rust Music is hard at work utilizing their resources and momentum. With festival takeovers across the country and whispers of their own large-scale event, we can't wait to see what is on the horizon.
For this weekend, roster staples Tygris and Pluto Era make their way to The Black Box bringing an incredibly talented group along for the ride on the Tiger Planet tour.
Known by many in the Tri-State era, Tygris aka Zach Plocic is well versed as an instrumentalist as well as an audio engineer. Drawing inspiration from hip-hop and jazz, while fusing modern techniques of dubstep and neuro creates a unique space for Tygris to produce.
Fellow sound engineer Pluto Era is sure to tingle the ears creating soundscapes and utilizing global influence. His other-worldly beats will be essential for leaving the atmosphere.
As support, two of The Rust's most recent additions Entangled Mind and Rhoptra are sure to leave Denver with a ton of new fans. Recently selected as the winner of the Tipper & Friends Suwannee Mix Contest and selected as one of our 2022 Artist Radar, we can't say enough about Entangled Mind.
Rhoptra will hit the spot for the hip-hop heads and more, mixing deep-cut selections with original IDs. To start off the evening, Lxsh is prepared to set the mood for head nods and intricate beats.
We're looking forward to more of what The Rust has to offer, and have our eye on upcoming announcements!
Connect with Tygris
Connect with Pluto Era