In addition to some absolutely spectacular natural features including nearly 60 14ers, countless waterfalls, and dozens of mineral hot springs, we Coloradoans are fortunate to have

four

national parks right in our backyard.
There's the majestic Great Sand Dunes, culturally rich and important Mesa Verde, highly underrated Black Canyon of the Gunnison, and of course, iconic Rocky Mountain.
While the parks are equally spectacular, they aren't exactly equally adored. In 2019 (we intentionally selected a pre-pandemic year to reflect accurate visitation statistics), over 6.2 million people visited Colorado national parks.
But here's the kicker: a whopping 4.7 million, or just shy of 76%, of those people went to Rocky Mountain National Park. The trend continues – in 2021, RMNP was America's fifth most visited park, just behind Grand Canyon.
Unsurprisingly, the park service created an RMNP timed entry system to help manage crowds and traffic flow. The permit system implemented in 2021 was successful enough that the park brought it back this year. Here's everything you need to know about getting an RMNP timed entry permit, as well as how to visit the park without one.

RMNP Timed Entry Permits
From May 27 through October 10, all visitors will be required to have an RMNP timed entry reservation during peak hours. Those hours vary slightly, depending on where in the park you want to go.
That's right ⁠— the park implemented a unique reservations system with two options.
Visitors can choose either an RMNP timed entry reservation that allows access to the entire park, or one that provides access to everything except Bear Lake Corridor. Bear Lake is where you'll find popular hiking trails and campgrounds including Bierstadt Lake and Sprague Lake.
RMNP timed entry reservations will be required from 5:00 AM to 6:00 PM for entire-park access. For non-Bear Lake access, reservations will be required between 9:00AM and 3:00PM. To clarify, that means that YES, you can enter Rocky Mountain National Park before or after the specified times without a reservation.
The park will release the first batch of reservations, for May 27 through June 30, at 10:00AM May 2. From there, reservations will be released on the 1st of each month for the following full month. For example, on June 1st, the park will release all available July reservations. On July 1st, it will release August reservations, and so on.
RMNP also plans to release 25-30% of timed entry reservations at 5:00 PM MDT one day in advance. This is an excellent option for people who will visit the park regardless, but can adjust their plan specifics.
Find more information about Rocky Mountain National Park's timed entry system here.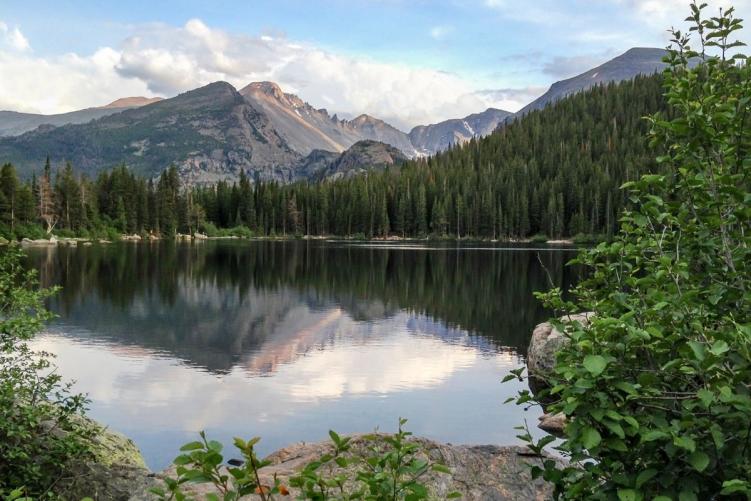 Can You Visit Without an RMNP Timed Entry Permit?
The short answer is YES, but you'll need to time your park entry carefully. Access Bear Lake Corridor before 5:00AM or after 6:00PM, and elsewhere in the park before 9:00AM or after 3:00PM.
Colorado Park Alternatives to RMNP
What if you don't get an RMNP timed entry permit or you simply want to avoid the crowds this summer? Consider visiting one of Colorado's amazing state or local parks instead! Here are some of our favorites from all around Colorful Colorado.
So tell us, are you planning to apply for an RMBP timed entry reservation this year? If not, where will you be hanging out instead?