Mother Nature is at its absolute best in Colorado. From the 58 "14ers" — nearly double the number than any other state — and the 4,000-plus lakes to the vast red rock canyons and natural hot springs, Colorado is simply spectacular.
So, it should come as no surprise that the state has several national parks. They're all amazing but distinctly different, which begs the question: which are the best national parks in Colorado?
It's important to note that the National Park Service lists more than 15 official sites in the Centennial State. That includes national parks, monuments, historical sites, recreation areas, preserves, and historic trails. While those are all worthy of a visit at least once, we're focusing strictly on the best national parks in Colorado for the purposes of this article.
The best national parks in Colorado
It wasn't easy to narrow this list down. Truthfully, the state doesn't have any bad national parks. We selected the four that pack the biggest punch, so to speak. They're all beautiful, of course, but these four are also historically significant and they offer a little something for everyone. And they're very, very different from one another.
Rocky Mountain National Park (RMNP)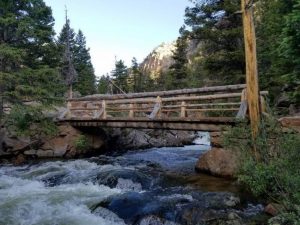 No list of the best national parks in Colorado is complete without mentioning the big one, RMNP.
There is a ton to see and do in Rocky Mountain National Park, but the primary attractions are its lakes and hiking trails.
Bear Lake is one of the park's most famous lakes, as you can park nearby and it has an easy 0.6-mile loop trail. Not far from Bear Lake, the Emerald Lake Trail is another extremely popular option. The 3.5-mile trail passes directly by Nymph Lake and Dream Lake and has some of the best views of Longs Peak and Flattop Mountain. Fair warning, the parking lots for these trailheads tend to fill up early!
Not into hiking? Take the scenic Trail Ridge Road, one of the highest paved roads in America. It spans the 48 miles between Estes Park and Grand Lake and reaches over 12,000 feet in elevation.
If you're spending a few days in the park (and you should), consider staying in Estes Park. The ultra-charming town has restaurants, bars, shops, and art galleries galore, plus a chic Riverwalk.
Black Canyon of the Gunnison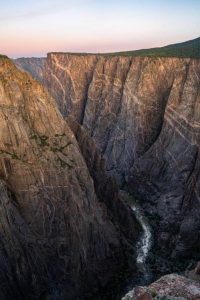 As its (somewhat ominous) name implies, Black Canyon of the Gunnison National Park revolves around a seriously impressive canyon.
The canyon is 48 miles long and 2,000-plus feet deep. Measured against, say, the Grand Canyon, that sounds almost small, but trust us — it isn't. In particular, something about Black Canyon's unique combination of narrowness, depth, and darkness (hence Black Canyon) is awe-inspiring.
There's no question that Black Canyon is one of the best national parks in Colorado, but it's the least-visited. In fact, it's one of the least-visited national parks in the whole country. That's likely because it's extremely remote and truly wild.
The Denver airport is five hours away and the vast majority of the park is a designated wilderness area, meaning there are very few trails. The trails that do exist stick to the rim of the canyon. And although you can get down to the Gunnison River, you're on your own in terms of finding your way. And the route isn't exactly well-beaten.
In our opinion, that means this national park is something of a hidden gem. As they say, keep the West wild.
Great Sand Dunes National Park & Preserve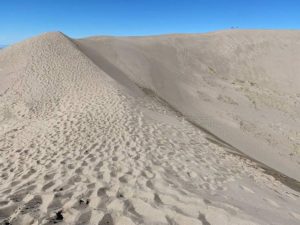 Many people are surprised to learn that the tallest sand dunes in North America aren't in California or Utah, but right here in Colorado.
The dunes in Great Sand Dunes National Park soar to over 700 feet tall. They don't have any established trails, but you can hike freely throughout the park. Just know that hiking in the sand is no joke! It quickly tires out even the most experienced hikers.
Aside from hiking, the Great Sand Dunes National Park has something totally unique that makes it one of the best national parks in Colorado: sandboarding and sand sledding! Rent boards or sleds just outside the park, as there are no vendors within the park. Note that you can technically use a snow sled, but sand sleds are specially-designed to glide perfectly over the sand.
The park is open all year round, day and night. As much fun as it is exploring the dunes during the day, we highly recommend coming out at night for some stargazing.
Mesa Verde National Park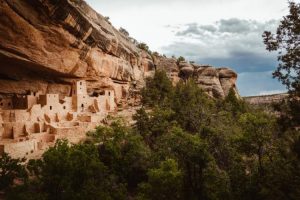 Mesa Verde, in the southwest part of the state near Cortez, preserves hundreds of ancient cliff dwellings. The park was actually one of the first established and as such, the cliff ruins are some of the best-preserved in the country.
The ruins were the former homes of the Ancestral Puebloans, who lived here from 600 to 1300 CE. Visitors can not only see the impressive structures, but take guided tours and walk among them. Cliff Palace and Balcony House are the most popular, so if those are on your list, be sure to reserve tour tickets well in advance.
Be sure to drive the short Mesa Top Loop Road, which has several scenic overlooks and interesting turnouts to explore quieter parts of the park. The Chapin Mesa Archeological Museum is also well worth a stop. Check out all the pristine artifacts and marvel at what life was like centuries ago.
Annual park passes
One final thing: if you plan to visit more than one of the best national parks in Colorado, or you have a favorite that you visit often, consider getting an annual pass.
The America the Beautiful annual pass works at all national parks and monuments and costs $80 for one year. Alternatively, many national parks offer an annual pass that works solely at that particular park. Pricing typically varies around $40 – 50 per year. Considering park admission costs $20-30 for a single visit, annual passes are a solid investment.
---
Have you been to any of these national parks in Colorado? Which one is your favorite? Let us know on Facebook or tag us on Instagram @riverbeatscolorado! And be sure to check out our other articles for more trip planning and inspiration!
From the River Beats Colorado team: It's been a very challenging time for travel, adventure, and events around our state. While we're aware these uncertain times limit many aspects of life, we hope our editorials provide helpful tips while ensuring safe social and physical distancing.