In a state that's so naturally beautiful and diverse, it comes as no surprise that there are many unique places to stay in Colorado. However, that makes it almost overwhelming to decide where to stay if you're coming to visit for the first time or even just looking for a staycation.
The Centennial State is world-renowned for its soaring mountain landscapes and alpine forests, but there's much more to it than that. So instead of staying in a run-of-the-mill hotel, consider one of these unique places to stay in Colorado.
Here are 10 unique places to stay in Colorado:
From an off-grid treehouse to a teepee situated on a working horse ranch — and just about everything in between — there's something on this list for absolutely everyone.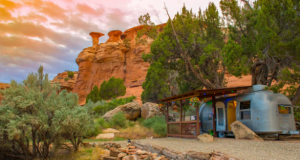 This luxurious and completely refurbished Airstream Land Yacht sits on 80 acres of private land near Cortez.
Enjoy a large covered patio with a grill in the front, a private backyard with a hammock, and even a standalone full bathroom with a heater!
The Airstream also sits at the base of the Canyon of the Ancients National Monument and offers miles upon miles of little-known hiking trails.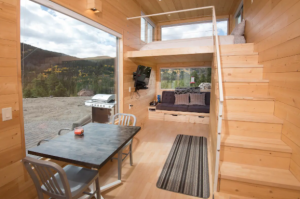 Although this modern tiny home feels as if it's in the deep wilderness, it's just 25 minutes from Vail and 10 from Ski Cooper. It sits on 30 acres, completely surrounded by national forest land.
Unsurprisingly, the views from every angle of this tiny home are incredible.
The home is one of the most unique places to stay in Colorado because although it's off-grid, it has solar for hot water, electricity, and even internet!
Feel like you're in the middle of nowhere at this cool "eco yurt," yet enjoy being just 20 minutes from both Aspen and Carbondale.
The yurt sleeps four and features a spacious interior, a small but functional kitchen, running water, and a luxurious outdoor shower.
Perhaps the yurt's best feature is its spectacular views. The south-facing yurt has unobstructed views of three of Colorado's 58 "14ers," including Capitol Peak and its infamous knife-edge summit.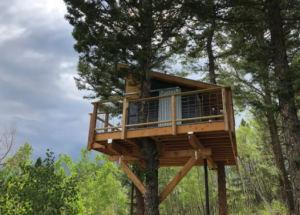 If you're looking for truly unique places to stay in Colorado, you can't do much better than the "Life Elevated" glamping treehouse!
Located near San Luis, one of Colorado's historic ghost towns, the treehouse sits 10 feet off the ground at about 10,000 feet elevation. The 360-degree views include Culebra Peak, an unusual privately-owned 14er.
This is a true glamping experience, so you need to set up tables and camping chairs, but you'll enjoy the expansive deck with a fire pit and outdoor kitchen, as well as a comfortable loft bed.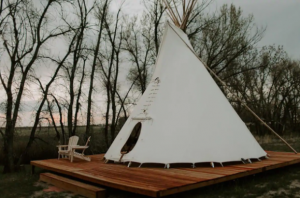 There aren't many teepees in the world in general, much less located just 35-40 minutes outside a major city! That's right — this glamorous teepee is right outside of Denver!
Your cozy-chic teepee comes with a queen-sized bed, coffeemaker, fire pits inside and out, a gas grill, electric lanterns, and a large elevated deck.
The teepee sits right next to a flowing creek, and guests are encouraged to explore the property and visit with the horses and goats. Keep in mind this is a working horse ranch, so please be respectful and keep a safe distance.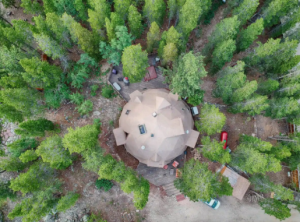 We're willing to bet you've never stayed in a decked-out dome! This one is near Rollinsville, a tiny mountain community at an elevation of 9,020 feet that's not far from Boulder.
The dome is easily one of the more unique places to stay in Colorado, with two private bedrooms plus an additional loft, a full kitchen, washer and dryer, and even streaming services.
When you want to venture out, walk to the private fishing lake or make the short drive drive into Black Hawk, home to more than 12 of the state's most well-known casinos.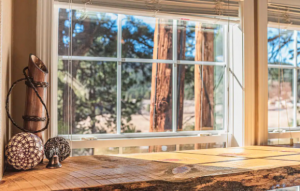 Just two minutes outside of Woodland Park, this cozy tiny home is loaded with all the comforts of home.
The tiny house is exceptionally child- and pet-friendly, well-stocked with board games, pet toys, and even a dog bed and bowls!
It also features upscale furnishings and thoughtful touches, designed to create a functional getaway you'll never want to leave. Enjoy the coffee bar, fully-equipped luxury kitchen, strong Wi-Fi, and a great remote work setup. When you're ready for a break, hiking and biking trails are just outside the door.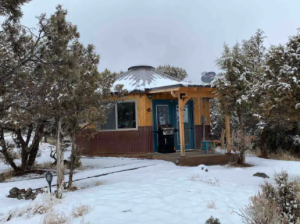 Earning its place on our list of unique places to stay in Colorado, "The Solargon" takes design influence from Native American lodges and hogans, as well as yurts.
The home is very bright and airy and has been designed to take full advantage of the sun. It's extremely private, situated on 40 acres of private land near Hotchkiss and bordered by BLM forest land on two sides.
Inside, this tiny home in Colorado features a queen bed, full kitchen, and satellite TV and internet. The home is also dog-friendly and the owner will even provide dog-sitting if you're out all day!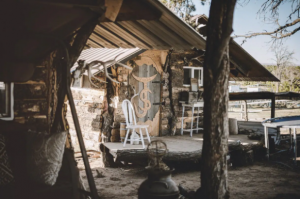 Located in one of the most adventure-packed parts of the state — right on top of the Colorado National Monument, in fact — this Old West rustic cabin is one of the most unique places to stay in Colorado.
Just outside of Grand Junction on a working horse ranch, guests of this rustic cabin have easy access to ATVing, horseback riding, hiking trails, and more.
Inside, the loft-style cabin comfortably sleeps nine and features a wood-burning stove, all-rock shower, and a bar.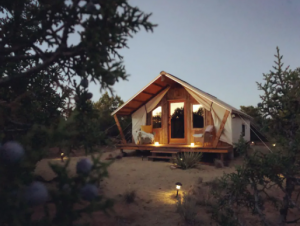 This unique off-grid glamping tent allows guests to unplug and connect with nature. It's on a 120-acre secluded ranch near Cortez, so you'll enjoy plenty of peace and quiet.
Hiking, biking, rock climbing, and epic sunsets are just steps outside the door of the glamping tent, yet nightlife in town is also a short drive away.
The beautiful boho-chic tent features a queen bed, full outdoor kitchen, and spacious writing desk. There are also solar power for lights and charging devices.
---
So there you have it — the 10 most unique places to stay in Colorado! Have you stayed in any of these? Let us know on Instagram or Facebook, and be sure to check out our other blog articles for trip inspiration and planning!
From the River Beats Colorado team: 2020 was a very challenging time for travel, adventure, and events around our state. While we're aware these uncertain times limit many aspects of life, we hope our editorials provide helpful tips while ensuring safe social and physical distancing.
Photo by Ezra Jeffrey-Comeau on Unsplash