THE DEEP officially kicks off on March 24 at the amazing rooftop pool of the Virgin Hotel in NOLA with Le Youth! Purchase tickets HERE!
---
When we started River Beats, we were trying to throw unique events in unique spaces. We threw parties in old churches, in parking lots, on double-decker boats, and even festival-style events in traditional venues.
It was fun, and our only goal was to do cool things with our friends and with the dance community we came to love and cherish. We didn't want to be tied down by traditional venues or traditional shows. The name River Beats actually came from the idea of a massive river-boat party on the Mississippi.
Getting Back To Our Roots
As River Beats grew and expanded, we touched a bigger audience than we had ever intended with our digital publications, live streams, and so much more. With all of our growth, finding time to put on events became more difficult… The great news is, as our media prowess became bigger and bigger, we grew to understand both sides of events: the media & content side and the promotional side. We truly feel we're a unique brand positioned to succeed in throwing a unique event series. 
We're approaching six years since we threw our first official party, and it's important to us to get back to our roots. Inspired by our successful series with Cervantes & SHIFT Thursdays, 'THE DEEP' was created. Six months of branding, planning, and research have led us to this moment.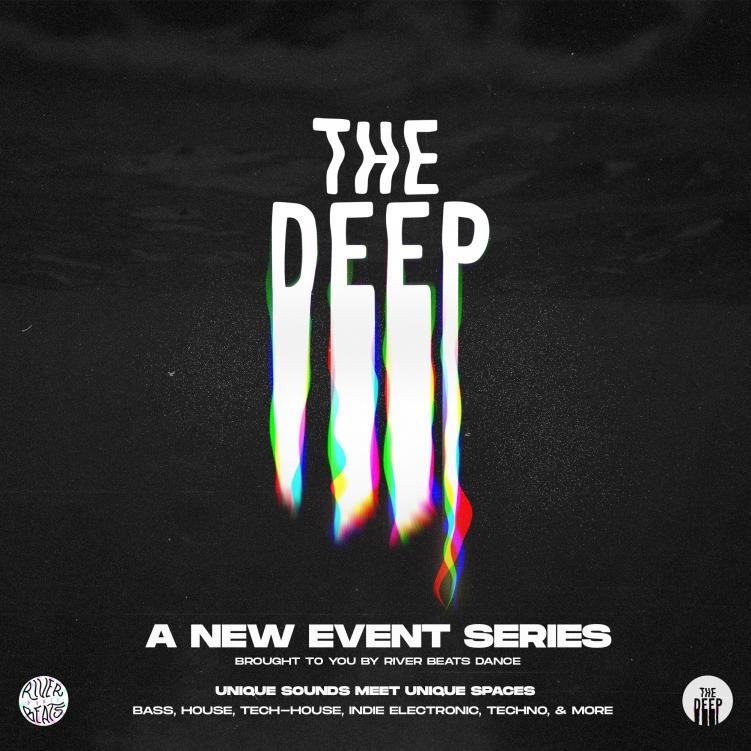 What's "The Deep"
"Unique sounds meet unique spaces." A phrase we hold true to our heart. THE DEEP was born out of what River Beats' wants a party to be; unpredictable and immersive, a journey. There is nothing more fluid than water, and THE DEEP is no different. This series is not confined by location, genre, or by frequency. THE DEEP features unique spaces, unique views, & unique sounds that combined are sure to keep you coming along for the ride!
THE DEEP is scheduled to kick off in New Orleans on March 24, followed by a unique space in Denver, Colorado soon after. Where should this party pop up next? Don't expect it to be weekly, monthly, or even bi-monthly. It could be anytime in the future, the world is our oyster 😉.
What to expect at THE DEEP
Fans can expect Pool parties, rooftop events, earlier showtimes, diverse lineups of genres and artists, intimate shows with big acts, community vendors, and even Live-streams when the time is right. The goal is to introduce new spaces and new elements to live events.
March 24th, 2022 with 'Le Youth'
THE DEEP officially kicks off on March 24 at the amazing rooftop pool of the Virgin Hotel in NOLA. New Orleans is no doubt a unique place to put on dance events and we hope to provide dance fans a breath of fresh air. The Virgin is only 6 months old, and Le Youth will be the first national dance act they have welcomed.
View this post on Instagram

If you are unfamiliar with Le Youth, he's been a constant force in dance music over the past several years. With numerous releases and remixes with some of the most influential dance music labels in the world, totaling over a quarter of a billion streams, Le Youth continues to elevate his artistry with releases on Lane 8's record label This Never Happened, Anjunabeats, Spinnin' Deep, Armada, as well as a number of major labels.
Heavily inspired by the deep melodic house and progressive sounds of Lane 8, Ben Böhmer, Spencer Brown, and Eric Prydz; Le Youth's decision to make music exclusively for the dance floor was a deliberate one.
Le Youth's sound and the aesthetic of the Virgin hotel will be unmatched for the debut of THE DEEP in New Orleans. Tickets go on sale Thursday, February 3, you can purchase by heading to our ticket link HERE. This show has very limited capacity, so act fast to join us on March 24th. 
Future Plans For THE DEEP
Look for THE DEEP to return to the Virgin hotel in New Orleans this summer for Sunday pool parties. In terms of Denver, we also plan to announce some outdoor spring and summer events. We will continue to create intimate experiences and large-scale events for fans throughout the country and eventually the world. We will be bringing 'The Deep' to other cities this fall! Know of a unique space in your city? Let us know by shooting us an email (Info@riverbeats.life). 
If you are currently living in Denver, you can always catch us at our weekly series, SHIFT Thursdays, at Cervantes Masterpiece. A series focused on a lot of up-and-coming bass acts, electro-soul, house, and more. You can scoop tickets by heading to our ticket site HERE, or stay tuned in to River Beats Colorado to know our weekly calendar.
---
THE DEEP officially kicks off on March 24 at the amazing rooftop pool of the Virgin Hotel in NOLA with Le Youth! Purchase tickets HERE!