Do you have a Rotisserie Chicken that you bought from the store and don't know what to do with? There are tons of easy and fun recipes to turn that standard grocery store Rotisserie Chicken into a sustainable way to feed a small family.
We love these recipes because many of them are just add a few ingredients to your already pulled chicken – and VOILA! Dinner is done!
---
As we mentioned, we like to get all the meat off of our chicken right away. (After it's cooled down, of course) This makes completing these recipes a breeze once you've already done the messy work and gotten your hands dirty. Honestly, the best way to do this is to just get in there and pull the meat off with your hands.
You'll want a container full of chicken is ready for pulling – so no skins and leave the bones in the container (we can still use these later). Set the skins aside as well, you can throw them in with some oil for Fried Chicken Skins – perfect substitution for croutons on a salad.
Tasty Chicken Fajitas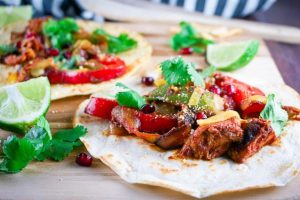 Fajitas are an awesome way to feed a lot of hungry people. Just chop up your onion and bell peppers long and thin – sauté with some oil – once cooked down (til everything is soft and starting to brown) throw in your seasoned chicken. Warm-up your flour tortillas – and done! Combine for a super easy meal. Full recipe here.
Buffalo Chicken Lettuce Wraps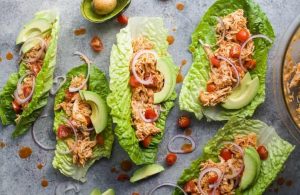 This is one of our favorite ways to use the chicken pulled straight from the fridge. You can either do this the long way (cook chicken down with buffalo sauce) or the quick way (just combine and mix) – place into lettuce or tortilla wrap and drizzle ranch on top. You can add avocado on top for extra deliciousness. Full recipe here.
Chicken Salad (Waldorf Style)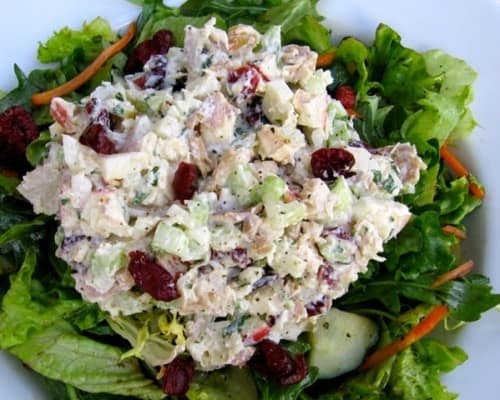 Another great use for cold chicken! Just chop this up with a few ingredients – mayo (or mayo substitute), grapes (or apples chopped small), walnuts/almonds, and celery. Feel free to get creative with this – and substitute for the crunchy and/or sweet elements. Full recipe here.
Southwestern Chicken Nachos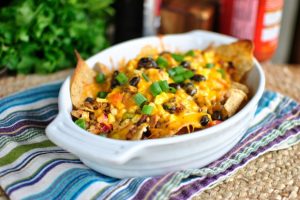 This is an awesome recipe if you have a bunch of canned veggies and cheese to get rid of. Also, you can use just about whatever you have on hand. Some of my favorite items for nachos are canned black beans, corn, diced tomatoes (bonus: with onions/chiles), canned jalapenos, and lots and lots of cheese! Sample recipe here – but feel free to get creative!
Chicken Broccoli Casserole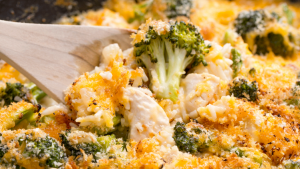 One of my favorite recipes and really easy to make. You can easily feed a family of four on the cheap with this. Pro tip: boil the broccoli for about 8 minutes before assembling your casserole. I also like to put all my casserole ingredients in a mixing bowl and get everything nice and mixed up so that everything is evenly distributed throughout. Full recipe here.
Green/Red Chile Chicken Enchiladas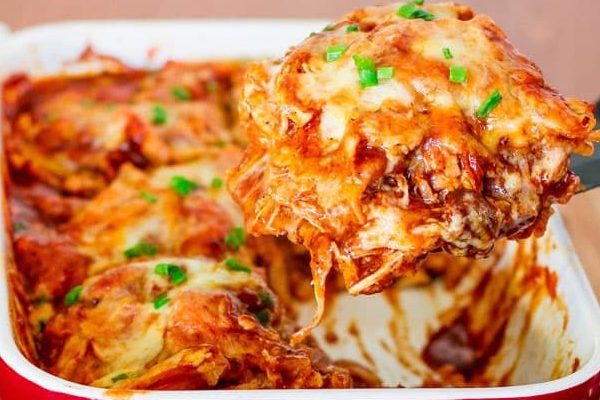 This recipe is just slightly more involved than the others. Basically you'll need to get your enchilada sauce made on the stovetop. Then, layer tortillas, sauce, cheese until the casserole dish is full. Bake at 350 for 30 minutes. Peep the full step-by-step here.
BBQ Pulled Chicken Sandwiches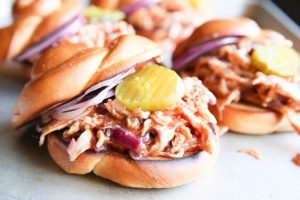 This one is so easy! We love it – super quick and perfect for cold or warm chicken. All you need to do is mix with a little bbq sauce. Get bun (or bread) a little toasty, add some mayo, pickles and your bbq chicken. There ya go! Easy peasy BBQ Pulled Chicken Sandwiches. A recipe here if you need it.
Rotisserie Chicken Noodle Soup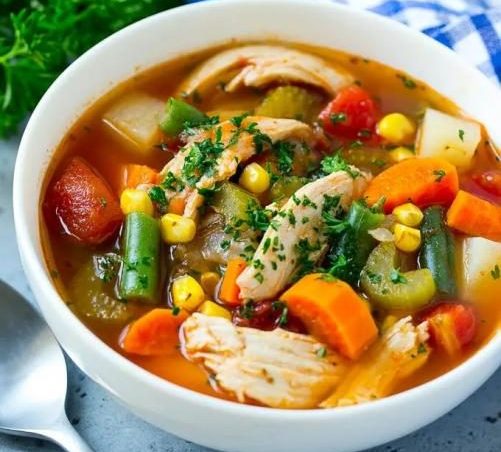 This is where you'll use the rest of the Rotisserie chicken after you've pulled all the meat off. It's an easy and cost-effective way to make homemade chicken stock by boiling the bones, onions, and seasoning together. You'll wanna strain it – all you want by the end is that nutrient-rich broth.
After that – boil your potatoes for about 10 minutes on high boil then add your veggies of choice (we like peas, corn, and green beans). Don't have potatoes? Feel free to use rice or pasta as your starch. Full recipe here.
---
Never let a Rotisserie Chicken go to waste again!
Now you have at least 8 different ways to feed yourself! These recipes are anything but boring – and super easy. Most of these use ingredients you'll likely already have around the home.
Do you have a favorite recipe using Rotisserie chicken? Leave a comment below and let us kn