Crazy to think that it's been over a year since we've gotten a chance to cover a show in Colorado. It only makes sense that it's at one of our favorite venues Cervantes Masterpiece Ballroom, and the performing artist is one of our "Breakout artists of the Year" WRECKNO.
View this post on Instagram
Welcome Back To Cervantes
As we walk up to the marquee reading WRECKNO at Cervantes Masterpiece Ballroom, we're greeted by security who takes us through the proper covid precautions, and questions. They didn't miss a beat with the temperature check, and their upbeat demeanor meant a lot.
Once through security, the staff who seated us gave us more direction on how to wear our masks, how to order drinks, where the bathrooms are, and more. Cervantes was in full charge of the nuts and bolts of the whole experience, and they did it swimmingly. The staff and promoters really did an amazing job making sure people were informed and abiding by all the rules. The early show crowd trickled in slow, and probably 60 percent of the tables were filled by the time Notlo went on.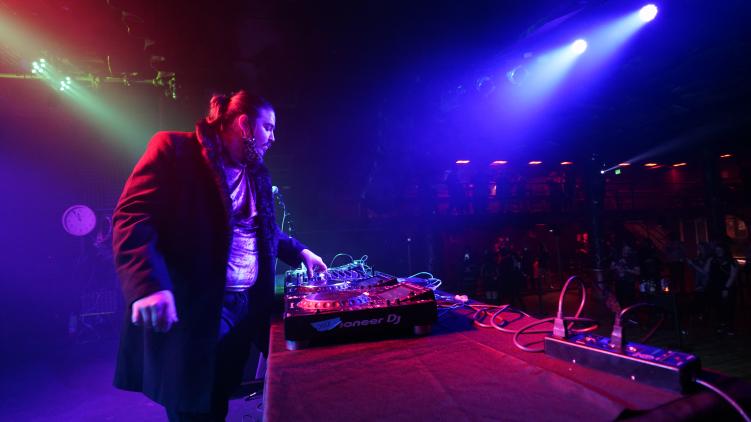 NotLö and WRECKNO Take The Crowd On A Journey
NotLö is another up and comer and actually one of WRECKNO's best friends. She's featured on both Clozee's and TRUTH's labels and has been a regular on TRUTH's Deep Dark & Dangerous Live stream.
NotLö starts by stating "I'm going to take you on a journey," and continued to do so. The ballroom was loud with intermittent cheers from tables making it quite a unique experience. NotLö's early set was forty-five minutes of originals mixed in with some new heaters.
I personally got to catch WRECKNO at one of his Boulder shows during his Colorado four-day run, but let me tell you, he came out swinging in Denver. Not to mention the sound system in that Ballroom is brand new, and one of the best in Denver. WRECKNO kept the whole crowd alive with his energy, reminding them how happy he was to be there. You could really hear the love in his voice. Being able to multi-task like that is a talent most artists do not have and it was great to see him thrive under pressure.
An Interview A Year In The Making
It's been a year and two weeks to the day since I talked to WRECKNO, aka Brandon Wisniski, at Okeechobee about getting an interview done. We decided to wait it out, and do it on the beaches of Mexico during DEJA VOOM. It sounded so perfect, but the world/universe had other plans. However Brandon and I stayed in contact throughout 2020, and now here we are. An interview over a year in the making.
After giving everybody a few minutes to cool off after that intense first set. We clear out the green room and begin our discussion. WRECKNO starts it off with a Mrs. Doubtfire "HELLLOOOOOOO", and I am already loving life.
RB: So you're about to start your 4th night in Colorado. How has it been so far?
WRECKNO: "Great, super humbling. You don't realize how much support you have until you are on a string of shows. It's a reminder I am doing something that people are connecting with."
RB: Seeing your name in lights. How does it feel?
WRECKNO: "I was a delusional 16-year-old drunk with my friends saying I was going to be a star. They would say things like "You know it girl" as he points at his childhood friend Ashlee sitting next to him on the couch. And here we are!"
RB: You're on several 2020 lists for being one of the most talked-about up-and-comers, Including ours, what did that feel like? 
WRECKNO: "It Feels insane realistically I have been working on getting better at mixing and crafting my ability to do live performances since 2015, but I have only been traveling and doing shows for two years so since the first Deja Voom. It's been a short period of time that I gained a lot of traction. but it feels that there are not many gay dudes out there doing what I do so there is this giant open space for me to climb up the ladder."
RB: It's no secret that the LGBTQ community is important to you, and you have become important to it. How does this affect the music you make. Do you feel any pressure to represent the community a certain way?
WRECKNO: "I Had a moment today because I'm a very effeminate gay person. Like, Burn your jockstrap gay. There are a lot of straight passing gays, and who are just less in your face. I have just never had that kind of luxury, of being able to do that. Everybody knew before me. So there are points where I do over perceive how I am presenting myself to be somewhat of a leader. Because there are only a few DJ's queer DJs in this weird little pocket of bass music. It feels amazing to be creating that for myself."
RB: I got to see you play the other night in Boulder. You have such a well-rounded act, with your rapping, producing, DJ'ing. You pull a lot of inspiration from female pop stars. Who are your favorites, can you even pick one. 
WRECKNO: "My favorite right now is Charlie XCX, but all time is Gaga for sure. She was the first person I've seen perform, and said to myself "I can do that." She helped create this delusional person."
RB: Is the dream to one day be on stage with production like that?
WRECKNO: "We paid for tonight to have performers. That's just us dipping our toes into production. I came from the flow community as a performer. I very much want Big production and choreography. We're shooting for the stars.
I think it took me a minute to get to the point where I was like this could be a thing. Now that it's finally settling in that there are a lot of people I have looked up to who support me. It's like Holy S**t this is actually a thing."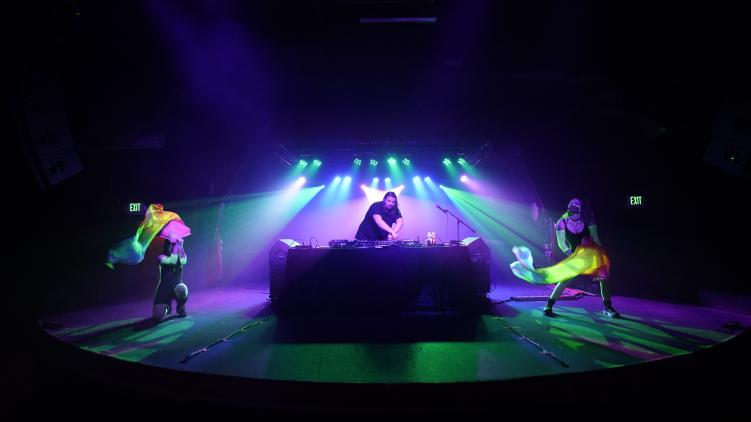 RB: you have experienced the new socially distanced way of attending shows. How has it affected your act?
WRECKNO: "Playing at Cervs is nice but it is a double-edged sword. Because if people are being quiet then you know because they are so close. It's also spread out so you can't really tell who is having a good time, then when you have a massive crowd in the middle. I just feel so blessed to be one of the artists who are able to make an income off their passion. It's easy to have fun on stage no matter what."
RB: You and NotLö are homies and have been on the come-up together. She is playing both nights with you here in Denver. How does that feel as an artist? 
WRECKNO: "It feels so right honestly. Like it makes so much sense. When I first met Alex in Denver two years ago, I didn't even really know her, but I was like "This bitch seems cool" so I asked for her number and called her. So aggressive I know. But she answered, and now I have one of my best friends in my whole life. in Music especially when it comes down to people who are doing the same thing as you and understand… She's a queer person, and we really have a lot of the same message that we want to push forward in the scene. It's the people that are coming up with you that are good genuine people. They make this whole thing worth it. Seeing her shine, sometimes  I get more pride than when I succeed. Watching her get these opportunities with Clozee. When I first met her all she had on her wall was a signed Clozee poster. Now she's hanging out with her casually, and she so deserving of it. I can't wait for her the bass community to really recognize her."
RB: Two-part question here: You have done an EP, do you have any plans for a full-length album or any exciting collaborations on the Horizon?
WRECKNO: "I am a long time before a full album, but there are some big collabs coming up. One with Dev and Superfuture called "Everything." We wrapped that up finally after starting it last summer, and she was so into Nick and I's vibe she wants to make more. I remember making shitty pop songs with my brother in twenty eleven, and we were using like a g6 and bass down low as templates. So having this full circle Dev experience has been f**king amazing. Me and NotLö, have stuff in the works. I have something with Subtronics in the works and finally, I just started something today With GRiZ. So, yeah there is a lot of cool stuff coming.
RB: Who wins in a fight a PBJ or a Taco?
WRECKNO: Taco
As the Interview ends we embrace and thank each other for the time. This was the first live interview either of us had done in over a year. It was in that moment the future was just a little brighter. Truthfully, I felt like I was walking on air as I left the building.
We Continue Into The Late Night
Now it was time for the late-night sets and even though we had already been through security, we had to do the entire process over again. Security still did everything the same, even though the crowd was a bit rowdier on the outside than the earlier show.
NotLö joined WRECKNO again for a late-night set that was just over an hour-long. WRECKNO had mentioned that the late sets go harder, but he undersold the atmosphere. Maybe less than half the late-night set was the same as the early show, a true statement to WRECKNO's ability. The old school song "Butterfly" by Crazy Town was used in both sets, which I and the crowd were very happy about. WRECKNO also featured a dope Candy Shop flip that got the whole place Bussy Boppin for sure.
Overall the entire night was a rousing success. Cervantes and WRECKNO deserve that 5-star rating they worked so tirelessly hard to achieve. It was exciting to see people dancing, smiling, and just being apart of the music again. The feeling in the air was palpable. Everybody, there was seeing the light at the end of this gosh-forsaken tunnel.
---
Captured By: LifeTap Media