Colorado is very well-known for its abundance of 14ers, waterfalls, live music and food scenes, and fascinating historic places. But did you know there are also dozens of incredible castles in Colorado?
Some are working ranches, while some are private residences to this day. Other castles in Colorado are reportedly haunted! All are absolutely fascinating!
here are 5 Unique Castles in Colorado
Perhaps you're a history buff, or you simply want to see some elaborate and unique architecture. Maybe it's on your bucket list to have High Tea in a proper castle. Whichever applies to you, add these castles in Colorado to your must-visit list!
Cherokee Ranch and Castle
As its name implies, Cherokee Ranch and Castle is both a castle and a rather large ranch. It technically sits on 3,400 acres in Sedalia, land once separated into two different parcels. Over the years, adjacent properties were purchased and protected under conservancies, so today, the castle is surrounded by 16,000 acres of open land.
Cherokee Ranch and Castle was built between 1924 and 1926, in the style of a 1450s-era Scottish castle. It has all the distinguishing characteristics a castle should have: 26 rooms, enormous stone walls, elaborate wooden arches, and expansive terraces. The castle also enjoys some absolutely spectacular views of the Front Range and epic sunsets.
Visitors can tour the castle and grounds, schedule a traditional European-style tea, or have brunch or lunch at the Cherokee Ranch and Castle.
Glen Eyrie Castle, AKA Palmer Castle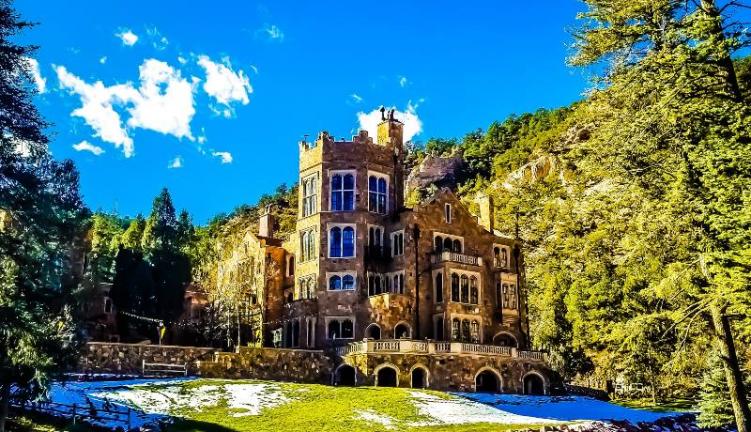 This Colorado castle, also known as "the Palmer Castle," comes with a sweet love story. General William Jackson Palmer, the founder of Colorado Springs, built Glen Eyrie Castle for his wife in 1872.
The English Tudor-style castle sits on 750 acres near Garden of the Gods Park in Colorado Springs, and it's not at all uncommon to spot wild turkeys or herds of bighorn sheep on the grounds. The castle features 95 rooms, including 17 guestrooms and several large spaces for conferences, retreats, or special events, plus a whopping 24 fireplaces!
Visitors can take tours, have tea, or stop into the bookstore Monday through Thursday. And unique among castles in Colorado, you can even stay overnight at Glen Eyrie Castle!
Miramont Castle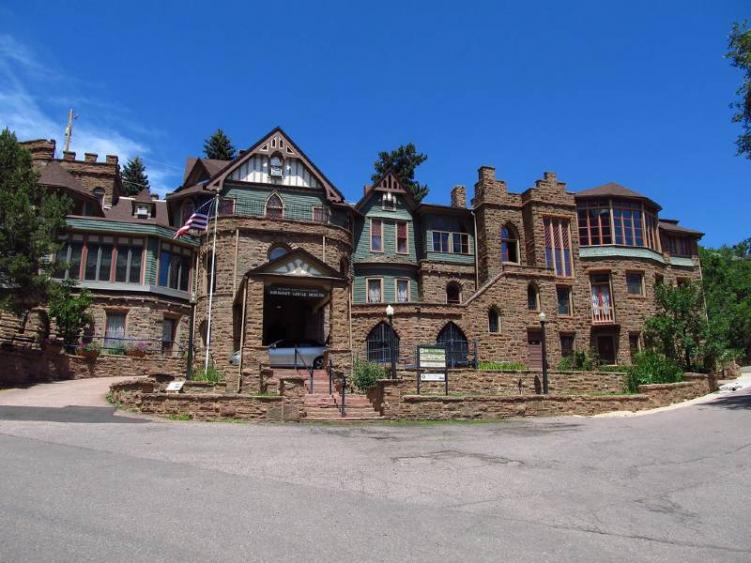 Today, the Miramont Castle in Manitou Springs, Colorado operates as a Victorian-era museum — which is extremely appropriate, given its fascinating history.
Miramont Castle was built in 1895 as a private home for Father Jean Baptiste Francolon, a Catholic priest from France. In the early 1900s, Father Francolon offered his home to the Montcalm Sanitarium specifically for tuberculosis treatment. Miramont was connected to the sanitarium via underground tunnels, which are intact to this day. You can still see the last standing tuberculosis isolation hut in one of the parking lots, and guests and visitors alike have reported frequent paranormal activity.
The eclectic architecture of the 14,000 square-foot, 40-room castle matches its unusual uses. Miramont Castle displays nine different architectural styles, from gothic to Victorian and just about everything between. Many rooms have geometric shapes, octagonal or even 16 sides, rather than being perfectly square.
Visitors can tour 30 of the 40 rooms, which are all decked out in authentic period furnishings. There's also the Queen's Parlour Tearoom for hot tea and lovely views over the estate.
Bishop Castle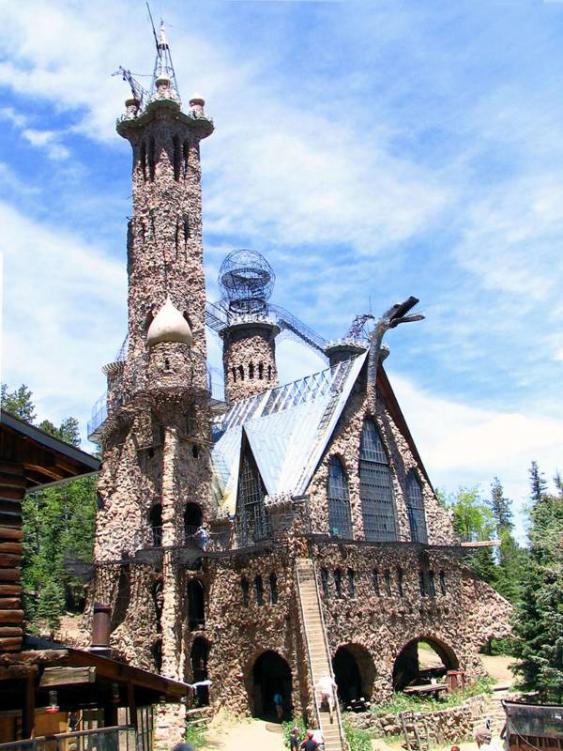 Bishop Castle doesn't even come close to being in the top biggest castles in Colorado, but it makes a strong case for the most impressive. One man, Jim Bishop, built Bishop Castle singlehandedly in the 1960s and '70s. Not only that, but he started the project at age 15!
Jim Bishop bought the 2.5-acre parcel of land near Rye for just $450 in 1959. He paid cash, money he saved from working in his family's ironworks business and mowing lawns. Over the course of a decade, Bishop's dad helped him clear the land for what started out as a small family cabin made of stone.
Today, Bishop Castle is anything but small. It features several towers — some extending over 16 stories tall, iron bridges and catwalks with views that stretch out over 100 miles, and a grand ballroom. And of course, there's also a fire-breathing dragon. Bishop Castle is open around the clock and always totally free to visit.
Richthofen Castle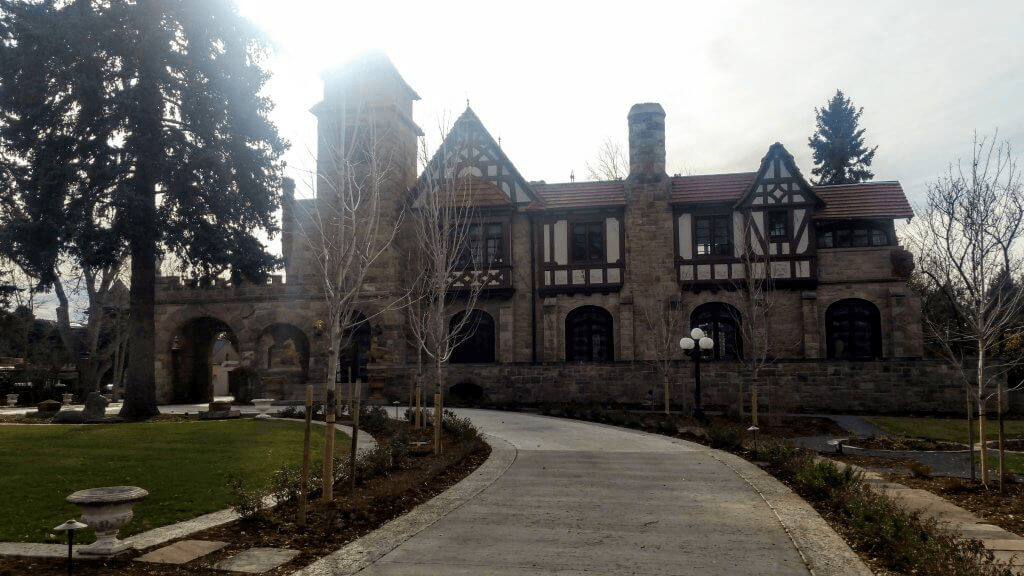 Rounding out our list of castles in Colorado is perhaps the most famous: the Richthofen Castle. Nestled into the beautiful Montclair historic district in east Denver, the Richthofen Castle features 35 rooms and 15,000 square feet.
Montclair is full of enormous, elaborate brick and stone mansions, but none hold a candle to the Richthofen Castle, largely thanks to its rich history. Baron Walter von Richthofen, a Colorado mining entrepreneur and immigrant from Prussia, built it in 1887. Richthofen also happened to be the uncle of The Red Baron, the legendary WWI fighter pilot.
The Richthofen Castle is a replica of the family estate in Germany, with stone gargoyles, intricate spires, hand-tooled leather wall tapestries, heavy leaded glass, imported lava rock, and hand-carved everything. It even had a moat at one time!
Today, the Jesperson family lives in the Richthofen Castle and it is not open to the public.
---
Well, there they are — five jaw-dropping castles in Colorado! Have you seen any of these amazing places in person? Connect with us on Facebook or Instagram and let us know!
From the River Beats Colorado team: 2020 was a very challenging time for travel, adventure, and events around our state. While we're aware these uncertain times limit many aspects of life, we hope our editorials provide helpful tips while ensuring safe social and physical distancing.