On December 10, 2021, the electronic music community received absolutely devastating news. Charles Ingalls, aka CharlestheFirst, passed away unexpectedly just before his heavily anticipated event at The Caverns.
For many, time stopped in the way you would expect when losing a loved one. In the wake of his passing, friends, family, and fans have come together to share cherished memories, early performances, and a wave of artistic expression through music and physical mediums.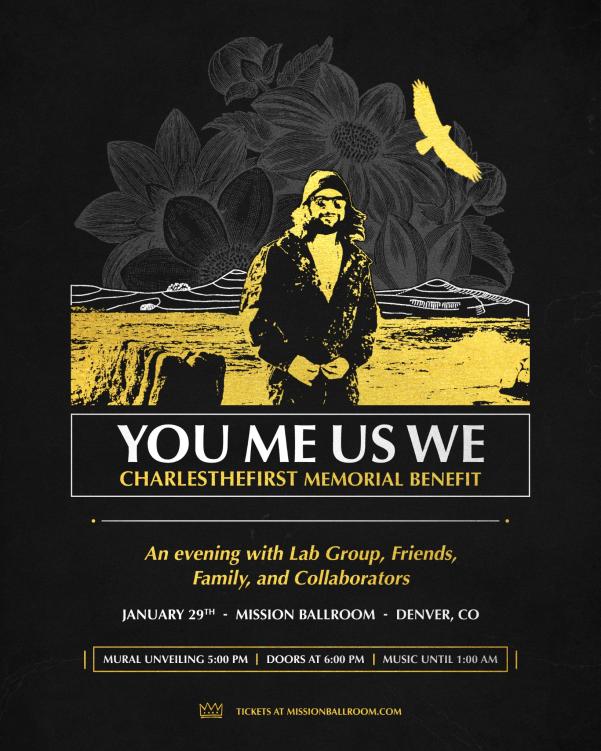 You Me Us We
To honor CharlestheFirst the best way they know, his team has decided to carry on his legacy with a celebration of life at select stops on dates previously set. Join Lab Group, friends, family, and collaborators for a night of healing and remembrance.
If you're able to attend, grab tickets as soon as possible as sales have reached 80%.
"It has been 40 days since we lost our beloved Charles Ingalls and not a moment has passed where his absence does not ring throughout our day-to-day lives.
On January 29th we will gather with friends, family, and collaborators to celebrate Charles' life and legacy at The Mission Ballroom in Denver, CO.
This will sell out and if you wish to attend we encourage you to secure one of the remaining tickets now.
We appreciate the outpouring of support since his passing and are eager to mourn with the beautiful community that his music and life inspired.
CharlestheFirst forever" – Lab Group
If you are unable to attend and would still like to donate to the Ingalls family, please follow the link below. All proceeds go to directly support Charles' mother and siblings.