If you're looking for an out-of-this-world experience this summer – put Sonic Bloom on your list. Going down at Hummingbird Ranch, CO on June 18-21, 2020, this festival is known for having some of the best vibes around. With this lineup, there's no doubt the 2020 edition will be an extremely special weekend for all involved.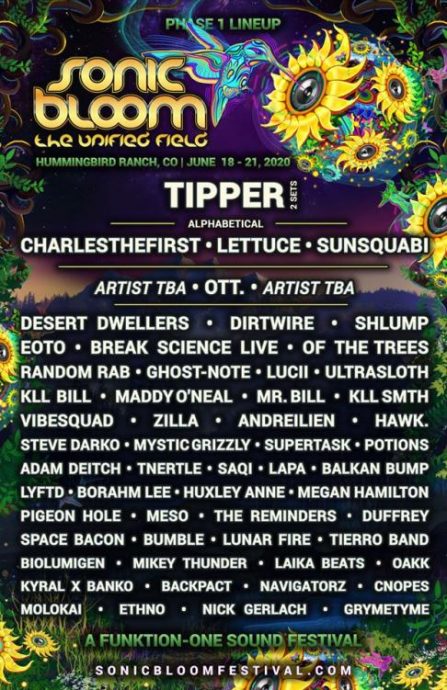 Adorning the top of the Sonic Bloom lineup is two sets from Tipper. Then CharlesTheFirst, Lettuce, and SunSquabi – three acts KNOWN for throwing down some of the best experience based sets ever. And then every single act from there on has been specifically curated for a deep and esoteric experience.
It's clear that Sonic Bloom organizers want festival-goers to have the perfect orchestra to help paint their experiences. It's gearing up to be a gorgeous weekend in mid-June when camping in Colorado will be at optimal conditions.
Tier 1 tickets are on sale now, might as well get them before they get more expensive. We have a feeling those two unannounced artists on the Sonic Bloom lineup will have you turning that 'maybe' into a 'definitely'!
Cover photo by Jacob Avanzato